A weekend motor trip through Western New York state and Connecticut brought me to Ithaca where a new comedy by  Tim Pinckney was having a world premiere at the newly refurbished Hangar Theatre, a highly regarded regional theatre, now under the artistic direction of Peter Flynn. 
So my companion and I took a chance on this play about which we'd heard little, except that it had been through the now common agonies of readings and workshops, one of which began some five years ago!
On seeing the first (and only preview) I could easily see why the creators remained steadfast and did not abandon ship after one or two perfect storms en route.
Every So Humble is a refreshing return to the boulevard comedies that were delivered each season on Broadway during that dream street's golden age. They rarely show up any more, and when they do, they are usually lumbered by movie stars whose names attract a crowd for a while.
But in the old days, and I mean old, the likes of  Kiss and Tell, Out of the Frying Pan, Junior Miss, My Sister Eileen, The Doughgirls, Born Yesterday, You Can't Take It With You, The Man Who Came to Dinner and a host of others all brightened our lives with casts made up of the best of Broadway with nary a superstar among them – name-wise, that is. There were plenty of star performances – Judy Holliday, Shirley Booth, Henry Travers, Spring Byington, Monty Woolley, Robert Keith, Alfred Drake, Barbara Bel Geddes among them. But none of these names had achieved drawing power yet, so it was the play that was the thing  that attracted the crowds, and all of the above were big money makers.
We come now to a different era, but how refreshing to be reminded of how glorious a heritage led to an event like this one. Ever so Humble, toned down and slightly less spicy, would make a fine sitcom – second cousin to "Will and Grace" and "Two and a Half Men".
It also makes a perfect stock outing, and deserves to be noticed and reproduced wherever audiences want lighter fare that has wit and intelligence and an unselfconscious need merely to entertain.
It's the story of  three friends, a second "family" for one of them, and the intertwining story of his parents and others from his nuclear family. The three friends find themselves homeless for various reasons (they are all struggling artists) and an acquaintance offers them a home in his rarely-used large house in Brooklyn. All goes well until inheritance enters the picture and then there are comic twists and turns.  There are seven characters, a fun blend of older and younger people, and seven actors, none of which were known to me, all of whom are delicious.
Well paced by Flynn, cleverly designed by Ken Goldstein, perfectly costumed by Jennifer Caprio (Andrea Burns' shoes alone contribute mightily to who her character "Daisy" is.). Even before Scene One, we know we're going to be spending the evening all over New York City, and with the aid of panels that slide, we move quickly from a room at the Soho Grand Hotel to the Westway diner to an empty apartment in Hell's Kitchen and ever onwards. The moves are smooth, inventive, and contribute to the merriment.
It's not likely you'll be passing through Ithaca in the next week or two, but if you are, I'd drop in at the Hangar (if they're not sold out) and discover a joyous comedy with a fine cast high above Cayuga's waters.
Ever So Humble plays thru July 23, 2011 at the Hangar Theatre, 801 Taughannock Blvd.  Ithaca, NY.
Tickets 
———–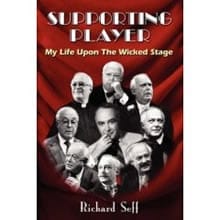 Broadway performer, agent, writer, and now librettist, among his many accomplishments, Richard Seff has written the book for Shine! The Horatio Alger Musical!, which debuted at the 2010 New York Musical Theatre Festival. He is also author of Supporting Player: My Life Upon the Wicked Stagecelebrating his lifetime on stage and behind the scenes, available through online booksellers, including Amazon.com.
Richard Seff chats with Joel Markowitz: