Yes, Tyne Daly as "Maria Callas" is the primary reason to see this smashing revival of Terrence McNally's play Master Class at the Manhattan Theatre Club's Friedman Theatre on Broadway.
But I think McNally's play has been unfairly dismissed as a star vehicle without much power of its own and, in this, I disagree. It's filled with humor and insight and it gives a good director (and in Stephen Wadsworth he's got one) ample room to theatricalize what is basically a fine lecture on the workings of a diva mind. 
I hope Ms. Daly is having the same fun she's offering us in this very brave performance, which takes her from the blue collar roles with which she's been identified, to the ranks of the doyennes of the drawing room comedy world of Tallulah Bankhead, Ina Claire, Rosalind Russell and the ladies who reek chic.
Slimmed down, sensibly swathed in black silk pants, a graceful jacket and slim high heels, topped by a girlish brown wig that positively shines as in those tv ads for shampoo, Ms. Daly is every inch the complicated star attraction that was Maria Callas in her day.
We are invited into a Master Class, the sort that Callas herself conducted at Juilliard in the twilight of her career as Prima Donna, rivaled at the time by Joan Sutherland and Renata  Tebaldi.  Of course, McNally's words for his leading lady are:  "Rivals? No, we were not  rivals. How can they be rivals when they cannot do what I can do?".
That about sums up the kind of self-confidence that Callas had stored up after years of struggle, hard work, disappointment and triumph. From a middle class American background as a plump girl with not much more than a voice and strident ambition, she had transformed herself into a vaguely European (complete with mild accent) figure of mystery, wife to Signor Battista Meninghini, later mistress to billionaire Ari Onassis.
Copying others who were not born to suit their own requirements, she abandoned Sophia Cecilia Kalos and adopted Maria Callas as her life's partner. In the course of her class, during which she offers tough love to three gifted applicants, we learn much of her own past, of her own struggles and triumphs. She even offers advice to selected victims in the audience, telling them they must have "a look" if they want to be noticed, to rise above the crowd.
Of her three students, Garrett Sorenson as "Anthony Candolino" is the most entertaining, the one most able to hold his own opposite the magnificent Daly.  He's a large man, with a mellifluous and lively tenor voice that rings the rafters with his two arias, and in verbal battle with Callas, he remains his own man and a worthy advocate. We have the feeling this Candolino will make his mark.
Sierra Boggess as "Sharon Graham" is a bit blunt as a debutante with wild ambition and pleasant voice, and Alexandra Silber is sitcom funny as "Sophie DePalma" ("That's a bad name", says Callas, unequivocally). Boggess has grit and determination, but she creates a woman who would seem to be headed toward a society wedding and babies to whom she will sing now and then. One has the impression she ain't got the goods with which to suffer the indignities and rejections of a major career. And Silber's "Sophie" will have to grow up, for she's more suited to Hairspray than Tosca, and it's the latter she has her eye on when we meet her.
Beautifully staged by Mr. Wadsworth, and in the small roles, very well cast too. Jeremy Cohen as the pianist accompanist, and Clinton Brandhagen as a stagehand both manage to create characters that are distinctive and contributive to the proceedings. They help make this well crafted but minor play into a delightful short evening's entertainment.
Now  that Ms.Daley has conquered Officer Lacey in "Cagney and Lacey", Mme. Rose in Gypsy and Mme. Callas in Master Class it will be fun to discover what her next choice will be. Medea? We'll see. Meanwhile, catch this if you can.
Master Class is being performed thru Sept 4, 2011 at the Samuel J. Friedman Theatre,  261 West 47th Street, NYC.
Tickets 
 ———–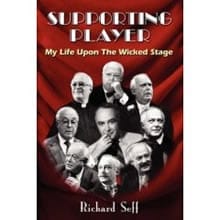 Broadway performer, agent, writer, and now librettist, among his many accomplishments, Richard Seff has written the book for Shine! The Horatio Alger Musical!, which debuted at the 2010 New York Musical Theatre Festival. He is also author of Supporting Player: My Life Upon the Wicked Stagecelebrating his lifetime on stage and behind the scenes, available through online booksellers, including Amazon.com.
Richard Seff chats with Joel Markowitz: