An Interview with Rick Foucheux
The actor's stock-in-trade is his ability to empathize with the character he plays, in order to make that character recognizably human, with clear motivations. The actor must be nonjudgmental: "if you comment, and judge your character, you're not coming at it the right way," 4-time Helen Hayes Laureate Holly Twyford said in an interview in Asides Magazine. So how do you empathize with a man who has stolen a fortune estimated at $65 billion, mostly from people who had entrusted them with their pensions?
How do you empathize with Bernie Madoff?
Madoff is the most notorious modern practitioner of the Ponzi scheme, in which early investors are paid not out of earnings from their investments, as they are told, but from investments made by later investors. When the schemer runs out of investors, the scheme collapses. That's what happened to Madoff – and his ruined victims.
Some have compared Madoff with serial killer Ted Bundy. A January 24, 2009 article in the New York Times quotes forensic psychologist J. Reid Meloy: "Typically, people with psychopathic personalities don't fear getting caught…They tend to be very narcissistic with a strong sense of entitlement." The article goes on to note that while Bundy murdered people, Madoff "murdered wallets, bank accounts and people's sense of financial trust and security."
"Sure, I guess he was a psychopath," says Rick Foucheux, who has the challenge of putting Madoff before us in Theater J's production of Imagining Madoff. Foucheux is Washington's go-to choice for difficult characters, having previously been the remote Buckminster Fuller and the cantankerous Elia Kazan in productions at Arena and Round House, respectively. He has also played such outsized characters as Henry IV and Willy Lomen. In person he is down-to-earth, good-humored, and completely without vanity: a relaxed, fit American. He is dressed casually, with a three-day growth of beard, reading the Times article.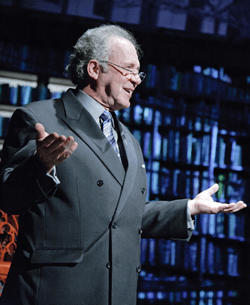 "There are passages in the play which show just how dissociated from his actions he was," Foucheux says. He reads quickly, with an actor's practiced instinct to distill the essence from a large block of information, and then looks up. "It's almost like how we have romanticized some of our murderers. Charlie Manson, and Ted Bundy…we've assigned to him this mythic proportion of criminality, the mythic sense that he's the worst guy who ever lived."
Of course, Foucheux recognizes his character's criminality. "Imagine being on the precipice of retiring, and…" He shakes his head. "These people weren't looking to become millionaires. They just wanted to be taken care of, in their retirement."
Madoff, in addition to being among the worst thieves in modern history, was a singularly remorseless and arrogant man. Foucheux sees this as a sort of classical blindness. "[It is] the Shakespearian notion of this great flaw that he fails to see in himself. It's everybody else's fault, it's everybody's problem but my own." The Madoff of Imagining Madoff is full of contempt for his marks…that is to say, for us. "The Bernie Madoff I'm trying to put on stage [believes] we were too soft, and too stupid."
So how does Foucheux give an honest portrayal of a fundamentally dishonest man – without judging and commenting on him? By looking at the "common pool of humanity" – including, Foucheux says, his own shortcomings as a human being.
He finds that common pool, he says, "in my tendency to lie, tendency to be greedy. You know, these are human traits." Of course, Foucheux, like most of us, restrains his worst impulses.  "But let's face it," he says, "who among us, if we had figured we had suddenly discovered some secret formula to make money replicate as he did – at the rate he did – who among us wouldn't jump at that opportunity? So: empathy, understanding, I'm just trying to get that part down. He's a very tough character," he admits.
 ————-
Imagining Madoff, as it was initially written, famously showed Madoff encountering Nobel Laureate Elie Wiesel, receiving wisdom at his feet and stealing his money. The effect was to see absolute good and absolute evil on the same stage, with evil largely triumphant. Although Madoff did steal from Wiesel personally as well as from Wiesel's charities, the play's dialogue between Madoff and Wiesel was entirely fictional, and Wiesel was not pleased. Playwright Deb Margolin rewrote the play, with the fictional Solomon Gelkin standing in for Weisel.
"My view was that the character didn't have to be Elie Wiesel," Foucheux says, "and the antagonist didn't have to be Bernie Madoff. If the theater is truly going to hold up a mirror to us, this play is doing that, is taking a look at our greed. All of theater views humanity at its best and worst," he says. Any one of us, under the right circumstances, could be Bernie Madoff – if not committing his criminal acts, experiencing his temptations.
In a September 2010 article for the Yale Daily News, Margolin said that writing Imagining Madoff required her to suspend her judgment about Madoff and "drop into his mind and body." This allowed her to find "understanding, if not forgiveness."
It is the same process Foucheux takes with his difficult subject. "An actor does have to drop into the mind and body and release the notion of judgment. You don't want to walk around saying to your friends, 'yeah, but Bernie Madoff was just a misunderstood puppy.' Nobody will buy that." He laughs at the thought. "But at a certain point that's the way he views it, and to put him onstage, from the soles up, you're going to have to be part of the notion that says 'yes, I am just misunderstood.'  He doesn't view himself as the worst criminal in history. He would probably describe himself as misunderstood and not having gotten a fair shake."
————-
It's not the understanding Foucheux has about his own life. Born in Southern Louisiana, he understood and enjoyed the power of the imagination in a way that many of his contemporaries did not. "I was kind of a different kind of kid," he says. "I wasn't really into sports. Even late into my adolescence I was still playing cops and robbers, and cowboys and Indians. At age thirteen, when I walked into this building, I found something that I could be a part of. And wanted to be a part of."
The building was the local community theater, and he was hooked. "I'll never forget the first day of walking into the community theater building. The feel of that was indescribable. It sounds corny to say it, but it did have something to do with the smell of the greasepaint. Very literally, in those days, we would have that smell."
But in Louisiana, theater is considered, well, play – Foucheux points out that his alma mater, Nicholls State University, no longer even has a theater department. So Foucheux set out in another field for which he had some aptitude: television journalism.
He was good. He got bigger and bigger jobs until he finally came to D.C. to head up a morning TV show, "Good Morning Washington".
Opposite Phil Donohue.
Afterwards, "my wife…recognized that [theater] was the thing I was most passionate about." So he began to act, supplementing his income by doing industrial films and voice-overs. (He still does an occasional training film or voice-over.) But it was a hard, stubbly row to hoe. In 1992, frustrated by an inability to land roles he thought he should have had, Foucheux quit the profession. For four years.
When he came back, he was immediately successful. He landed roles as Sir Robert Chiltern in An Ideal Husband at the Washington Stage Guild; Friar Lawrence in Romeo and Juliet; Leonato in Much Ado About Nothing; and Claudius in Hamlet, all at the Folger; and finally Hughie in Washington Stage Guild's Erie, which was performed at the Source Theater. This last performance won him a Helen Hayes nomination for outstanding lead performance in a resident play.
What changed?
To hear Foucheux tell it, he owes much of his success to two of the leaders of Washington's late-90s theater renaissance. "Among other things, Joe Banno and John McDonald got to a point as directors where they were attracting interesting projects. And they both championed me in a big way. So because they were succeeding as directors, the environment changed."
But Foucheux changed too, and his description of that change puts the lie to any thought that actors are necessarily vain. "I grew into my middle age a little bit more. I think as a young leading man I didn't necessarily stand out," but when he became a mature man, "I didn't mind looking like that. I didn't lament the loss of my hair, the spreading of my midsection…these are the people we see walking down the street. And I think there was a need and a market for an actor who was interested in working on his craft and trying to make himself better but who didn't go to the gym every day.
"In the last ten years it has become evident for me personally and also industry-wise here in Washington," he says, sounding a little surprised, "that it's possible for a person to make a living as an actor in Washington."
It's a good thing, too. Foucheux tried New York for eight months and didn't like it. "When I was living in New York I felt like I was at the circus. It was a feast for the eyes, ears and it was really an adventure." He shakes his head. "I find it easier to create here in Washington. In New York, it was just a little too frenetic for me."
In short, Foucheux lost one job – and his career – to a ratings juggernaut, has struggled with a new profession relatively late in life, been frustrated enough with it to take a four-year sabbatical, and has only recently found it possible to make a living doing what he loves to do in the city that is now his home. How does he feel about that? Does he consider himself to have not been given a fair shake?
"I've been very lucky," he says. "I really have."
 ————-
So: how does a man who left a career in the lucrative broadcast industry to do art, who persevered through hard times to do the work he loves, who turned his back on New York to work in DC, and who eschews personal vanity so that he can be an everyman play a monstrous thief who stole billions from pensioners – without judging him? How can Rick Foucheux not only imagine Bernie Madoff, but imagine himself as Bernie Madoff?
It may seem odd, but for Foucheux, accessing Bernie Madoff is a spiritual process, in the same sense that trust – the virtue which Madoff so spectacularly abused – is also a spiritual process.
"I guess I have thought a lot about…where I come down on how can we trust someone, how do we actually define trust. Is trust like most spiritual matters, like water, you really can't hold it in your hand, but you know when it's there, you can feel wetness but you can't hold water in your hand?" he muses. "I think that being spiritual in my work is a little like that. It's a little hard to talk about some of these things, but I believe that I can, that we can all access a certain kind of energy that permeates humanity and has permeated humanity, so that when I try to reach Bernie Madoff, some semblance of Bernie Madoff, spiritually I can get in touch with the issues of greed, the issues of human failing on so many different levels."
Imagining, and recognizing, the Bernie Madoff within us can be injurious to our vanity. But Rick Foucheux, an actor with so little use for ego that he welcomed middle age as an opportunity to showcase his art rather than his physique, may be closer to it than the rest of us, and thus may be able to show us the way.
Theater J's production of Imagining Madoff runs thru Sept 25 at Theater J, 1529 Sixteenth Street, NW Washington, DC.
Buy tickets
Details 
Related: