Sondheim's Follies is back on Broadway, and in this time of earthquakes, hurricanes and political chaos, that's a good thing.
Set in 1971, for two and a half hours it permits us escape into the complicated psychological landscape of four very average folks, two of whom graced the stage as chorus girls in an imagined production of Dmitri Weissmann's "Follies" thirty years earlier.
I call it "Sondheim's Follies" because, though James Goldman was a fine writer (The Lion in Winter), his book for this musical is mired in familiar "sorry/grateful", "I love him I hate him", "the children we destroy together", "being alive" material that, when put into words in a book, don't resonate nearly as effectively as when they are elevated to words and music by Master Sondheim, so I've always felt, and still do, that the Goldman book here merely leads into one original showstopper after another.
Now and then a zinger of a line comes through, mostly out of the mouth of Phyllis Stone, one of the four principals. And Phyllis, in the hands of Jan Maxwell, is a formidable and highly entertaining leading lady. Her approach to her big number, "Would I LeaveYou?" is right up there with any of the major arias in the major operas in terms of effect.
It's never been done better, and that includes the more elegant approach taken by Alexis Smith in the original production, which in itself was exquisite. With these iconic roles in musicals, it's great fun for me (and I hope for you) to revisit them each time a big talent from the now generation takes a crack at them. Tyne Daley playing Maris Callas, Patty LuPone recreating Madame Rose, Kelli O'Hara giving us a smashing Nellie Forbush, Brian Stokes Mitchell taking on Don Quixote — none of them wiping from our minds the clear visions of the originators, but bringing fresh insights and different strengths to their tasks, thus giving us a wonderful experience all over again.
With this Kennedy Center revival of one of Sondheim's master works, it's difficult to know where to start in letting you know how rewarding it is. I give some credit to Laura Stanczyk Casting for filling every role with an interesting and occasionally stellar name.
Jane Houdyshell, Elaine Paige, Susan Watson, Mary Beth Piel, Terri White, Rosalind Elias, Danny Burstein, Ron Raines, all with prizes and fine reviews behind them for past successes, form a powerhouse cast, and each steps up to bat and knocks out a home run when his or her turn comes.
Each original – unlike past takes on the roles: Houdyshell more of a toughgal comic than was original Ethel Shutta as she belts out "Broadway Baby", Piel, an American, controls her heavy French accent so that all the funny words in "Ah, Paris!" are accessible, Paige, a big star in London, is a diminutive combination of Mae West and Ethel Merman, whose insistence that "I'm Still Here" is now a roar of defiance, and it brings a roar of approval.
The two leading men, Burstein and Raines, bring very original colors to Buddy and Ben, the husbands in the two fractured marriages that occupy center stage. Burstein's second half "Follies" number (the show within the show) and Raines' "Live, Laugh, Love" are shot straight from cannons, and both explode and deliver their loads.
Derek McLane, Gregg Barnes and Natasha Katz turn the "Follies" sequence into hot reds and cool blues and just about everything in between from glitter to gold. The Show Girl costumes look like a million bucks (and probably cost only half that). I give special praise and heartfelt thanks to Kai Harada, whose sound design is impeccable. Every note is crystal clear, with no distortion in the upper registers, every lyric is heard, no electronic equipment is visible on heads, in cleavages or crawling down cheeks.
The company of forty gifted singers/actors/dancers (and all of the ensemble is often asked to be strong in all areas) build and build each production number. Eric Schaeffer keeps the traffic moving efficiently, though he is clearly a director who believes in the "get center stage, face front and talk loud" school. So it is more Warren Carlyle's job as choreographer to make the people move with originality, and he does a fine job of it. I will say that Schaeffer's movements for the Ghosts of 30 years past, who hover over the proceedings throughout the show, are effective — though I can't be certain whether to credit Carlyle or Schaeffer for their contribution.
I save last for the true icon Bernadette Peters, who has become over the years, a fine and inventive actress. Her voice is somewhat tired, and it's no longer her most distinguished gift. But no matter. In last year's A Little Night Music she made pure magic of 'Send in the Clowns", but that song was written for a non-singing actress, and she brought more musicality to it than did most of her predecessors in the role. This time, with "Sally", she's tackling a role played by many before her, notably Dorothy Collins and Barbara Cook, her handling of two gorgeous ballads, "In Buddy's Eyes" and "Losing My Mind"reveal some tattering of her vocal cords, but pay no attention — she breaks your heart with both of them, and is adorable (and years younger than her offstage self) all night long.
Follies will never be everyone's dish of tea. Its characters are flawed, their secrets are hurtful to themselves and those around them, but if you are willing to embrace an adult musical that has compassion for and understanding of its major characters, you won't find a better bet than this major Sondheim musical. It puts the new crop of tuneless wonders to shame.
Follies is onstage at the Marquis Theatre, 46th St between Broadway and 8th, NYC.
Details
Tickets 
—————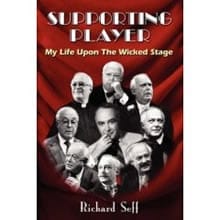 Broadway performer, agent, writer, and now librettist, among his many accomplishments, Richard Seff has written the book for Shine! The Horatio Alger Musical!, which debuted at the 2010 New York Musical Theatre Festival. He is also author of Supporting Player: My Life Upon the Wicked Stagecelebrating his lifetime on stage and behind the scenes, available through online booksellers, including Amazon.com.
Richard Seff chats with Joel Markowitz: