To begin with, The Habit of Art is not a play about an imagined encounter between W.H. Auden and the composer Benjamin Britten, late in their lives. It is a play about a play about this fictional encounter. Imagine Stoppard's The Invention of Love having a love child with Noises Off, and you begin to understand what Alan Bennett renders here.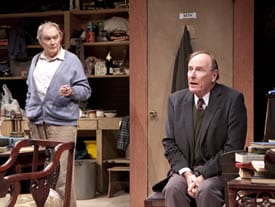 Auden and Britten were famously gay artists whose best work was done in the middle of the last century before, to paraphrase former Sen. Phil Graham, homosexuality was cool. Their wildly contrasting attitudes toward their own sexuality inform the play. Auden was open, flamboyant and voracious; his indifference to public censures an extension of his general indifference to the opinions of others. He urinated in the sink, got pee-stains on his trousers, smoked like a chimney, flung ashes around his fire-trap of a room, and used male prostitutes with great glee but also on a very rigid schedule: no oral sex after the 6 pm cocktail hour began.
Britten was by a considerable measure more circumspect; he had internalized much of society's contempt for his own sexual nature. The play – not The Habit of Art, but Caliban's Day, the play which The Habit of Art is about – has Britten visit Auden in the latter's Christ Church cottage in order to obtain moral support for Death in Venice, his operatic adaptation of the Thomas Mann novel about a man who is eventually destroyed by his unrequited lust for a young boy. Britten himself had spent his entire adult life in unrequited lust for young boys.
If this seems difficult to follow in print, I'm sorry to report that it's also a bit of a challenge to watch. It is not the production's fault. Ted van Griethuysen, who plays Fitz, the actor who plays Auden, and Paxton Whitehead, who plays Henry, the actor who plays Britten, are both superb. van Griethuysen is – well, I probably don't have to tell you; you've seen him before, and know what he is capable of doing. It is sufficient to say that he puts on the character of Fitz, who is a bit of a blowhard and a bit of a fraud, with the ease and comfort with which he dons the carpet slippers he wears when he morphs into Auden and becomes every bit of that difficult and sometimes tedious man.
Whitehead, though, is a real revelation for those of us who have not followed his career on Broadway or British television. He is an alumnus of Beyond the Fringe, along with the late Peter Cook, Dudley Moore and Alan Bennett himself, and thus may have been on stage when Moore performed "Little Miss Britten" to the tune of "Little Miss Muffet" – unfortunately, with Britten in the audience. For ten years he ran the Shaw Festival, and after that appeared all over England and North America (including at the Shakespeare in All's Well That Ends Well.) Here he embodies, as Britten, Britain – its noble suffering, in all its quiet dignity; making himself vulnerable to the self-involved Auden slowly, as a flower opens to the sun. Then, in an instant, he transforms into Henry, an amiable, curious actor who is largely oblivious to the trauma and shenanigans which go on around him.
The rest of the cast is similarly swell in somewhat less challenging roles. I liked Cameron Folmar (you may remember him as Lord Goring in An Ideal Husband), who here plays Donald, the actor playing the biographer Humphrey Carpenter. Carpenter, who in real life wrote books about both Auden and Britten, is reduced to a plot device in Caliban's Day, and Folmar's Donald goes to ridiculous lengths to give him the sort of glamour and charisma he is sure his character deserves.
Randy Harrison does a delightful turn as the actor playing Auden's prostitute, switching effortlessly from the prostitute's working-class bottom-line practicality to the actor's graduate-school pretentiousness and back again.
I bought Wynn Harmon as the playwright, who wanders into rehearsal and thus serves as Bennett's device to answer actor's questions and provide background into the lives of Auden and Britten. Margaret Daly and Matt Dewberry also do good work as the stage manager (the director is at a conference) and her assistant; Dewberry's timing in this is a work of art in itself. Indeed, the whole 12-actor cast is sterling, particularly in reaction, and this is a tribute to the efforts of director David Muse.
With this huge load of actorly talent, why doesn't the production work better than it does? I suspect part of the problem is the play-within-a-play structure, which further constrains a story about, ultimately, two elderly artists discussing their art and sexuality. In an essay for the London Review of Books, Bennett explains that the play was originally simply about Auden and Britten, but that he came on this device when he and his first director, Nick Hylton, struggled over what to keep in the play and what to leave out. They resolved it by creating this unusual structure, which allowed them to remove unnecessary dialogue but retrieve the information by having the "actors" talk with the "playwright" about it.
That's his story, but I don't think it's the whole story. It appears that Bennett decided to leaven his play, which is pretty dry on its face, with some humor by adding ridiculous scenes to Caliban's Day, involving talking furniture, a horrifying mask of Auden's ruined face, a discussion between Auden's words and the notes of Britten's music, and the like. This stuff is fitfully amusing, but damaging to credibility: the Caliban's Day playwright is a good writer, who writes fine, involving prose (he writes like Alan Bennett!) and the chances that he would put this sort of nonsense into his play approximates zero. And when an author diminishes his own credibility, he invites his audience to disengage.
In conclusion, there is no conclusion. This is a capsule description of all that's wrong with The Habit of Art; it is full of clever conceits and pretty words, but it never fully engages. We are not with the Caliban's Day actors – separate from their characters – or the production staff for a sufficient length to invest in them; Auden, as portrayed here, is brilliant but insufferable and a little disgusting; Britten, as portrayed here, is hangdog and defeated; and the remaining Caliban's Day characters are essentially plot devices. Thus there is no real rising action (the first Act concludes without a dilemma to propel us into the second), no climax, and no catharsis.
We see a lot of play titles in this show – The Habit of Art, Caliban's Day, Death in Venice – but, and it pains me to say this, what we really see is much ado about nothing.
The Habit of Art runs thru Oct 16, 2011 at Studio Theatre, 1501 14th St NW, Washington, DC.
Details
Tickets 
The Habit of Art
By Alan Bennett
Directed by David Muse
Produced by Studio Theatre
Reviewed by Tim Treanor
Running time: Two hours fifteen minutes, with one intermission
Somewhat recommended
 Other reviews: