The Disney Company has clearly put a good deal of Lion King money into this attempt to reinvent a movie of theirs from 1992: Newsies. The film lost almost $12,000,000 so one might wonder why.  Now that the musical has opened the season at the Paper Mill Playhouse in MilburnNJ, with an enlarged score by original writers Alan Menken and Jack Feldman and a new book by Harvey Fierstein, direction by Jeff Calhoun and choreography by Christopher Gattelli, that question remains unanswered.
Not that there isn't talent up there onstage. There is, lots of it. In Jeremy Jordan, they have found a "Jack Kelly" with  much of the charm of the original Kelly, Christian Bale. He also has a fine voice, and can dance.  The film launched Bale's screen career, and ten years later he is still very much around onscreen. Jordan is reported to be following this job with another immediate one — he's to play "Clyde" in Frank Wildhorn's Bonnie and Clyde later this season.
John Dossett, about the best "Herbie" who ever courted "Madam Rose" in Gypsy (the Tyne Daley edition), is up there, much too briefly, as "Joseph Pulitzer" the news tycoon who is Kelly's chief adversary as he fights to make a few pennies for his newsboy pals, the poor kids of New York, circa 1898.
J.Allen Suddeth has staged several fight scenes that look scary. Christopher Gattelli is using his tremendous company (at least 33 in the cast) to pound out 3 or 4 boisterous testosterone-filled dance numbers that might just destroy the stage floor. Tobin Onst has designed a cityscape composed of three high steel towers, which split, turn, rise and fall.  For the first half hour I felt I was at a dance recital with dancing boys and dancing scenery.  I don't mean this patronizingly — the dancers are gifted, the scenery is impressive, but each number resembles the one that preceded it.
The reason is there is only one thing to dance about all evening long, and that is the strike that is promised for most of Act One, then delivered in Act II. The numbers that accompany all the movement are "The World Will Know", "King of New York", "Brooklyn's Here" and "Once And For All".  Each seems a reprise of the one that preceded it. Oh, one features ballet, another tap, but all of them have the boys banging the floor, doing backflips and somersaults and flying leaps.
I don't blame the choreographer, for there are no secondary characters or subplots to dance about, so it is like all we had in West Side Story was the opening number, only here we have no Sharks, only Jets.
There are other moments that are perilously close to that master work — for example,  the Newsies have Jacobi, a bearded deli owner  much like Doc with his drugstore. Jacobi makes the same occasional contribution as the Rabbi in Fiddler on The Roof. He has most of the funny lines from Harvey Fierstein who has fleshed out the story. But the book remains leaden, because it has so little room in which to move.
The love story is predictable — spunky rich girl likes the look of hunky poor kid (about whom we never learn anything except that he "ain't got no folks" and that he has some talent as a painter). He says he's 17, but Jordan seems well over 20.  One little lad, Vincent Agnello as "Les" (a diminutive, male "Annie") and Andrew Keenan-Bolger as "Crutchie" (a dancing "Tiny Tim") do cut it for age, but the dancing and physical stamina requirements make keeping the cast teen-aged  a rough assignment.  And once the Newsies seem like men, not boys, we're into another genre — the Cagney-Robinson-Bogart  gangster era  of the 1930s.
No mistake, there is lots of energy pouring forth from the stage.  The cast is helped by its very size — there is nothing subtle about the score except perhaps the two ballads, but somehow the boy-girl stuff just doesn't seem to belong and seems added because as Mr. Fierstein has publicly said, "All musicals need a central romance". I don't recall any in Billy Elliot or Wicked or the biggie of them all, The Book of Mormon.
The score has been greatly expanded but none of it is memorable. John Dossett is wasted as Pulitzer, but he almost steals the whole show with his wonderful attack on his one number, "The News Is Getting Better".  This one took an odd turn, and landed. But the entrance of hip-hop movement, tap dancing, several anachronistic phrases in the book all contributed to the dichotomies in the style of the evening.
It's a high energy show, and the kids out front hooted and hollered for  the dancing, the very mobile set, the talent of the cast.  But under all that, I think this was a bad idea, a musical in which the entire first act deals with "Are we or are we not going to strike?", a sort of Waiting For Lefty with song and dance. It might have a life in the high school amateur market, and I suspect Disney mounted it to see if it felt that way too, for I gather there is a small group of young people who have pirated the film and actually put it onstage, who download the songs wherever they can find them.  The only problem here is that there are two principal women in a cast of 33, and there might be another strike — one with actresses shouting  "We'll Only Buy Tickets  If You Put This In Repertory with Little Women."
 —————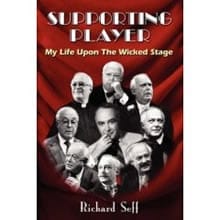 Broadway performer, agent, writer, and now librettist, among his many accomplishments, Richard Seff has written the book for Shine! The Horatio Alger Musical!, which debuted at the 2010 New York Musical Theatre Festival. He is also author of Supporting Player: My Life Upon the Wicked Stagecelebrating his lifetime on stage and behind the scenes, available through online booksellers, including Amazon.com.
Read more at RichardSeff.com
Richard Seff on DCTS – interviews Broadway luminaries:
Richard Seff chats with Joel Markowitz: