It's nowhere near June yet love and marriage seem to be in the theatrical air as Hallowe'en approaches. On October 14th. the George Street Playhouse in New Brunswick, New Jersey opened a new musical comedy called It Shoulda Been You with all the attendant hoopla of a Hollywood preem. Klieg lights searched the sky, a (slightly tattered) red carpet welcomed first nighters, who numbered among them Victor Garber, Michael Feinstein, John Kander, Kathleen Marshall, Producer Daryl Roth, a packet of reviewers and a bevy of regional theatre artistic directors.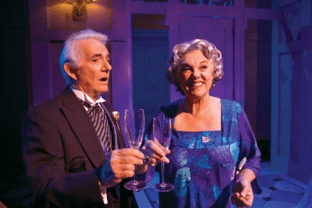 On stage, a buoyant company of actors played principals in two families, headed by Tyne Daley and Harriet Harris as two funny mothers from hell. Howard McGillen and Richard Kline served as mates for the two ladies, and an assortment of talented younger players played bride, groom, best man, maid of honor, servants, older sister and the irrepressible Edward Hibbert was in charge of all of them as an "I only aim to please" wedding planner.
Does all this sound a bit familiar?  Comedies and musicals dealing with the wonders and pitfalls  of marriage go back to beginning of theatre  and as this entry is called "A new musical for anyone with parents" it aims to please just about all of us.
What separates it from its dozens of ancestors is that it offers a new take on the old institution of marriage.  Woody Allen's Honeymoon Motel, a recent Broadway arrival, takes yet another look at it, and I'm certain there will be more to come.
Here, we have a first act preparing us for the wedding ceremony. We begin with plump older sister Jenny Steinberg telling us in song that she never wanted this. We think it's she who's about to wed, but it's not. It's her pretty kid sister who is marrying her long time boy friend, and Jenny's not happy about it. We don't find out why until much later in the proceedings.  In fact there are a number of surprises waiting in the wings for us, and they work well to keep the second act bubbling after the out-of-nowhere surprise twist that brings down the first act curtain.  More I cannot tell you because this is a piece of fluff and it keeps its secrets well, so far be it  from me to let you in on them.
I can tell you that this is a world premiere of a new musical by Brian Hargrove (book and lyrics) and Barbara Anselmi (music), who both have extensive backgrounds in television and in developmental theatre. David Hyde Pierce, who's been carving out a first class theatre career as actor after many seasons on TV's "Frazier", is making his debut as director, working here with Noah Racey as choreographer.  His work is solid and I'm sure he'll be back in charge of other works in the future.  Pierce has been able to attract Tyne Daley and Harriet Harris, two of the finest, both in top form as hilariously stereotypical characters, Daley as the controlling Jewish  mother, Harris as the besotted emasculating Christian one.  We've seen these mothers before, but never quite as enlarged and outrageous as these two. Daley's "Nice" and Harris' "Where did I Go Wrong" which immediately follows it, are two comic gems delivered by two divas who know just what to do with them, which is to hit them right out of the park.
Edward Hibbert's "Albert", is once again the nutty ever-intrusive wedding planner that has been part and parcel of wedding comedies. Martin Short played one in "Father of the Bride" and Bibi Osterwald played another in A Family Affair , the  John Kander,  James and William Goldman musical that arrived on Broadway in 1962. Hibbert wraps himself around his one number, "Albert's Song", in which he gives new meaning to the phrase "A lyricist's dream actor" as he shares his relish for each syllable with us.
Lisa Howard, with a background of theatre and television appearances, is a fine Jenny Steinberg, our narrator and ultimately our leading lady, though I can't tell you how she achieves that. Ms. Howard can sing, has great range, is appealing and touching in one of the more rounded roles.
There are lots of laughs in this light hearted romp. The score is amiable, but that's about as much as can be said about it.  There is intelligence and wit in it, and the occasional fresh idea.  A song called "Whatever" has a novel way in which to say "I love you." It is sung to Ms. Howard as she is locked in a toilet booth in the ladies room, which certainly adds novelty to it as well. The book gives Daley and Harris lots of zingers and they certainly make them zing, which adds to the merriment.
It's a crowd pleaser of a show, but I'm not certain what crowd it will attract.  I think the young rockers that will espouse its contemporary attitudes on martial bliss, might recoil from discernable lyrics and a Broadway beat.  The conservative crowd will certainly not embrace its mad attack on their family values, even though this musical believes in family values as defined by it, and in which they sing "That's Family."
The musical theatre afficionados cannot help but notice that this is not a score that comes close to the complexities or joys of Anything Goes, Kiss Me Kate, My Fair Lady, La Cage Aux Folles, Follies  or any of the other entertainments by composers of melody, lyricists who create vivid or funny or insightful portraits in rhyme. The dating crowd might go for it, but it's a bit campy for most of the hetero boy friends.
With a cast of thirteen and a tricky set that must have flexibility to be many rooms in a high end hotel in Manhattan, with some stylish clothes for the ladies, and two smashing wedding gowns (oops, I almost gave away one of the secrets), this lavish musical is not destined for Off-Broadway. In this production, it is beautifully set, lit and costumed by Anna Louizos, Ken Billington and William Ivey Long, and it is cast by Jay Binder, all of whom  are Broadway award winning talents.  Greg Anthony's music direction was top notch too.
As it falls more into the Off-Broadway  I Love You, You're Perfect, Now Change category than it does into the Broadway blockbuster one, I think its future lies somewhere in the middle — which means it may make its mark in the amateur market where its recognizable characters will give students and parents a chance to nudge each other and whisper , "See that's just like Grandma," or "They must have put a microphone down in our living room. They're almost as funny as Mom and Dad."
It's not my job to plan a show's future. I had a good time, particularly during the twists and turns of the more inventive and surprising second act. But the good folks of New Brunswick will have a good enough time and with the inclusion of Tyne Daley and Harriet Harris in the cast, even a good deal more than that.
It Should Been You runs thru Nov 6, 2011 at the George Street Playhouse, 9 Livingston Avenue, New Brunswick, NJ.
Details and tickets 
  —————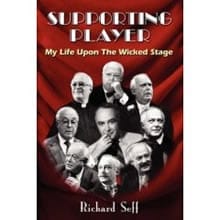 Broadway performer, agent, writer, and now librettist, among his many accomplishments, Richard Seff has written the book for Shine! The Horatio Alger Musical!, which debuted at the 2010 New York Musical Theatre Festival. He is also author of Supporting Player: My Life Upon the Wicked Stagecelebrating his lifetime on stage and behind the scenes, available through online booksellers, including Amazon.com.
Read more at RichardSeff.com
Richard Seff on DCTS – interviews Broadway luminaries:
Richard Seff chats with Joel Markowitz: