The various Manhattan not-for-profit theatres have done us all a great service by offering a home to a dozen talented playwrights. Theatres like Manhattan Theatre Club, Lincoln Center Theatre, the Vineyard, Atlantic Theatre Company, 2nd Stage, Playwrights' Horizons and others have presented dozens of plays by the likes of Terrence McNally, John Robin Baitz, Tom Stoppard, Nicky Silver, Lynn Nottage, Paula Vogel and you begin to see how rich we've become, (not to mention how self-supporting most of the writers have become). 
Yes, we put up with some of the lesser works that must inevitably come from their pens, but at least the authors have been kept alive and away from the flesh pots of the small screen or even the large screen, and in almost every case, at least one master work has emerged to justify the loyalty, faith and care from each theatre.
Nicky Silver, one of the lucky recipients of this sort of support, is a case in point. His The Lyons, now being presented at the Vineyard on East 15th Street is his seventh play and it puts him up there with the best of his present and past colleagues.
Silver has always entertained. His Pterodactyls, which introduced him to us, certainly announced the arrival of a fresh voice. Raised in Captivity, The Food Chain, Beautiful Child, Fat Men in Skirts, The Eros Trilogy were protected by subscribers happy enough to encourage a promising writer. I'm not certain anyone expected him to take the giant leap, to join the pantheon of  major playwrights, but if they didn't, they were fooled and when they see The Lyons  I'm sure they will rejoice.
For it's all come together at last — the craft, the mordant wit, the ability to elicit laughter from the dark corners of human relationships.  This is his family play, his Long Day's Journey as it were, his Death of a Salesman.
But being Silver and not O'Neill or Miller, his New York Jewish Lyons family is the seemingly familiar one who could be cousins to all of Neil Simon's people, many of Clifford Odets', and very distant second-cousins-once-removed from A.R.Gurney's mom and dad. Here we have Rita and Ben Lyons, locked in mortal combat even as Ben is about to throw his mortal coil overboard, for he's got cancer "all over" and is beyond saving.  But that doesn't deter his life's partner, Rita, from discussing everything from the color of the new living room she's planning, to the suggestion that Ben forgive their son Curtis for being gay, and their daughter Lisa for being a divorced alchoholic.
Everything about their life together is anathema to Ben, but Rita has managed to hang in there and go with the flow for thirty or forty years. It's clear from the start that she is looking forward to her early emancipation.
In the course  of four scenes we spend Ben's final hours with him and his family, then we move to an AA meeting with Lisa, to an empty apartment which Curtis is inspecting for possible future use, back to the hospital to come to some sort of decision about what to do now  that Ben is gone.
Silver has concluded his play with honesty and considerable dramatic force; he's not been afraid to avoid the more predictable happy ending and he leaves us in somewhat stunned silence, sensing there's been a cleansing of sorts up there on that stage, that its principal characters may have been forced by circumstance to emerge from their protective shells and to face their futures with more maturity than they ever have before.
Along the way he's supplied four excellent actors with material I suspect will keep them happy playing for months. Running the show is Linda Lavin as another mother from hell. She joins Tyne Daley, Harriet Harris and Julie Kavner as three others from just this month's offerings alone. To me she takes the cake, or at least the lyon's share (pun intended) of it.  Her "Rita" manages to use every digit, every muscle, every feature of her still handsome frame to convey surprise, disgust, shock, incredulity at just about everything coming at her from husband, son, daughter and even husband's nurse.  She is the playwright's dream actress who takes what he gives her, then becomes his collaborator by adding all the seasoning, by making all the right choices through which she can be hilarious one moment, terrifying the next, and emerge from it all with our grudging respect and compassion.
We actually root for her and wish her well in the end. She has a point of view, and Silver, with enormous assistance from Lavin, expresses it brilliantly.
The always valuable Dick Latessa, receives all her passes, and does more with response than almost any actor I can conjure up.  Stuck in bed through the entire first act, he has access mostly to his face, and he uses it to thrust and parry beautifully.  In a talk-back session after the final curtain, Silver acknowledged that Ben was not originally in the second act (because he was dead, you see) but he'd been such a force in the first act, he let him come back "from the other side" for a cross over and a comment.  It's not right — it's not part of the play's directorial concept and it adds little.  But it's a minor distraction, and does little to diminish the power of this fine play.
As the grown and very messed up children, Michael Esper and Kate Jennings Grant contribute too but there is little they can do to stem Rita's tide. It is she who will decide what's to become of them, and so she does.  But weakened as they seem to be by her overwhelming control of everything, they and we begin to think maybe she knows just what she's up to, and maybe she's absolutely right.  It's in the writing, but Lavin's performance is so helpful in scoring this very difficult point.
Mark Brokaw's direction is unobtrusive but he must get great credit for guiding these three performances and for letting Ms. Lavin dare to be brave in creating a Rita who is a complete human being.  She chose this role despite the fact that she could have come into town with Follies in which she appeared at the Paper Mill Playhouse and the Kennedy Center, or in Other Desert Cities in which she appeared off Broadway last season.  Both are on Broadway, where salaries are higher than at her present home at the Vineyard, but she's wise enough to know a juicy sirloin steak of a role when she sees one.  And it's very generous of her to spread herself around, giving us more and more of her, for we can never get quite enough.
See The Lyons if you can.  It's a winner.
The Lyons has been extended and now runs thru Nov 20, 2011 at The Vinyard Theatre, 108 East 15th St, NYC.
Details and tickets 
—————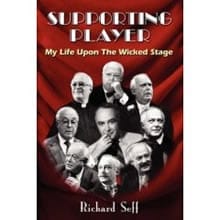 Broadway performer, agent, writer, and now librettist, among his many accomplishments, Richard Seff has written the book for Shine! The Horatio Alger Musical!, which debuted at the 2010 New York Musical Theatre Festival. He is also author of Supporting Player: My Life Upon the Wicked Stagecelebrating his lifetime on stage and behind the scenes, available through online booksellers, including Amazon.com.
Read more at RichardSeff.com
Richard Seff on DCTS – interviews Broadway luminaries:
Richard Seff chats with Joel Markowitz: