"Anonymous" says 'no'. Freud agrees. Who are we to believe?
Court is in session and Tim Treanor argues his case.
Ladies and gentlemen of the jury, let's review the evidence. Can anyone reasonably believe that this man is responsible for some of the greatest literature in the English language?  He was a rustic, indifferently educated, who held a succession of low-level jobs, generally unsuccessfully. His father was a rural merchant. And then, somehow, he supposedly blossomed into a great writer – one who wrote brilliantly perceptive stories about kings and princes.
But for those who choose to see it, the evidence is there to show us he was not the man he claimed to be. In fact, an examination of his writing – even his chosen name – shows us the true identity of the man who wrote the body of work attributed to the world's foremost literary fraud. Consider the name! Mark Twain – "look – there are two of us"! Can any reasonable person doubt that the body of work attributed to Samuel Langhorne Clemens was in fact written by Henry Wadsworth Longfellow?
Oh…wait. That's not the question on the table? I've wandered into the wrong courtroom?  I had hoped to use shoddy scholarship and thin reasoning to convince you that the work attributed to Clemens was in fact written by Longfellow. After all, it's managed to convince a boatload of people – some of them quite eminent – that the work attributed to Shakespeare was actually done by Edward de Vere, the 17th Earl of Oxford, who was a minor poet and playwright of the same time. And if it works, I hope to use it to convince you that the man known as Mohammed Ali was actually a 41-year-old accountant from Teaneck, New Jersey.
The challenge that I face, of course, is that there are dozens of authoritative biographies about Clemens, including his own autobiography, and hundreds of eyewitnesses have attested to his wit, and agile mind, his deep learning and understanding. The real Sam Clemens is etched in concrete, and preserved for eternity. On Shakespeare, born nearly three hundred years earlier, the record is not nearly so detailed. We know approximately when he was born, and where. We know his father was a glover, and some details about that man's life. We know Shakespeare married Anne Hathaway, and we know the outlines of his family life. We know that he was an actor, in Richard Burbage's company, and that his plays were successful and popular. We have some scraps about his business life, including a lawsuit he initiated over a relatively small amount of money. We know when he died. All else is conjecture.
It is no mystery why his life is a mystery: biography, as we know it, had not been invented yet. To the extent that writers wrote about the lives of other people, it was for moral and exemplary purposes, and truth took a back seat to ennobling legend. (Parson Weems' biography of Washington, with the cherry tree incident and so on, was a late example). Scholars wrote books about Saints and Kings. Nobody wrote books about playwrights.
Specifically: nobody ever interviewed those who knew him, or his children or grandchildren. Nobody consciously preserved his personal documents. So beyond his plays, only an anecdote or two and a few papers survived a century past his death. The same, of course, is true of his contemporaries. No one doubts their authorship.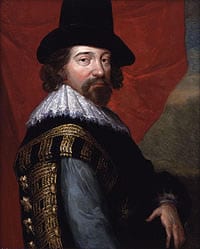 Notwithstanding the dearth of biographical information, no one publically doubted that Shakespeare wrote Shakespeare until the middle of the nineteenth century, when Delia Bacon, a largely self-taught scholar, argued that the true author of the work attributed to Shakespeare was, in fact, the great philosopher and political leader, Sir Francis Bacon (no relation). How could Shakespeare, she insisted, a commoner with a grade-school education who had never left England, have written plays which had the scope, political acumen, social sophistication and undeniable knowledgability that Shakespeare's plays had? Francis Bacon, the most sophisticated man of his age, who had travelled extensively to Italy (Shakespeare's favorite setting) and elsewhere, was to her a more likely candidate.
It is probably too easy to draw a connection between Delia Bacon's startling theory and the fact that she spent the last years of her life in a mental institution. However, it must have been challenging to her to reconcile her assumption that the limitations of Shakespeare's upbringing made it impossible for him to write the plays with the facts of her own life: excluded, as a woman, from the educational opportunities made available to men, she nonetheless became for a time one of the foremost scholars and lecturers in the English-speaking world.
The first celebrity to take up the cudgel for the anti-Stratfordian crowd was Mark Twain. "It is environment, & environment alone, that develops genius or strangles it. To write with powerful effect, a [man] must write out the life he has led – as did Bacon when he wrote Shakespeare," (emphasis from the original), thundered the author of "A Connecticut Yankee in King Arthur's Court," "Captain Stormfield's Visit to Heaven," and "The Mysterious Stranger" (a novel in which Satan comes to earth in the body of a small child).
Notwithstanding the support of writers like Twain and (sotto voce) Henry James, support for the Bacon cause died out when several expeditions failed to unearth the secret manuscripts which adherents had insisted were hidden on Bacon's ancient properties. Instead, the anti-Stratford crowd found a new alternative: Edward de Vere, the 17th Earl of Oxford.
Oxford's first champion was a man named John Thomas Looney (rhymes with "bony"), a former priest in the Church of Humanity, which was a sect which sought "a despotism of society over the individual." The Church of Humanity (it had shut down by 1910) was dedicated to overthrowing the worship of God with a religion based on the supremacy of society, and Shakespeare had been one of its secular saints, with his own month (falling between the months of Gutenberg and Descartes). Nonetheless, Looney was troubled when he tried to reconcile what he knew of Shakespeare's life with his great works. Like Twain and Bacon before him, he found it hard to believe that a man with so provincial a background could write such epic stories. He noted that Shakespeare spelled his own name differently on different occasions, suggesting that he even might have been illiterate. Looney had another angle, too: he could not believe that a man so mean as to sue over a small amount of money could write the broadly humanistic stories attributed to the Bard. Specifically, Looney could not believe that such a small-minded man could have written The Merchant of Venice.
In 1920, Looney wrote "'Shakespeare' Identified", in which he declared that Oxford was his man. Oxford, who had written poetry in the style of Venus and Adonis and plays which his own company had performed, not only had the requisite education, political connections and experience abroad, but his life matched that of the characters in Shakespeare's plays in very specific ways. Like Hamlet's father (and unlike Shakespeare's), de Vere's father had died young. Like Lear (and unlike Shakespeare), de Vere had three daughters. Unlike Shakespeare but like Hamlet, de Vere had been on a ship captured by pirates.
Looney soon attracted a sizeable number of adherents, including Dr. Sigmund Freud, who found in Looney's theory of authorship verification of his own (now largely discredited) theories of the influence of childhood experience on art. Some Oxfordians even purported to find clues to de Vere's authorship in Shakespeare's manuscripts, which included frequent use of the words "ever" ("E. Vere") and "every".
Of course, it would be a mark of wits to disguise one's real name in his writing, but there is not a gram of evidence that de Vere – or anyone else – did so in Shakespeare's manuscripts. Attempting to read clues to authorship from the text is a path away from the truth.  "Ever," after all, is a common word, and it marks all sorts of Elizabethan writing, across all forms and styles. Looney makes his case impressively, but these crypto-Oxfordian cryptographers are less wits than horror wits, whose concepts makes one blanch and whose arguments make one blancher.
There are other problems with Looney's thesis, which is now being taken for a ride in Roland Emmerich's "Anonymous". (See Andrew Levin's excellent review here.) For one, de Vere was not the sweet-minded advocate of humanity that Looney imagined him to be. The current "Dictionary of National  Biography" notes that Oxford was "notorious in his own time" for "his irregular life, and for squandering virtually his entire patrimony on personal extravagance….Eternally short of funds, he did not scruple to burden lesser men with his debts." His "eccentricities and irregularities of temper grew with his years." Those 'eccentricities' included stabbing a servant to death.
Still, Looney might have argued that while Oxford was not a member of Looney's church, he still had a closer resemblance to the impecunious Bassanio than Shakespeare's villain, Shylock. But here is another barrier: Shakespeare wrote some of his best work, including Antony and Cleopatra and The Tempest after 1604 – when de Vere was inconveniently dead.
This isn't a problem to the true Oxfordian, who argues that de Vere had completed those two works before his death, and they were released under Shakespeare's name afterward.  It's the sort of argument that cannot be disproved, of course, and it can be used to show that de Vere wrote the work of Milton, Pope, Nabokov, Ralph Ellison and JK Rowling as well. But who was it that John Fletcher collaborated with when he wrote Henry VIII long after de Vere's death? If it was with an illiterate actor instead of the greatest playwright of his day, would Fletcher not have known? Would there not have been gossip?
But there is one question that the Oxfordians cannot plausibly answer: why would he have done it? Why would de Vere write mediocre poetry and bad plays under his own name, and great poetry and plays under the name of some local actor?  de Vere had his own company; why enrich the Chamberlain's Men (and later the King's Men) with great and popular theater at the expense of his own?
True Oxfordians speculate that hiding under the name of another permitted de Vere to disguise his subversive thinking from the ever-present English censor. This simply doesn't fly: the Master of the Revels scrutinized all art for political correctness, whether it was generated by a commoner or a duke. And Shakespeare was anything but a political rebel; for example, his Richard III included all of the Tudor propaganda about the last Yorkist King, including the calumny that he was a hunchback (Richard was, in fact, a fabulous horseman and close-arms fighter, which would have been impossible if he was handicapped with the condition Shakespeare ascribed to him).
Some advocates have gone as far as to suggest that Oxford was Elizabeth's son, or her lover, or both; but even if that improbable assertion is true it does not explain why he would be permitted to write the plays and poetry he is acknowledged for writing, but would not have been permitted to write the plays and poetry for which Shakespeare is known.
The weakness of the case for de Vere should not be permitted to disguise the weakness of the case against Shakespeare. Let's take a look at the arguments:
1.  Shakespeare couldn't spell his own name. Well, neither could anybody else. Spelling simply wasn't standardized in Elizabethan times. One scholar noted that de Vere spelled ha'penny eleven different ways in a single essay.
2.  Shakespeare was uneducated. Anyone who takes this position does so ignorant of the rigors of the standard Elizabethan "grade-school" education he received. School went from six a.m. to six p.m., with two hours off for lunch, and from seven a.m. to five p.m. in the winter. Students were taught Latin poetry and rhetoric, among other subjects, and most of the headmasters who served at Shakespeare's school during his time were Oxford graduates.
3. Shakespeare lacked the experiences described in his plays. Only a blockhead, frankly, believes that one must experience something to write about it. This argument is particularly maddening when used by those who explain their preference for de Vere as the author; half the men in England lost their fathers at an early age, and many of them had three daughters as well. As for the pirate episode, note that Hamlet does not depict the actual boarding of the pirates, only Hamlet's recounting of the story, and anyone could given Shakespeare a first-hand account of a pirate bounding. Shakespeare, like most writers past and present, obtained his information through research…and theft, too.
Surely you remember Robert Greene's 1592 complaint: "for there is an upstart Crow, beautified with our feathers, that with his Tygers hart wrapt in a Players hyde, supposes he is as well able to bombast out a blanke verse as the best of you: and beeing an absolute Johannes fac totum, is in his owne conceit the onely Shake-scene in a countrey." (Underscoring added). In fact, of all the Shakespeare plays only Midsummer Night's Dream is an entirely original piece; even the most ardent Oxfordian does not claim that this story came out of de Vere's personal experience.  (Note Greene's bad spelling, by the way.)
But for those who are undeterred, consider this: in 1579, in Stratford, when the Bard was fifteen, a 15-year-old girl drowned in the Avon River in a manner strikingly reminiscent of the death of Ophelia. The inquest could not establish whether it was suicide or misadventure.
The victim's name was Katherine Hamlet.
4. Shakespeare had no books. The principal evidence for this assertion is that his will mentions no library. Does yours? But suppose it's true – so what? Books were expensive back then, and Shakespeare's research probably was done in his company's library, not his own.
5. Shakespeare wasn't paid. If by this you mean that there was no evidence that the Bard got a check for his script, or royalties afterward, you're right. But no playwright did, at the time. There was no copyright law, and plays belonged to their companies, not their authors. Shakespeare was a principal shareholder in the Chamberlain's Men, and later in the King's Men. And he must have lived quite well, since his lovely New House was the biggest private home in Stratford. Did de Vere pay for it? He could hardly pay for his own upkeep. And it's hard to imagine de Vere struggling to keep his head above water financially while writing the plays that were making Shakespeare rich.
Admittedly, the straightforward assertion that Shakespeare wrote the plays attributed to him lacks the romance of the exotic Oxfordian claims. But if you want to romanticize about Shakespeare's life, go see the remarkable Equivocation when it comes to Arena; it's better than "Anonymous" and doesn't claim to be anything more than fiction.
As drab as it must seem, we should probably resign ourselves to the quotidian facts of our lives and history. The pyramids were built by Egyptians, not astronauts from another planet. The President of the United States was born in Hawaii, not Indonesia or Kenya or Mars. That malevolent-looking fellow on the other side of the coffeeshop isn't looking at you. And Shakespeare was written by…Shakespeare.
Related:
Andrew Lapin reviews 'Anonymous'
—————
I derived much of the information I used in this discussion from two fine books — "Shakespeare Unbound: Decoding a Hidden Life" by Rene Weis and "Contested Will" by James Shapiro. I recommend the former if you're interested in piecing together Shakespeare's life from his works and the latter if you're interested in the authorship controversy.