The battle has begun.
I've been reading followup columns from the critics of the New York Times and other prominent commentators admitting that some of their nitpicking reviews of the current revival of Porgy and Bess are not consistent with the reaction they have been receiving from their readers. 
I am not a student of opera, my education in classical music is limited, but I've had rewarding times attending opera and concerts, and now and then I've been thrilled at the ballet. But my enduring passion has always been for the theatre, with a particular and different sort of nourishment deriving from musicals.
I was not around for the publication of "Porgy", the 1925 novel by DuBose Heyward, or the production of the 1926 straight play of the same title written in collaboration with Heyward's wife Dorothy, or for Porgy and Bess the folk opera in 1935 with a score  by George and Ira Gershwin.
But I did see the revival of the Gershwin version in 1942 which starred Anne Brown and Todd Duncan, who had created the title roles seven years earlier. I was an early teenager at the time and I think I was more impressed than truly moved by it.  Listening recently to a recording of that Cheryl Crawford production under the baton of Alexander Smallens, I found it solemn and sullen.  Ms. Brown was 19 at the time, the first African-American voice student to be admitted to Juilliard and Mr. Duncan was a classically trained singer and Professor of Voice at Howard University. They earn kudos as the first black couple to play leading roles in musical theatre, but they don't hold a candle to Audra McDonald and Norm Lewis, who are electrifying on Broadway right now.
Mind you, from the moment conductor Constantine Kitsopolous  brings down his baton on the glorious Gershwin overture, sparks fly. As the last notes linger with us, lights come  up on the hustle and bustle of an evening  in Catfish Row, an enclave in the Gullah, the negro ghetto in a section of Charleston,South Carolina.  Out of the cacophony come Clara and Jake, young and in love.  Clara, with her newborn cradled in her arms, sings "Summertime" to her. Porgy joins his neighbors after work; he's been out begging, and he has some coins; he is popular with his neighbors, limited by his crippled legs, which in this version still permit him to walk haltingly with a distorted foot. When Crown arrives accompanied by his drug addicted woman Bess, the temperature rises suddenly, as they are bad news to this community. A crap game ensues, out of which Crown has a fight with Serena's husband Robbins, who is wielding a cotton baling hook. As the fight escalates, that hook ends up in Robbins, killing him. Crown flees to escape the police.  Serena lets us know that her "man is gone now", and she is in deep mourning for him.
Sportin' Life, the local supplier, introduces  "happy dust" and some of the others buy his booze as well as they indulge in livin' the life.  Bess is generally dismissed or insulted by the crowd, but Porgy defends her and it's clear that he has a hopeless eye on her.  So when Crown storms off to save himself, she seeks a place to hide and is rejected by all until  Porgy, who is smitten, reaches out to her  and she accepts his  invitation to wait for Crown in Porgy's own room.
This version, under the direction of Diane Paulus, has been the subject of much dissention among the aficionados who revere the much longer original with its elongated story line and score.  Paulus and orchestrators William Brohn and Christopher Jahnke have zipped it up so it is much more accessible to an audience that prefers musical theatre to opera.
Most importantly, they have cast it with impeccable taste and imagination, finally giving four-time Tony winner Audra McDonald the chance to strut her stuff with true star quality in a well defined leading role. From the moment she arrives on Crown's arm, she delivers a Bess who is complex and arresting. Bess is described in the novel as an addict with a scarred left cheek. McDonald is the first to include the scar in her characterization. Before she opens her mouth, her very walk, her body language, her face all tell us she is a woman covering great rage, a woman of low self respect who is never going to let anyone catch her with her guard down. When she finally lets loose with "Leaving for the Promised Land", in which she joins the crowd in singing Robbins off to his final rest,  when that golden throat of hers hits those high notes, we are hers. It's a finely wrought characterization far more fascinating than anything she's been asked to do before. It's a total performance, one that should be honored in the months ahead with all sorts of awards.
I can best sum it up by saying I'd love to see it again, for it's one of the iconic ones, right up there with Ethel Merman's "Mama Rose", Angela Lansbury's "Mame", Gertrude Lawrence's "Lady In The Dark" and yes, Judith Anderson's "Medea." Don't miss Audra McDonald in this one;  if you do catch it, you'll remember it always.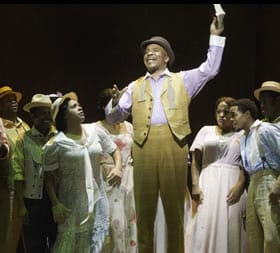 Norm Lewis, her Porgy, is fine too.  He's attractive, and has an appealing manner. His Porgy is no self-pitier, but once he gets close to Bess, he lets us see how much he wants her, how minimal are his chances, how achingly empty that makes him feel. When Bess begins to see he might offer her one last  chance at redemption and a new life, his joy is contagious. In the second act confrontation between Bess and Crown, her collapse is so tragic, it's easy to know her despair, to really give a damn about the basically good uncontrollably bowing to the totally evil. In this scene, two fine actors with remarkable voices take us over the top with their magic.  When this epic drama ends, we are so caught up in the tragic tale of Porgy and Bess, we find ourselves wishing him well as he determines to rewrite that ending when he sings "I'm On My Way."
The tragic tone of the evening is relieved again and again by the very agile and light footed David Alan Grier, who had a Tony nomination for his work in David Mamet's Race in 2010 and he's known as well  for his work on the TV series "In Living Color." A graduate of the Yale School of Drama at which he earned an MFA, this fine actor is clearly versatile and should be working in one medium or another as long as he chooses. His "Sportin' Life" in this production is as slippery as the snake in the garden of Eden,  but far more entertaining.
Phillip Boykin as the rotten-to-the-core Crown, Nikki Renée Daniels as Clara the young mother who loses her husband to the sea, and Bryonha Marie Parham as Serena who is now widowed,  are all top notch and bring delicious seasoning to this mesmerizing work of art.
I admire this production enormously, and give thanks to Jeffrey Richards, Jerry Frankel and their many associates for bringing us this revival, ignoring the nasty words thrown at it from some of the establishment, from Steve Sondheim and Ben Brantley and others who have decided that the Gershwins needed protecting from vandals. I never knew them of course, but I'd wager that George in particular would love this revamping of his work. We must remember that when offered an opera house or a Broadway theatre for its world premiere in 1935, he chose Broadway. And his work in scoring light musicals such as Oh, Kay!, Lady, Be Good and Girl Crazy, as well as his willingness to write music for Samuel Goldwyn's film "Goldwyn Follies" (which served as his swan song, for he died before it was released) make it clear he wanted his music to reach the widest audience possible.  And the current Porgy and Bess deserves to outrun any of its predecessors by a long shot.
Oh, dear — I forgot to say that the one area of the production that seemed under par to me was the scenic design. Catfish Row never looked like the one onstage now at the Richard Rodgers Theatre. No, this seemed more like a section of downtown Detroit with its faded concrete walls and corrugated tin sheet doors.  And as for KittawahIsland, in one major scene that includes a hurricane, all we see is a huge light blue cyclorama covering Catfish Row and looking like the temporary cover used until the actual set arrives. It 's tacky, and the kind of thrilling acting and singing that occurs on it deserves more.  It shouldn't cost all that much to send designer Riccardo Hernandez back to the drawing board to add detail to Catfish Row (which is meant to be the decomposing ruin of a once grand structure), and imagination to Kittawah Island.  But I quibble, and I don't want to sound like those who've done that in other areas before.
This is a memorable Porgy and Bess, its audiences are roaring their approval nightly, and I suggest you join that crowd as soon as you can. This is no tired revival. It's a slam bang revisical, that's what it is.
Porgy and Bess is now playing for a limited engagement at the Richard Rogers Theatre, 226 West 46th Street, NYC.
Details and tickets 
———————–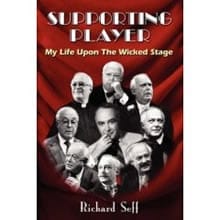 Broadway performer, agent, writer, and now librettist, among his many accomplishments, Richard Seff has written the book for Shine! The Horatio Alger Musical!, which debuted at the 2010 New York Musical Theatre Festival. He is also author of Supporting Player: My Life Upon the Wicked Stagecelebrating his lifetime on stage and behind the scenes, available through online booksellers, including Amazon.com.
Read more at RichardSeff.com
Richard Seff on DCTS – interviews Broadway luminaries:
Richard Seff chats with Joel Markowitz: