Even the lower standards set for success in today's musical theatre are hardly met by the currently reconceived revival of the musical Carrie.  It's always a pleasure to welcome back to the New York stage the golden throated Marin Mazzie, and in the character of "Margaret White", the demon mother from hell, she has found herself a challenge and a half.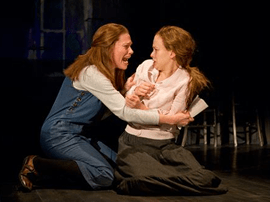 In the original production in 1988, which stuck around for only five performances, Betty Buckley had a fascinating go at the character, and now Ms. Mazzie tackles her with all the star quality she has brought to leading roles in Kiss Me, Kate, Next to Normal, Spamalot and even to the non-musical Enron. But in this production, clearly with the encouragement of director Stafford Arima, (new to me,) from the opening moment when the ensemble sings and grotesquely moves to 'In", we are assaulted again and again by musical numbers pitched high, wide and ugly. Relative newcomer Molly Ranson co-starring in the title role, also sings virtually all her musical numbers at fever pitch, and with the damaging "help" of sound designer Jonathan Deans, we are hit with deafening screams and yells throughout the two acts.
The authors, Dean Pitchford (lyrics), Michael Gore (music) and Lawrence D. Cohen (book) have returned to their original material, and have indeed toned it down, fleshed it out, and generally delivered an interesting tale of high school senior Carrie,  an  introverted seventeen year old, struggling to free herself from the influence of her certifiably insane religiously fanatic mother.
These two characters, living codependently with each other do love each other. In this sense they are not unlike Big Edie and Little Edie Beale in Grey Gardens.   But theirs is a love that can only kill, and watching them live out their destiny is not easy.
The score is uniformly pedestrian, with not a melody in the carload.  Pitchford's lyrics are strictly pop, and though they do help move the story forward, they are indifferent and often repetitive.   Ms. Mazzie delivers her arias impeccably, but it's difficult to have much empathy for such a deranged soul as her Margaret.  When Ms. Ranson is given a less turgid number, such as "Unsuspecting Hearts", she is charming and appealing. She shares this song with "Miss Gardner" her gym teacher and mentor, and at the matinée I attended  the role was played by Anne Tolpegin, the understudy, who was top notch, bringing maturity, warmth, and a fine way with music and lyric to this character.
Christy Altamare as "Sue" and Jeanna de Waal as "Chris", two of Carrie's classmates, one decent, one evil, are first rate. Derek Klena plays the one appealing male student, and Ben Thompson plays the most obnoxious , both delivering good work.  The ensemble, made up of  a  group of well cast Broadway and off Broadway troupers, deliver Mr. Arima's direction and Matt Williams' equally full throttle choreography, though again they are not helped at all, in the small Lucille Lortel Theatre, by the over indulgent sound enhancement.  When will directors learn to instruct their sound designers that less is more if  they want their scores to register with anyone other than 'tweens, who love to scream their "woo woos" whenever a poor leading lady belts a big final note.
There are moments in Carrie when we are actually moved, moments in which we are not being attacked. But they are few and very far between.
The set design by David Zinn and the lighting by Kevin Adams help enormously to let us know we are in Stephen King territory (the musical is based on his novel), and we should be prepared to be scared at any moment.  It happens now and then, but the sum total of this new version of Carrie is, sadly, an attempt to "wash garbage".  This is not my phrase, but one William Goldman used in his masterful look at "The Season" in which he described the kind of plastic surgery that was applied to this once infamous flop.  You cannot expect a large audience to root for a crazy lady and a bunch of nasty teenagers who are, with only two exceptions, big time cruel to a perfectly sweet young lady named Carrie White.
———————–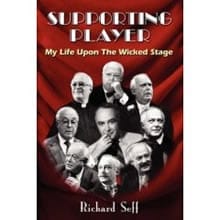 Broadway performer, agent, writer, and now librettist, among his many accomplishments, Richard Seff has written the book for Shine! The Horatio Alger Musical!, which debuted at the 2010 New York Musical Theatre Festival. He is also author of Supporting Player: My Life Upon the Wicked Stagecelebrating his lifetime on stage and behind the scenes, available through online booksellers, including Amazon.com.
Read more at RichardSeff.com
Richard Seff on DCTS – interviews Broadway luminaries:
Richard Seff chats with Joel Markowitz: