Edward Albee has a lot of explaining to do. In the lobby of the newly opened Pershing Square Signature Center way out west on 42nd Street, there is a wall devoted to photos and quotes from the life of this prize winning playwright.  They indicate his state of mind as his play The Lady From Dubuque returns to New York for the first time since its very short run in 1980.  Here are some samples.  
"Look. This is the way you are. You don't like it? Then why don't you change it?  The primary purpose of art is to teach. To make people more aware of themselves, which is a teaching experience."
Another: "I like to think that my plays are out to change people, out to make them more aware of themselves and to point out misuse of consciousness, I suppose as much as anything."
And a third: "I think all my plays are realistic. Though some may be more stylized than others. I think every experience we have is both real and a metaphor.. I don't see why this shouldn't be true in art. I hope my plays will help people to participate in their own lives more."
Well, Mr. Albee, forgive me, but I really don't think you have the right to tell your audiences that they are misusing their consciousnesses, for most of them are not even aware that they have a consciousness. And it's fine for you to think that all experience is composed of real and metaphoric parts, but I for one just don't see things that way.
I don't think it's fair of you to set us up with a room full of characters realistically having a go at a game of "Twenty Questions" during which they tear each other apart, via derision, betrayal, rudeness, and just plain bad manners. They call themselves 'friends', some of them long time friends, yet they behave like unhappily caged beasts. The most vituperative of all is Jo, the hostess, who insults about everyone in the room including her husband Sam; before the long scene is over, we are informed she is dying of terminal cancer and that she is in great pain. Of course, all of her dear friends were aware of her illness, so none of their dialogue seemed believable to me. They would have at least suspected that some of her rage was born in the disease that is killing her.
Sam would appear to truly love her, so he has his own kind of pain watching her agonize so. By the end of the act, the two couples who've consumed a lot of alchohol, are off into the night, in far worse shape than when they arrived. Sam carries his very sick wife up the grand staircase to allow her to succumb to the heavy dose of pain killer she's just swallowed.
Silence for a moment, then a gracious and well groomed lady and her very attractive companion, a black gentleman who can spew venom as though it were honey, slip into the room.  She asks him if this is the correct address and if they are too late. He assures her they are in the right place at the right time.  The curtain falls.
Act Two begins the following morning. Sam comes downstairs in his night clothes, shocked to find the two strangers waiting patiently for him.  "Who are you?" he asks again and again, and when finally he gets an answer, it makes no sense to him.  The lady says she is Jo's mother, come from Dubuque, to help her daughter to die.  Sam knows that Jo's mother is an elderly woman with thinning pink hair living inNew Jersey, estranged for some time from her daughter. Yet when Jo joins them downstairs, still in great pain, she willingly accepts the comforting arms of this stranger, allowing her to behave as a mother might in such circumstances.  Last night's guests return to apologize for all the dreadful things they said. Jo dies, the lady from Dubuque leaves with her companion and Sam is left alone to grieve, to put an end to his denial of his wife's death.
The remarkable thing about the Signature's production, under David Esbjornson's meticulous direction, is that it engaged me almost to its conclusion by the willingness of an excellent cast to submit totally to its enormous demands.  It's never an actor's job to play "metaphor", and this fine ensemble, led by Michael Hayden as Sam and Laila Robins as Jo, allow Jane Alexander and Peter Francis James as the lady and her companion to enter their real world from whatever world spawned them, to treat them as equals, to accept them, to engage with them.  It's a tough assignment, and can't be much fun to play.
I'm not good with this type of material, I feel the author asks too much of me. Albee's dialogue, as always, is literate and dagger sharp, but I found it difficult to pay much attention to a lady who claims to be from Dubuque when I know she's lying. Metaphorical figures have appeared in dozens of plays, of course, but the "real ones" in this play behave so unattractively with each other, I couldn't feel empathy for them, though they were as confused as I was.
Fair warning:  You'll be discussing this one on your way home, and I'll bet you won't come to any conclusions about it. I for one don't enjoy playing that sort of game when I see a play.
The Lady from Dubuque has been extended until April 15, 2012 at Signature Center's The End Stage, 480 West 42nd Street, New York, NY. Details and Tickets
———————–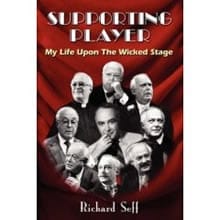 Broadway performer, agent, writer, and now librettist, among his many accomplishments, Richard Seff has written the book for Shine! The Horatio Alger Musical!, which debuted at the 2010 New York Musical Theatre Festival. He is also author of Supporting Player: My Life Upon the Wicked Stage, celebrating his lifetime on stage and behind the scenes, available through online booksellers, including Amazon.com.
Read more at RichardSeff.com
Richard Seff on DCTS – interviews Broadway luminaries:
Richard Seff chats with Joel Markowitz: