I've written about the work of the Actors Company Theatre (TACT) before, and here I am again to report to you on Neil Simon's Lost In Yonkers which is the company's spring entry at the Beckett Theatre on 42nd Street's Theatre Row. 
This past autumn, they mounted A.R. Gurney's Children and now they've found this rarely done Simon gem. It first appeared on Broadway in early 1991; it won a Pulitzer Prize and a Tony Award for Mr. Simon, and racked up 780 performances before landing on screen with Richard Dreyfus (note: Dreyfus played the role Kevin Spacey played on Broadway because Spacey was not a big enough name to launch a film.) It also starred two of the leads in the Broadway production, Mercedes Ruehl and Irene Worth. Dreyfus and Ruehl won Oscars.  Yonkers was  the first of Simon's plays to indicate the full range of his talents.
Even though it is sprinkled with the sort of hilarious one-line wordage that his well-tuned ear always managed to find in the ordinary speech of all of us, this time out he poked a little deeper and proved himself capable of creating characters with layers of memory, pain, compromise, misfortune, strength, cowardice, judgmental error, buried deep within them. To listen to him cough them up in this play of a difficult time in the lives of Simon and his brother (here called "Jay" and "Artie") is to become involved, to share, to care.
When Jay and Artie were 13 and 15, their immediate family fell apart with the death from cancer of their adored mother.  Broken and bereaved father Eddie did his best to sustain himself and his boys,  but as this play begins,he is visiting his Mother, the formidable Grandma Kurnitz, to beg her to let him leave his two sons in her care for the ten months it will take him  to complete a job that will require extensive travel  to get himself out of debt.  His creditor is an unsavory and dangerous loan shark who won't hesitate to become nasty if he doesn't come through with the $9,000 he owes.
Grandma isn't interested in helping — I won't go into detail as to why, but her reasons emerge slowly,  believably and often surprisingly. She flatly refuses her son's plea, but is forced to change her mind when her 35 year old unmarried daughter Bella,  in an uncharacteristic act of defiance, forces her hand.
Simon's dialogue crackles with humor at first, as we get to know the two youngsters, waiting alone on Grandma's pullout sofa bed (which will become their home in the months ahead).  They are good kids, damaged by the loss of their mother, but clearly bonded to each other, and their concern for their own future is blurred by their equal care for the welfare of their loving but ineffectual father. The boys' Uncle Louie returns home to stay with Mother for a while, joining his nephews in their pull-out sofa until his mobster life settles down for a while. Bella, who spends her only private time at the movies (much as "Tom" did in The Glass Menagerie), finds herself falling in love with one of the ushers at the movie house, and it is her final confrontation with Mother, deep in the second act, that brings relief from  the tightening of the strings that bind this family so unhealthily.
These are rich characters to play, all of them, and TACT has come through once again with a cast worthy of the great days of the Theatre Guild, the Actors' Studio, and the National Theatre of London as well.  Cynthia Harris as Grandma, from the moment she hobbles straight-backed into her living room, is in full charge of her domain, ceding nothing to no one including her only grandsons.  She's allowed the demons within her, who have plagued her since her childhood in Hitler's Germany, through the death of two of her beloved children, to the disappointment in the way in which her remaining three turned out, to turn her into a cold and immoveable woman.   It is only the most dependent of the three, her simple minded Bella, who finally gathers enough wisdom to face down her Mother with some truths that strike her heart, and the dynamics of the family shift just enough to leave us with some hope for its future.
Matthew Gumley and Russell Posner, as Jay and Artie, have the burden of getting the play off to the right start, and their introductory scene, alone on Grandma's sofa, relaxes us into knowing we are in good hands. The two listen to each other, know just how to toss a Simon zinger, while still making it clear they are not airheads, that they are dealing as best they can with the  problems within their family.
Dominic Comperatore, playing their father Eddie, is spot on as a good man, deeply wounded, who is trying desperately to guide his two beloved sons through this bad patch. He is no match for his mother, and it is painful to watch her rejection of his plea.  He always behaves with dignity and one can see how aware his sons are of his failure to offer them stability, though they don't blame him for that.
Finnerty Steeves is remarkable as Bella, the most demanding of all the roles, for we meet her in one of her most childish phases. Dressed in bobby sox ( the play is set in Yonkers in 1942) and a cotton housedress, she has the energy and attitude of a teenager, and her glee at getting to know her two nephews is contagious. Her need of them is clear too, and when she convinces her mother to allow them to move in while their father is away, her joy is understandable and again contagious.
Even Stephanie Cozart in the small role of Aunt Gert (the fourth sibling), needed only for one climactic scene, brings vitality and intelligence as an actress to a character who is neither vital nor intelligent. Like all her siblings, she is in one way or another afflicted, and she conveys that artfully.
Add it all up, throw in Jenn Thompson's careful and loving direction, and you have a truly memorable evening of theatre. She convinced Mr. Simon to remove some narrations from the original script, which she felt distanced the audience from the heart of the play . She was absolutely right, and we really are in the middle of this experience, sharing it with the seven characters who populate it.  I would make this a must-see if you want to see the best play Neil Simon ever wrote, served up  to perfection.
The Actors Company Theatre production of Lost in Yonkers runs thru April 14, 2012 at the Beckett Theatre, 410 West 42nd St, NYC.
Details and Tickets 
———————–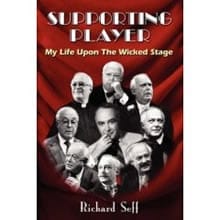 Broadway performer, agent, writer, and now librettist, among his many accomplishments, Richard Seff has written the book for Shine! The Horatio Alger Musical!, which debuted at the 2010 New York Musical Theatre Festival. He is also author of Supporting Player: My Life Upon the Wicked Stage, celebrating his lifetime on stage and behind the scenes, available through online booksellers, including Amazon.com.
Read more at RichardSeff.com
Richard Seff on DCTS – interviews Broadway luminaries:
Richard Seff chats with Joel Markowitz: