– Local playwright John Morogiello (most famous in DC  for Irish Authors Held Hostage) is one of three American playwrights being produced this month in Vienna, Austria. The other two are Tennessee Williams, and Eugene O'Neill. Here's his account of the European premiere of Engaging Shaw. –
The request came out of the blue via e-mail.  I had become accustomed to literary managers asking to read Engaging Shaw in the wake of its production at Abingdon Theatre Company in Manhattan.  The New York Times had swooped down from the dramaturgical clouds to bless it, declaring "If there's a minute of this play that is less than clever, you'd be hard pressed to find it."  Such was the power of the Times that interest and congratulations immediately flooded my inbox from all corners of the country.  I had not, however, expected its power to extend to Austria.  But there it was, an e-mail from Vienna's English Theatre offering to produce the play's European premiere.
It had been a circuitous journey for Engaging Shaw.  The research and first draft took three years beginning in 1997, followed by a fourth year of negotiation with the estates of Shaw and his friends Beatrice and Sidney Webb, from whose letters, diaries, and essays I excerpted.  With the rights secured, my then agent sent the script to every producer in New York on September 10, 2001.  Needless to say, by the next day no one was interested and the scripts were returned, essentially unread.  The frustration prompted me to write a curious examination of terrorism and literature called Irish Authors Held Hostage, which I have self-produced a number of times in the D.C. area.  If you've seen it, you know that Shaw is the only author killed on stage.
The script of Engaging Shaw languished for about four years until an old college professor, eager to break free of academia and establish a footing in the professional sphere, invested a substantial sum to produce and direct it at Oldcastle Theatre Company in Vermont.  It was the first domino to fall in a serendipitous series that led from Vermont to New York, to the Old Globe in San Diego and, finally and surprisingly, to Vienna's English Theatre.
The show was cast and rehearsed out of London, while I revised and remained in contact via e-mail and phone in Maryland.  I liked the questions director Andrew J. Hall asked during the process, particularly a change he suggested which eliminated an awkward crumb of stage business that I'd not seen how to fix since the second draft.
A neurotic playwright's Google search of the cast revealed impressive pedigrees.  Charles Armstrong, playing Sidney Webb, had appeared in The King's Speech.  Robin Kingsland, playing Shaw, was also a writer, and was the Principal Episode Writer and Story Editor for Thomas The Tank Engine.  Naturally, I hoped his acting would be more than a limited collection of model train's facial expressions.  Excited by the prospects, my family and I boarded the plane to attend the first preview and opening.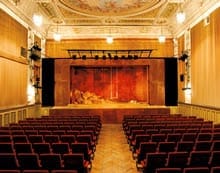 Vienna's English Theatre was founded nearly 40 years ago by Ruth Brinkmann, an American actress who settled in Vienna after marrying Austrian director Franz Schafranek.  The idea was to provide them both with a creative outlet by entertaining English speaking tourists.  To their surprise, the local Viennese relished the opportunity to hear British and American plays in their native language and accents, and the theater quickly became an institution.  The stage is a small, raked proscenium, no larger than the space at Church Street Theatre.  But the house seats 220, with the gilded balcony and frescoed ceiling that make even high-end, American theaters look comparatively like warehouses.
It is an odd feeling to travel to a foreign city and see your name on posters, but I was not the only American playwright in production.  The Theater in der Josefstadt, for which Beethoven wrote the "Consecration of the House Overture," had an O'Neill play in rep (Eines langen Tages Reise in die Nacht), and the Burgtheater was playing A Streetcar Named Desire (translated as Endstation Sehnsucht, which, translated directly back into English, means Terminal Yearning).  In a production photo outside the theater Stanley Kowalski was shown wearing a loose tie, drinking beer straight from the bottle.  It was intended to depict his animalistic qualities.  That's how cultured the Viennese are:  To them, a loose tie and direct-from-the-bottle beer consumption are bestial.  To me, it looked like a federal employee at happy hour.
If Vienna is not on your bucket list, I urge you to revise it.  The city exudes art, music, performance, and baked goods from every quarter.  A local gentleman, upon hearing that I'd be in town all week, insisted that I had to go to the opera.  Being American, I asked, "What's playing?"  He insisted, "It doesn't matter.  To go to the opera is to be Viennese."
During its height, under the Habsburgs, Vienna saw itself as furthering the trail of great European drama originally forged by Thespis, Shakespeare, Moliere, Goethe, and Schiller.  They are proud of that tradition today and insist that theater remain accessible to all.  Government subsidies at the Burgtheater keep mezzanine ticket prices at an astonishingly low 5 Euros, 2.50 for standing room.  Good for patrons, certainly, but decidedly less good for authors who count on a percentage.
Prior to the first preview I meet producer Vanessa Mallatratt and artistic director Julia Schafranek, daughter of the original founders, in the lobby.  Both are charming and kind.  Vanessa asks me why the play has not yet been seen in London and I respond that I'd love her help correcting that.  Andrew, the director, arrives with some bad news:  Robin has lost his voice, but is intent on croaking through the performance as best he can since there are critics in the house.
As we enter the theater, Andrew breaks more news which upsets me.  He has made other changes to the script without my consent and in violation of my contract; he hopes I will like them.  Unfortunately, after seeing them I am less than pleased.  One of the changes telegraphs a joke and undercuts the intelligence of Shaw, the other gives the play a trite, sitcom-like ending.  Ten years ago this would have resulted in screaming.  Now I'm old enough to hold my fire.  I leave the sitcom moment alone as not worth the fight.  I express displeasure at the other change, ask why it was made, explain why I had written it my way, and then let it go.  The critics have already seen it and I am there to make friends, not enemies.  When the production closes the unauthorized changes will cease to be, and the few thousand people who saw them won't recall the misplacement of three sentences.

Beyond that, the production is wonderful.  Hearing the script with four, authentic, British voices is a treat, even accounting for Robin's painful growling and squeaking.  Amanda Osborne is a delight as Charlotte, providing just enough Irish lilt for those who know to listen for it, without making the language incomprehensible to the German ear.  The laughter is more subdued than other productions, each punchline being followed by a chuckle, then a series of whispered translations among audience members before outright enjoyment from the multitude.  But what strikes me most is the curtain call, consisting of polite, modest applause.  The cast bows quickly and heads off stage.  Just as a piece of me dies, considering the show a failure, I realize that the applause hasn't stopped.  The cast bows again and exits.  The applause continues.  A third bow and exit.  As the lights come up, Andrew smiles at my confusion.  "If you don't get at least two curtain calls here," he explains, "the show's a flop."
The opening night galas are usually attended by the British, Irish, and American ambassadors, the last of whom I am eager to meet since he is from Bethesda.  The Italian ambassador is also invited this time, perhaps because my surname ends with an O.  Unfortunately, none of them show because the Russian Foreign Minister is in town.  Personally, I think they should have brought him along.  He would probably enjoy a romantic comedy about socialists.  At the performance, my wife and I sit beside Ian Stafford O.B.E., the British Military Attaché.  I joke that his presence is a comfort, since it means we aren't at war.  He raises an eyebrow imperceptibly.
The party is a blur.  I tease Charles that I worry about him meeting my wife, since it will move her one degree of separation closer to Colin Firth.  He laughs, but betrays a small look of alarm.  A local patron chastises me for a line in the script about the superiority of Swiss chocolate.  "The best chocolate is Austrian," she insists, "It's called Mozart Kugeln."  My sons spend much of the evening in conversation with a woman from Takoma Park, who graduated from Howard University in 1979, and immediately got work as an actress in Sweden before settling in Vienna.  The event feels like something out of Henry James, without the overuse of subordinate clauses.
A few days later, I return to the theater and catch the last two scenes of the show.  Robin's voice is recovered after a visit to a local specialist who performs emergency procedures on the local opera singers.  (Fifty Euros.)  The laughs are stronger tonight, due to a review that said every line ends with a joke.  Just like in America, an audience will laugh once granted permission by a critic to do so.  I join the cast for a drink, then leave them to make the show their own.  The outstanding question remains when and if the script will be seen in Britain.
Of course, it hasn't been produced in Washington either, despite a decade of effort.  I relish the irony that I can't get Engaging Shaw done inside D.C., and I can't get Irish Authors Held Hostage done outside D.C.  However, I'm open to the possibility of that irony vanishing, should anyone care to dispel it.
According to The New York Times, "[Engaging Shaw] is exactly the type of work that nonprofit theaters dedicated to producing new plays and musicals should be doing."  I still believe there is at least one Washington area theater fitting that description.
Engaging Shaw runs thru May 5, 2012 at Vienna's English Theatre, Josefsgasse 12, Vienna, Austria
Details and tickets 
John Morogiello is a Playwright in Residence with the Maryland State Arts Council. His Blame it on Beckett was recently published by Samuel French. It will be produced at Colony Theatre in Burbank, CA, summer, 2012.