Imagination Stage lives up to, in fact exceeds, its name, its mission and all manner of lofty expectations with their splendiferous production of The Lion, The Witch & The Wardrobe.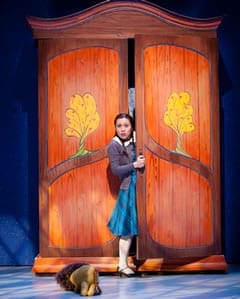 This is collaboration at its very best – every element of live performance melded together into one seamless piece of theatrical virtuosity. Others have attempted, both on stage and screen, to bring this timeless children's tale to life in a manner that befits the much beloved story-telling of its original author, C.S. Lewis. I doubt that any of them have ever woven together music, puppetry, singing, dancing, color, and sound into a tapestry of enchantment quite like this production. The magic of live theatre is alive and very, very well at Imagination Stage.
The true stars of this show are the collaborators – Janet Stanford and Kathryn Chase Bryer from Imagination Stage and David Palmer and Septime Webre from the Washington Ballet. This would be just another enjoyable children's musical were it not for the choreography.
Each of the four main characters (the children: Peter, Edmund, Susan and Lucy) is portrayed both by a stage performer and a ballet artist. At times the story is told through the dialogue and singing of the actors, other times through ballet and, quite often, a dazzling combination of both. There is minimal dialogue and traditional stage movement. Almost the entire production is choreographed in a way that not only enhances the story but is a delight to behold. Rarely, if ever, have I seen such a surprising and successful union between ballet and theatre.
From time to time, I would glance around the audience (mostly children ten and under) just to enjoy how enthralled they all were. Not once do the performers "play to" the audience to get them involved. There was no need. A continuous stream of innovative props and puppetry backed by original music that underscores the entire play and supplements the dancers and actors kept any wiggling and whispering down to a bare minimum.
Stepping through and beyond the innovations established by Julie Taymor, Erik Van Wyk has conceived and brought to life a variety of colorful and often amusing puppets and set pieces – a unicorn, a robin, German WW II bombers, Santa's sleigh, sprigs of flowery springtime.
He has also concocted a setting that affects the transformation from the inside of an English country manor to the magical world of Narnia simply and elegantly. The pièce de résistance, however, is Aslan, the true and original lion king. Aslan requires three puppeters to manipulate, is 9 feet long, weighs 40 pounds and was fabricated in Wisconsin (requiring 300 hours of labor) and transported over 1,000 miles to grace the Imagination Stage. And he is a wonder unto himself.
Van Wyk's outstanding design work is enhanced by Chris Baine's sound design, Colin K. Bills' lighting and Kathleen Geldard's costumes. The ingenuity of their collaboration matches that of the principal directors and choreographers.
Special mention must also be made of the music. Imagination was most fortunate in capturing the very talented Matthew Pierce to write the score. Pierce himself is a violinist of some note and uses the full range of that instrument, dancing around the lower registers in particular, to create the ambience of the piece. Music signals and accompanies the shifting from realistic drawing room to the Narnian world of imagination. We can close our eyes and know immediately whether it is the wicked White Queen or the magnificent Aslan taking the stage. Far from telegraphing anything, the music provides mood and movement that match perfectly with the action on stage.
The very fine company of performers and dancers assembled for this production does its job superbly. There is not a weakness to be found anywhere and, once again, collaboration supersedes any one individual performance. Among a bounty of beautiful ballet performances, Morgann Rose has a magnetic stage presence that she uses to perfection in bringing the wicked White Queen to life. Each of the contributors from the Washington ballet possesses an easefulness and grace that belies the thousands of hours put into their training.
Not to be outdone by any means, the troupe of actors and actresses assembled here is uniformly outstanding. I was most impressed by the versatility and command exhibited by both Michael John Casey and Sarah Beth Pfeifer in a variety of roles. As the four children, Rafael Cuesta, Kate Guesman, Justine Moral and Christopher Wilson carried the story through convincingly and blended what was at times difficult dialogue with some very impressive singing.
I confess to holding a very strong bias toward "hungry" theatre. At times, it seems that the theatres with the largest budgets often emphasize expensive production values over solid performances and honest story-telling. I have been and remain a huge fan of the Young Playwrights Theatre, for instance. There, the emphasis is all on telling the story as written by young, first-time playwrights and performed within a black box environment with very little attention given to scenery, sound, costume or props. They depend almost entirely on the active imagination of the audience.
Imagination Stage and their consummate production of The Lion, The Witch & The Wardrobe has proven me dead wrong, at least in this particular case. They use their well-equipped facility and their ample budget to maximum effect here. This is a brilliant piece of theatre to be enjoyed by audiences of all ages.
The Lion, The Witch & The Wardrobe runs thru Aug 12, 2012 at Imagination Stage, 4908 Auburn Avenue Bethesda , MD.
The Lion, The Witch & The Wardrobe
Concept by Kathryn Chase Bryer, David Palmer, Janet Stanford & Septime Webre
Libretto/Lyrics by Janet Stanford with additional lyrics by Bari Biern
Choreography by Septime Webre & David Palmer
Music by Matthew Pierce
Directed by Janet Stanford
Produced by Imagination Stage
Reviewed by Larry Bangs
Highly Recommended
Running time: 1 hour and15 minutes without intermission