Jason Loewith, a playwright and director with considerable experience in the theatrical business world, has become Olney Theatre's new Artistic Director, the company announced yesterday.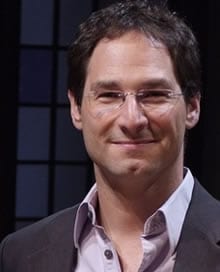 Loewith, formerly the Executive Director of the National New Play Network, is the theater's third  Artistic Director since longtime head Jim Petosa left the company at the end of 2011.  On May 28 of last year, Perry Street Theatricals Co-Director Martin Platt stepped into the post, announcing his plans to make the company "have a stronger profile in the D.C./Baltimore theater world."
"I think it's slipped a bit," Platt said at the time. "Programming has gotten very conservative. I think part of my initiative is to really return Olney to being a real player in that area." Shortly thereafter, Platt announced a 9-play 2013 season which would include Spring Awakening, Carnival, Tartuffe, Once Upon a Mattress, Angel Street, and Hamlet and Saint Joan.
But for unannounced reasons, Platt left the company six months later, and Olney interim Artistic Director Alan Wade subsequently announced that the planned summer production of Carnival would be replaced by A Chorus Line.
Loewith, unlike Platt, offered no critique of Olney's programming in his inaugural comments. "This is an organization with deep challenges and deeper potential," he said. "With the help of the DC theater community I've come to love, with the passion and talent of the Olney Theatre Center staff, and with the wisdom and commitment of Managing Director Amy Marshall, all we can do is succeed.  That's going to pay benefits for the community around us, Montgomery County, and the DC-Baltimore arts corridor."
Among the challenges to which Loewith may have been referring is its struggle for financial security. In 2010, it had a $6 million debt and no announced plan to reduce it. One Montgomery County legislator recommended that the 75-year-old company declare bankruptcy. Instead, Olney mounted a series of relentlessly commercial plays in order to enhance ticket sales. The strategy apparently worked – Petosa announced that the company was on sound financial footing when he stepped down – but some have speculated that the less-than-adventuresome programming was a factor in Petosa's resignation.
Loewith appears to be uniquely qualified to walk the fine line between artistic and commercial success. As a playwright, he is known for his bold style and taste for risk – as evidenced by his book for Adding Machine: a Musical, which had a highly successful run at Studio Theatre in 2009 (Loewith directed that production). Adding Machine: A Musical won the Outer Critics Circle, Lucille Lortel, and Joseph Jefferson Awards for Best New Musical.
But Loewith has demonstrated equal facility in the business side of theater. During his four-year tenure at the National New Play Network, he supervised world premieres by playwrights Luis Alfaro, Steven Dietz, Quiara Hudes, and Theresa Rebeck, among others, and obtained major financial contributions from the Doris Duke Charitable Foundation, the Andrew W. Mellon Foundation, and the Harold and Mimi Steinberg Charitable Trust. (Coincidentally, National New Play Network Board President Ryan Rilette became Artistic Director of Round House Theatre last June). Prior to his work at NNPN, Loewith served for six years as artistic director of Chicago's Next Theater, where his programming twice received the After Dark Award for Outstanding Season (03-04 and 05-06), and work that he directed or produced won multiple Joseph Jefferson, After Dark, and Black Theatre Alliance Awards.
"I am thrilled to have Jason join us in this monumental year at Olney Theatre Center. I am excited about all he brings to the Theatre and look forward to working with him as we move into a new chapter at Olney Theatre Center," Managing Director Amy Marshall said.