"What ever happened to class?" laments lethal flapper Velma Kelly and prison matron Mama Morton in the song "Class" from the Kander and Ebb musical Chicago.
You won't find evidence of anything remotely classy—other than the décor—in Yasmina Reza's play God of Carnage, which depicts two upscale Manhattan couples duking it out over their children's behavior.
What you will find is an impolite and completely hilarious treatise on class warfare and over-involved modern parents that is played to the high-strung hilt in Everyman's production, directed with juicy bite by Eleanor Holdridge.
For 85 taut, Tasmanian minutes, you are thrown into the train wreck of what starts out as a civilized conversation between two sets of parents. Veronica (Deborah Hazlett) and her husband Michael Novak (Christopher Bloch) have asked over the Raleighs, Alan (Tim Getman) and Annette (Megan Anderson), to talk about a fight between their two sons. Apparently, the Raleighs' son Benjamin hit their son Henry in the mouth with a stick, injuring two teeth.
They gather over espresso and pastry at the Novaks' well-appointed, art-filled apartment (the mural depicting boar-baiting is particularly eye-catching in Timothy R. Mackabee's chi-chi set) to discuss how to handle the situation. Lawyer Alan and "wealth management" expert Annette, the younger couple, are clearly ill at ease and Alan also chooses to express his complete lack of interest on the topic by yakking loudly and arrogantly on his cell phone throughout the visit.
Veronica, a writer and fighter of social injustice, starts out acting very Lady of the Manor, channeling her inner Martha Stewart in her arrangement of tulips and disclosing the finer points of making pastry. She wants to show them how broad-minded and accepting she is of all cultures and people, even though her son is facing painful and expensive dentistry.
Michael plays the regular Joe card, talking about his wholesale domestics business and speaking in such perky aphorisms as "We're a lump of potter's clay. It is up to us to make something of it."
Pretty soon, the civil meeting starts to unravel, as Alan takes over the living room as if it is his own, pacing the floors, dropping food and drink all over everything while Veronica tries to genteelly drive home her point that Benjamin needs to be "made aware of his responsibilities." Annette and Alan's hackles rise at this charge and the brawl slowly begins.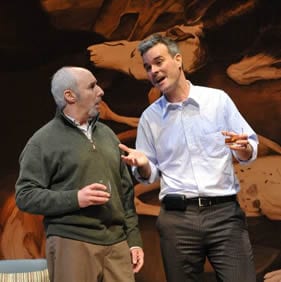 A horrifying digestive incident by Annette completely dissolves all sense of decorum and the two couples drop their facades and just go for it like a deranged tag team of Mexican wrestlers. Veronica works herself into a froth, Michael dives for the rum bottle and everybody gets drunk and disgusting, letting it all hang out and then some.
For a while, it is couple against couple, then a battle between the sexes, but by the end all four people are at different parts of the living room, alone in their private puddle of light—isolated, miserable and empty.
Miss Holdridge uses the conventions of classic farce, such as split-second timing and physical buffoonery, to set on its ear what could have been a more acerbic, intellectual comedy.
From wrasslin' moves to what has to be one of the most gawd-awful funny variations on the spit take, Miss Holdridge pulls out all the stops to keep the play fast and furiously over-the-top.
The cast is game for the physical and cerebral demands of the play, starting with Miss Hazlett's uptight body language and precise diction giving way to snaky and herky-jerky gestures as she loses all control. Miss Anderson's posture and mannerisms—she clutches her Tory Burch purse as if it is her favorite pillow—beautifully conveys the sense of someone so unhappy and uneasy that she can barely hold it together.
Highly Recommended
God of Carnage
Closes April 7, 2013
Everyman Theatre 
315 W. Fayette St Baltimore
1 hour, 25 minutes without intermission
Tickets: $32 – $60
Tuesdays thru Sundays
Quick details
Tickets
Mr. Getman's macho, Alpha Man posturing dominates the stage, but when things don't go his way he throws a temper tantrum and whines like a toddler. As Michael, Mr. Bloch's mien of bonhomie lulls you into thinking he's the ballast of the play, but then he turns out to be as big a phony as everyone else.
There is a great deal of vicarious enjoyment watching these four people hurling remarks and slurs you've only fantasized about saying out loud in public. And the characters are so precise in their rancor, not merely dropping f-bombs but aiming expertly pointed barbs at their adversaries, real and imagined. For a while there, civilization is destroyed and anarchy merrily rules. However, the play asks, what comes next? What do you do after everything you believed in and held in regard is shattered?
—————–
God of Carnage by Yazmina Reza, translated by Christopher Hampton . Directed by Eleanor Holdridge . Featuring Megan Anderson, Christopher Bloch,  Tim Getman and Deborah Hazlett . Produced by Everyman Theatre .  Reviewed by Jayne Blanchard.