Venerable DC-area actress Tana Hicken might soon be hanging up her spurs, but not before she graces the District with her wit, grace, and canny realism a final time in Studio Theatre's emotional 4000 Miles. Hicken teams with the disarmingly sincere Grant Harrison to spin a tale of a lonely grandmother and her aimless grandson who find solace and strength by reaching across their generational divide. 
The show opens on Vera Joseph's cozy apartment in New York City. Russell Metheny's meticulous set design hints at a fastidiousness and consistent rhythm built up over years and years of single occupancy. A late night knock at her door reveals Vera's wayward grandson Leo, caked in mud and dragging a well-used road bike into her quiet, pristine world. Right away Hicken and Harrison establish an easy chemistry that endures through the play's peaks and valleys.
Harrison mixes youthful immaturity and uncertainty with genuine warmth and gratitude toward his patient grandmother. He also displays a persistent evasiveness regarding a recent tragedy, deflecting most of Vera's sympathy by repeatedly dodging the subject like a wanted man.
Meanwhile, Hicken exhibits a magnetic blend of love, frustration, and dry wit. Vera understands Leo more than he knows, and she regularly calls him on his youthful nonsense whenever he gets too preachy or recalcitrant. Meanwhile, Vera has her own issues, stemming from a checkered romantic past and her slow, inexorable mental decline. Amy Herzog's writing of her two protagonists is complex and refreshingly real, layering subtle meaning within clipped phrases and awkward silences.
The play unfolds as a series of vignettes, linked by blackout ellipses that advance the plot by hours, days, or weeks at a time. All of these small worlds are linked together by Lindsay Jones' evocative original music and sound design. Jones largely relies upon dreamy acoustic guitar melodies, which underscore the story's sense of floating and timelessness, somewhere within "the city that never sleeps".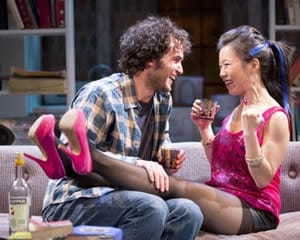 As the story develops and Leo's one night visit turns into several weeks, Herzog throws more drama into the small shared living space. Vera's spotty memory and established rhythm clash with Leo's short temper and nonconformist streak in several heated exchanges, which always seem on the verge of breaking the uneasy truce bridging their disparate lives. While it might provide greater action or movement to have a real schism emerge, somehow, their relationship outlasts even the stormiest of arguments, and the play is stronger for it.
Leo's interactions with his sometime girlfriend Bec and bouncy design student Amanda help to flesh out the wayward biker's somewhat mysterious backstory. Bec, played by Heather Haney, is a fellow  nonconformist who boasts of social work all over the world, including installing solar panels in Africa. One of the most interesting aspects of the show is Leo's feeling of  betrayal that Bec chose to give up on "everything [they] believed in" and enroll in college, therefore violating some previous rejection of the typical American life path.
Highly Recommended
4000 Miles
Closes April 28, 2013
The Studio Theatre 
1501 14th St. NW
Washington, DC
1 hour, 45 minutes without intermission
Tickets: $39 – $82
Tuesdays thru Sundays
Details
Tickets
As girly-girl Amanda, Annie Chang injects a welcome burst of bustling big city life into the quiet apartment. Her brash, superficial, giggly persona stands in stark contrast to Leo's contemplative, big picture thinking. Despite a moment of genuine reflection upon her grandparents struggles in communist China, Chang's presence serves largely to underscore just how much of a fish-out-of-water Leo is in New York.
Director Joy Zinoman has done justice to Herzog's quietly powerful script through tight pacing and judicious emotional control. The whole experience never feels contrived or stale, maintaining dramatic tension over almost two hours with only four characters and one set. Zinoman, Herzog, and the cast deliver a tightly plotted character study that teaches that at their core, most people just want to be heard and loved.
—————–
4000 Miles by Amy Herzog . Directed by Joy Zinoman . Featuring Tana Hicken (Vera), Grant Harrison (Leo), Heather Haney (Bec), Annie Chang (Amanda)  . Set design: Russell Metheny . Lighting Design: Dan Wagner, Costume design: Helen Huang . Original music and Sound Design: Lindsay Jones . Produced by Studio Theatre . Reviewed by Ben Demers