Jon Robin Baitz' fitful exposé of a coiffured, political-celebrity family in extremis, Other Desert Cities, the hit of the 2011-12 Broadway season, is a cool, captivating examination of the cracks in family myth and the slippery nature of truth.
Currently in production at Arena Stage and directed by Kyle Donnelly, Other Desert Cities — a good, but not great play — aims for the pedestal where Arthur Miller and Edward Albee sit; it joins a long, distinguished list of dramatic work that picks at the messiness of familial relationships, and fits snugly in with the contemporary variant of the type through the (over)use of caustic one-liners and the inevitable devastating secret rushing to meet us at the climax.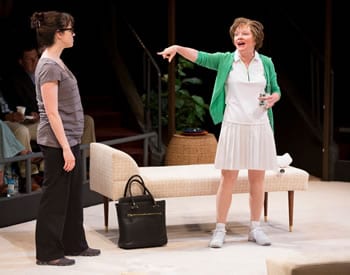 The dissection of family has been integral to theater storytelling since the beginning. Family makes up the roots of who we are. The value of family acceptance, compared to those outside the tribe, is more powerful, the ability to wound greater and tragedy more primal.
When it comes to theater, we all know that family reunions on stage are one accelerant away from combustion.
At its most basic level, Cities is set around a family reunion during the holidays, specifically Christmas 2004; the 9/11 terror attacks are still fresh and the rancor for George W. Bush and his Iraq War in the hemorrhagic throes of apoplexy.
Adult siblings Brooke (Emily Donahoe) and Trip (Scott Drummond) visit the modern, desert-chic Palm Springs enclave of their parents, Lyman (Larry Bryggman) and Polly (Helen Carey) for tennis, shopping at Saks and an "exotic" yuletide meal at the local country club.
But, of course, these tidings won't go down as easy as that.
This long day's journey into night is set in motion when Brooke, a writer recovering from a mental breakdown, reveals that her newest work of fiction isn't fiction at all, but a memoir of her childhood, the family, and especially the exhumation of a brother and son, Henry, who is no longer present.
A little fill-in: The Wyeths are Republican elites, in the mold of the Reagans (who they count as personal friends); with backgrounds in golden-age Hollywood (Lyman a B-movie star cowboy and detective, Polly a screenwriter "straight from Bryn Mawr to MGM") and political fundraising (Lyman was awarded an ambassadorship), while predictably their offspring are decidedly not. Just as the Reagan's little darlings went, here to, the parents' politics have turned off their children.
The ghost at this and all Wyeth get-togethers is Henry, the subject of Brooke's book, who was so disgusted with his parents in the 1970s that he joined a leftist Weather Underground-type cell and participated in the firebombing of a military recruiting station that killed a man. He later committed suicide, leaving an enormous hole in the family psyche. From Brooke's viewpoint, her parents are to blame and after the book is published the whole world will know it. Needless to say, dinner plans are off.
As the sun goes down and the desert chill necessitates the lighting of the living room firepit, the family past is dredged up as a critique of those present, but Brooke's version of the past differs considerably from that of her parents, and it's those differences—political, generational, relational—that make up the compelling drama of Cities.
Two-time Helen Hayes Award winner Carey (Mary Tyrone in last season's Long Day's Journey into Night) is marvelous as the dominating force-of-nature Polly. Sharply attractive (costumed beautifully by Nan Cibula-Jenkins), Polly is alluring, fascinating, aggressively whip-smart, doggedly imperious and riotously funny. Carey nails the role in a commanding performance, especially during the first act's lineapalooza, where she's gifted most of the best quips, such as this zinger aimed at the immoderation of Gen Y: "It's all one thing with your generation—either vegans or meth addicts."
Or this delicious nugget: "I think living on the East Coast has given you the impression that sarcasm is alluring and charming," she tells Brooke. "It is not. Sarcasm is the purview of teenagers and homosexuals."
She's super charming, but there's more to Polly: her oath to family is zenith; she's a lioness when it comes to protecting those close to her, and she fervently expects the same.
Tony Award nominee and long-time soap star Bryggman also gives a memorable turn as the goofy actor turned political hack Lyman. Actually, as the play recedes with time, Bryggman's performance is the more haunting. Lyman runs his family like the modern Teflon politician, an arbiter of denial diplomatically refereeing to please all, including himself.
But Lyman's laconic abjuration doesn't prove as intrepid a safeguard as Polly's cutthroat bon mots and steely resolve.
A little prodding and, in a wonderfully acted turn, Bryggman lets loose in the final scene as the floodgates open, spilling forth an anguish and bewilderment that he's spent a lifetime and career bottling up in order to placate those around him.
The biggest flaw in the play is the character of Brooke. I can't readily remember the last time the apparent protagonist was so unlikable and blah. From the character's physicality to her lines to her motivation, Brooke inspires zero empathy. Does she really think her parents — portrayed as loving and generous, if demanding — are responsible for her brother becoming a terrorist? And knowing what she knows about them, what did she think was going to happen when she dropped this memoir on them over a Christmas visit?
It's a tough role for an actress, as Brooke spends the play moping about, caviling and self-absorbed, often passively reacting to the more-reasoned arguments made by her parents and brother Trip.
Forward to the final scene and Donahoe is tasked with shouldering Cities moving, cataclysmic reveal, for which she deserves credit.
In a curiously insubstantial role, except to show that seeds from the same soil can flower differently, Martha Hackett plays Polly's alter image, the loopy liberal sister Silda, recuperating in the Wyeth home after a stint in rehab.
The production design is excellent. Staged in Arena's Fichandler theater-in-the-round, Kate Edmunds' sunken living room set is a standout, complete with sandstone outcroppings, desert grass, pink Christmas tree, modern settees, loaded liquor cabinet and aforementioned firepit.
Other Desert Cities is a mostly satisfying dark and funny portrait of Americana. The script is smart, if distractedly inauthentic for the sake of laughs, and engaging, even though there is some stalling before the explosive final act.
Lacking that steady, applied pressure of dramatic tension and bare honesty of the pedestal works of Miller and O'Neill, Other Desert Cities can, however, make a bona fide claim for a lower rung on that graded slope.
——————————-
Other Desert Cities by Jon Robin Baitz. Directed by Kyle Donnelly. Featuring Helen Carey, Larry Bryggman, Emily Donahoe, Scott Drummond, and Martha Hackett. Set Design: Kate Edmunds. Costume Design: Nan Cibula-Jenkins. Lighting Design: Nancy Schertler. Original Music and Sound Design: David Van Tieghem. Stage Manager: Martha Knight. Produced by Arena Stage. Reviewed by Roy Maurer.