Never thought I could welcome or anticipate meeting a character more than Aunt Ester Tyler, the 285-year-old matriarch and soul-cleanser of 1839 Wiley Avenue whose touchstone presence filled so many of August Wilson's plays. When I finally met her in 2003's Gem of the Ocean, everything I had imagined and dreamed about Aunt Ester paled in comparison to the woman finally standing before me—old as slavery, new as breath.
Until I met Beneatha—proud, profane, prankish, powerful Beneatha—as written by British-Caribbean playwright Kwame Kwei-Armah in his courageous world premiere play Beneatha's Place and dazzlingly realized by the actor Jessica Frances Dukes.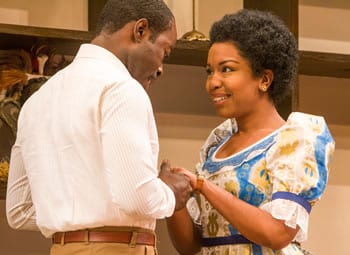 We've met Beneatha before—she's the willful, determined daughter of Mama Lena Younger from Lorraine Hansberry's 1959 drama A Raisin in the Sun and supposedly the character most like Miss Hansberry. In the play, she represents the next generation of African American young women—independent, intellectual and dismissive of traditional gender and racial roles.
Like Aunt Ester, Beneatha gets a play all to herself—Mr. Kwei-Armah's bold and prickly Beneatha's Place, which is a continuation of A Raisin in the Sun as well as a heated conversation about another 21st century play sparked by this seminal work, Bruce Norris' acerbic comedy Clybourne Park.
Clybourne Park is playing in repertory with Beneatha's Place and both plays not only share a cast, but also echo each other in structure as well as the use of provocative dialogue and inappropriate ethnic jokes as catharsis and a way of getting to the truth. Clybourne Park takes place in the house Mama Younger buys for her family in an all-white Chicago neighborhood in order to escape their cramped tenement apartment and their limited opportunities. The first act depicts the former owners and their neighbors grappling with the reality that a black family is moving in any minute.
The second act is set 50 years later with the Clybourne neighborhood "in transition." A white power couple has bought the Younger house, now a neglected shell, and want to tear it down and build a McMansion monstrosity. Members of the neighborhood association try to instill in the couple a sense of pride and value in the homes and their pasts—with disastrous, piercingly funny results.
Beneatha's Place also takes place in a home in 1959, this time however the bungalow is in Lagos, Nigeria. Beneatha married the professor Joseph Asagai (a somber and composed Charlie Hudson, III) and they moved to Africa—Joseph to teach and to become a leader in the Nigerian independence uprising and Beneatha to pursue her medical degree. You see them young and in love—Joseph more grave as the crush of leadership weighs upon him, Beneatha giddy and open, soaking up his words and their experiences like a sponge.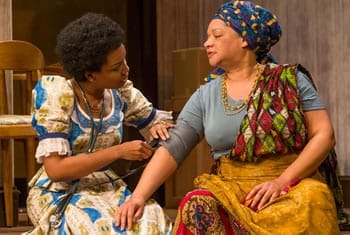 They too have left a tiny apartment for more spacious quarters on Crescent Drive (rendered as a sun-dappled oasis by set designer Jack Magaw and lighting designer Thom Weaver), which was previously owned by the Nelsons, a southern white missionary couple (Jenna Sokolowski and Jonathan Crombie). Mrs. Nelson insists on showing Beneatha around, talking loudly and slowly as if being black is synonymous with mental slowness while carefully demonstrating how to turn on lights and water taps. Miss Sokolowski's chipper obliviousness, Mr. Crombie's growing discomfort and Miss Dukes' slow burn are a joy to watch.
Equally visually arresting is Joseph's collection of racist knick-knacks from America—a phenomenon that fascinates and repels him (and the audience)—as he fills the built-in bookcases with mammys, minstrel masks, dolls in blackface and other depictions of what he calls "the American Negro."
The next drop-ins are considerably more serious. Aunty Fola (Kim James Bey) is a Yoruba market woman and Beneatha's confidante, who warns her that Joseph's leadership role in the revolution against British rule has left him dangerously vulnerable. A white neighbor, Daniel Barnes (James Ludwig), an American industrialist, pops in on the pretext of offering an apple pie—baked by his Nigerian housekeeper. His motive is not at all "welcome to the neighborhood" but something much more opportunistic. But before he makes his true intentions known, Daniel, goaded by a playfully incendiary Beneatha, dons a minstrel mask and cuts loose with a cakewalk that is at once horrifying and painfully liberating.
Their house invaded, Beneatha and Joseph try to re-establish equilibrium, unpacking boxes and arranging furniture and talking about their plans. "Those who control history own the future" says Joseph on his way out the door to retrieve more of their belongings—out beyond the sanctity of their home and into a future neither one ever imagined.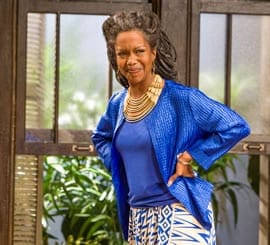 The second act picks up in the present with Beneatha returning to the home after many decades away. Moving a bit slower and sporting a Maya Angelou-like crown of gray braids, Beneatha isn't yielding one inch of ground, despite her age. She is the dean of the social sciences department at a California university, a pioneer and leader in African American studies, and is in Lagos with her colleagues attending a social science conference.
She has chosen her home—where the great wall of racist knickknacks have survived intact—as a meeting place for her department to decide a powder-keg issue. The academics—three white people and one black assistant professor—have to vote on whether to drop African American Studies at the university in favor of "cutting edge" Whiteness Studies, which looks at white privilege in society.
Niceties are quickly dispensed as the group starts baring their true thoughts. Mark (Mr. Ludwig) goes for it from the start, calling Beneatha's home "a relic of a past struggle" and shares an anecdote about a white student who muses that one day black people will run out of stories—"and what then?" she wonders, and you ponder who to slap first—Mark or go hunt down the student. Gary (Mr. Crombie) retreats into a passive-aggressive stance, while Harriet (Beth Hylton) brings everything back to her and her experience.
The academic and couched racist free-for-all continues, as Wale (Mr. Hudson), the son of a Nigerian oil billionaire, asserts that he can talk at liberty about white privilege because he is rich and money makes him worthy of and entitled to such a conversation. "Whites, they own race now" he says.
Highly Recommended
Beneatha's Place

Runs in repertory with 
Clybourne Park
Closes June 16, 2013
Centerstage 
700 North Calvert Street
Baltimore, MD
2 hours, 15 minutes with 1 intermission
Tickets: $20 – $56
Tuesdays thru Sundays
Details
Tickets
What's brilliant about this outrageous banter—which is rendered in a traditional call-and-response form you often find in black churches—is that it is a first world discussion in a third world country. The irony of Harriet talking about two rich lesbians raising their bi-racial child in an elite colorblind society, Gary making parallels between World of Warcraft role-playing games to cultural caste systems in the real world and Mark blathering that he cares more about race and ethnic identity more than Beneatha and "her people" do is just too rich. Mr. Kwei-Armah aims some needle-sharp jabs at white playwrights and other Caucasians who mess around with seminal African American works and try to make them their own.
The weight of this decision—like that of her husband so many years ago—falls on Beneatha. And what she does and how she smacks her colleagues into reality and into the truth of their hateful thoughts and words is shocking and beautiful. She is a leader and just to make sure you don't forget it, Beneatha proclaims with prophet-like surety—"The days they play with us, make fun of us are not over—but they are numbered."
By the end of this brave play, Beneatha has found her place—in the past, present and future and on Crescent Drive. Like Aunt Ester and Wiley Avenue, it is both an address and a portal to history.
———————————
Beneatha's Place by Kwame Kwei-Armah . Directed by Derrick Sanders . Featuring Kim James Bey, James Ludwig, Jessica Frances Dukes,  Beth Hylton,  Jenna Sokolowski, Jacob H Knoll and Charlie Hudson, III . Scenic Design: Jack Magaw, Costume Design: Reggie Ray,  Lighting Design; Thom Weaver.  Sound Design: Elisheba Ittoop . Hair and Wig designer: Greg Bazemore . Dramaturg: Gavin Witt, Dialect: Evamarii . Casting: Tara Rubin . Stage Manager: Laura Smith . Assist Stage Manager: Captain Kate Murphy.   Produced by CenterStage . Reviewed by Jayne Blanchard.
CenterStage Artistic Director Kawme Kwei-Armah on What is The Raisin Cycle?
More?
Jayne Blanchard reviews Clybourne Park. Beneatha's Place runs in repertory with Clybourne Park.