Laughing Daughter's Second Act: Who's Laughing Now?
You probably think this is a story about Crystal Mosser, the songbird who made her start in Washington theater and who has since made it big in New York and elsewhere. Or that it is about how I saw her in Indiana, as an Equity actor performing the Dolly Parton role in 9 to 5. But you're wrong.
It's a story about how smart I am.
About three and a half years ago I reviewed a show called Laughing Daughter out in the wilds of Southern Maryland near where I live. It was not, shall we say, of the greatest. It was at bottom a jukebox musical; the undercooked book stretched itself around songs by the British Country band (it's complicated) Meal Ticket. There were actors who had never acted before, singers who should never sing again, and extended moments where everyone just stood around.
And then there was Crystal Mosser.
"If this show was nothing more than an opportunity to hear Mosser sing Meal Ticket songs, it would be well worth the $15 price of admission," I wrote at the time. "The operatic Mosser appears to have about a four-octave range, and every note she hits is like a ringtone from heaven. What's more, she invests her character with good humor and pluck."
Perhaps I should have said more. Watching Mosser in this production was like seeing a Picasso at your elementary school's art fair. She was new to the area, Laughing Daughter's director explained to me. Her husband, Capt. Justin Anderson, had just been posted to Fort Myer in Arlington Va, after a tour in Afghanistan. She just got her Master's degree in Opera from New York University, and had done some summer stock. She really wanted to be able to work in Washington's great musical theaters.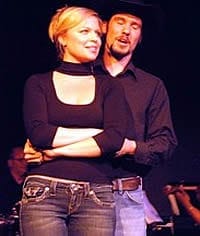 Oh, she would, I assured him. A voice like hers could fill the Kennedy Center's opera house. Her skills would make her a fit with the great artists at Signature and Arena. Plus, of course, casting directors would read my review and be eager to put her in their productions.
And then – nothing
Oh, there were a couple of shows. She was in the ensemble for Mary Zimmerman's fabulous Candide. She was in No Rules' Stephen Schwartz project. She was great in Charlie Fink's fine Fringe show, F#@king Up Everything. (DCTS' Larry Bangs wrote, "Crystal Mosser as Juliana is a drop-dead gorgeous blond – every pubescent male's fantasy in the flesh. But a stunningly beautiful actress has a problem. Her beauty is a constant threat to overwhelm the authenticity of the character. Not a problem for Mosser…[who] is just a girl like any other girl looking for something real in a relationship rather than life being one big chemistry lesson. She carries it off beautifully rather than showing off her beauty.")
But aside from such occasional appearances, Mosser's formidable skills never graced the DC Stage.
So she went to New York.
"Within a month, I began receiving offers," Mosser said. But, having spent much of the previous three years in DC teaching voice to students throughout the Washington area, she was chary of charging onto the New York stage without supplementing her training. She began studying voice herself again, under the tutelage of Andrew J. Byrne. "I felt I needed to spend the summer in the city to regain my foothold."
She hit the cabaret circuit; did some benefits. "One of the most notable and memorable for me was Rockers on Broadway. I was originally hired on to be a back up vocalist for people like Alice Ripley, John Tartaglia, Tituss Burgess…Two days before the show, I received a call from one of the producers. She informed me one of the high profile Broadway singers had dropped out, the programs were already made and the song was A Star is Born," from the movie of the same name. "The song was to be sandwiched in between Alice Ripley beginning the closing medley and ending the closing medley. And I was the meat. The song was like 13 pages long, the words don't repeat and I had 48 hours to learn the song. It was successful and one of my proudest moments."
She earned her Equity card and now, like many Broadway-quality performers who Broadway audiences have not yet learned to recognize, she does touring shows. The one I saw her in was Dolly Parton's musical re-creation of the movie 9 to 5, in which three savvy women, whose contributions to the office are unacknowledged by their sexist boss, turn the tables and empower themselves (kidnapping is involved). In the movie, Parton played Doralee Rhodes, who stoically resists the leering aggression of her despicable boss while plotting his ultimate downfall. In this production, Mosser played that role, and was pitch-perfect.
Of course, the over-the-top sexism lampooned in the 1980 film has largely gone underground, but audiences today recognize and identify with the sense of longing and frustration the three protagonists feel when their abilities are not recognized. It's easy to imagine that an artist of Mosser's skill and training would similarly be upset at the length of time it's taken for her career to reach full flower. But she's not.
Instead, she seems grateful for the opportunity to supplement her education in classical music and opera with real-life experience in other forms of musical theater. "Because of my classical background, I experienced sharp learning curves in both New York City and DC when I began the transition into the music theater world. I think it was also a blessing because I only knew by instinct that I had to try my best to get seen and make connections in order to break in. So without knowing any better, I made slow and steady strides and was thrilled whenever I got a break," including, she notes, being cast in Laughing Daughter.
Her education in DC was not confined to learning Broadway-style musical theater. "I learned that DC cares about the integrity and the artistry of its theater. It seemed to me that all the theaters and theater companies (young and old) cheer one another on. After my contract with Candide ended, the Resident Assistant Director of the Shakespeare Theater, Jenny Lord, offered to write recommendations for me to all the Equity theaters in the area. To me, a classical voice music theater newbie, that was a blessing and spoke worlds of the quality of the people running the theater business in DC."
Mosser's ability to acknowledge the subtle benefits of her theater experiences may help sustain her in the übercompetitive world of theater, which graduates forty thousand Acting MFAs every year. She may also be helped by another characteristic she shares with her Doralee Rhodes character: an understanding and supporting spouse.
Captain Justin Anderson, USA, first met Crystal Mosser when they were both fourteen. Her parents had rented a condo in Ft. Myers, FL for a summer vacation. So had his. Justin and Crystal got to know each other.
"The summer before our senior year of high school, within the first five minutes of arriving at the condo, Justin ran in, grabbed my hand and we ran to the beach where we walked for what seemed like hours. We talked about our lives and what we wanted to do. He was determined to get into West Point and join the Army. I was determined to pursue a career in music. It became clear to us at that point, that our lives were going into two separate directions. He went to West Point and I went to NYU. I actually didn't know much about West Point and one day it dawned on me that my childhood friend (and crush!) Justin was only a train ride away from New York City. Shortly after writing him a message on Facebook, he came down to the city for visit."
She reciprocated two months later by attending his graduation from West Point. She watched him, in full uniform, walk up to President George W. Bush. He whispered something in the President's ear…and Bush smiled and waved to Crystal.
"I choked back tears and filled up with such pride watching my new 2nd Lieutenant shake General Schwarzkopf's hand and accept his diploma. I felt myself fall in love in that moment."
They've been married for six years. Like Ms. Mosser, Captain Anderson is obliged to travel for professional reasons.  He was able to surprise her in Indiannapolis with an early return from his previous engagement – in Afghanistan.
Her long-term goals? Perhaps not what you think. Of course, she wants to sing on Broadway. But she also wants to build a no-kill shelter for abandoned animals. Got ideas, or money? Go here.
So, in summary: gifted singer-actor comes to Washington, does superb work but is largely ignored. Goes to New York, sings with Alice Ripley, becomes Equity actor, tours the country. Saves animals. What's the takeaway?
The takeaway is – casting agents –  read my reviews. And if I see somebody this good, sign her up.