Many operas lose their voluptuous richness when they're flattened into modern translation and costume. Not so with this sumptuous In Series update. Librettist Bari Biern closely knits Mozart's German text of The Abduction from the Seraglio by Bretzer and Stephanie, into English, transforming the silly story about the rescue of entrapped heroines from a Turkish harem into an 1882 Wild West Western with a Hollywood ending.
The tweak works. It's a smashingly successful upgrade.  Judge Roy Bean, a speaking-only role, quietly articulated from a somber-faced Scott Sedar, who casts a withering, mean eye, is as capable of kidnapping, as any Muslim Pasha in the original. So smitten with Lillie Langtry, based on a real life British Music Hall superstar, sung by Heather Bingham, a versatile soprano with solid technique, Bean names the wind-blown Texas town Langtry after her. After this "hanging judge" ambushes and carts away the vaudeville queen and her maid, Blondie, sung by juicy-voiced soprano CarrieAnne Winter, he keeps them arrested in a gilded cage of luxury. Bean and his low-down sidekick, Osmond, (Jeffrey Tarr, who has a thriller of a bass voice), promise the ladies will be detained until they submit to their amorous advances.
Set designer Jonathan Hudspeth's wind-swept veranda porch with swing-doors for the Jersey Lily Saloon & Seraglio, and law offices for Bean, and front yard scaffold for hanging, provide the platform for an equally absurd  yet down-right funny opera-drama.
Mozart's difficult arias, delightful-to-hear, make the entire escapade worthwhile. Musical director Stanley Thurston, who dons cowboy hat and jeans, whips up an impressive five musician ensemble, seated inside the Saloon, into an invigorating toe-tapping overture. And director Tom Mallen puts us there with well-spaced, well-paced staging. Wide-open spaces are suggested by members of his eight character ensemble often staring into the distance from up-front and center.
High points are plentiful. Heather Bingham, poised and serene and decked out in scarlet red dress trimmed in black, and flounced bustle skirt, is the Victorian proper lady, prim to her ruffled hemline. (Costumes by Sehar Peerzada).  In the devilish coloratura passages, it's not about the high notes, which technically, Bingham handles with agility, but about the soprano's expressiveness. In the Prologue, her well-placed voice sounds almost mock-heroic with longing in "Gone is the Joy," (the sad "Traurigkeit" in the original.")
Bingham is well-matched by tenor Joseph Haughton, suited up with bolo tie and leather paneled jacket, as the hero-to-the-rescue, Belmont. Haughton has a resonant and beautiful, trumpet-like voice that can power down any villain and make spines tingle. In "At last, I may have found you," this tenor makes a blockbuster aisle entrance. The hero, Belmont, Lillie's true love, has arrived with a coach-and-four hidden in the woods, along with rope and ladder for escape. And Belmont's impassioned, "My Lillie,…Ev'ry moment brings you closer to my lonely heart." is so heart-stopping, a Dance Hall Girl, who appears at one of the Saloon windows, faints. It gets a big laugh.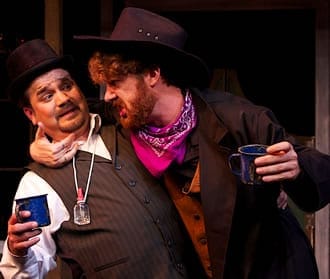 Scott Sedar as Judge Roy Bean is more Mr. Cool than Mr. Terrorist. And we might wonder why a thoroughly emancipated woman who so abhors her captor, might not just walk out the front door in the first place. But suspend disbelief. This is opera and this is remote Texas. And Lillie's not up for walking. But she is up for singing when Bean suggests it to vent her lonely pain. And with precise clarity, Bingham sings the head-spinning aria, "I was happy, Oh, so happy (Ach, ich liebte"). And in another soaring moment, the "Do you dare enrage me?" the musically challenging aria of defiance, Lillie comes across as too worldly-wise to be roped or rescued by anyone, certainly not on a ladder where she could break her neck.
CarrieAnne Winter, sings the role of Blondie, Lilli's maid, with such zest, her invigorating and explosive "I'm as giddy as can be" at the top of Act II, is a breathtaking personification of exuberance. Nephi Sanchez, with his warm, full-bodied voice, who was over-the-top as Tito last season in Mozart's La clemenza di  Tito, is just as solid and resonant as Belmont's sidekick and Blondie's boyfriend, Pedrillo. Sanchez as Pedrillo is wonderful at keeping the antics light, notably  in the Quartet's interactive counterpoint: "Forgive me, my pumpkin,/I am such a stupid bumpkin." Then a refreshing twist hits us. His "Romanza, "Here in this dusty Texas town," transitions into a familiar bit of soulful American folk memorabilia, "Down In the Valley," that I always have associated with a condemned man. ["Hang your head over, hear the wind blow/"] Here it comes across as a playful bit of serendipity.
Jeffrey Tarr, as villainous Osmond, the hanging judge's henchman, with his cavernous bass voice and impressive breath control, brings down the house. Wearing a black, Western long coat, a sheriff might wear. Tarr's resonant voice, that has the range for the octave-leap intervals and Mozart's low notes that descend to a low D, is ideally suited for the aria "O, wie will ich triumphieren." the coloratura bass cadenza.  Biern matches Mozart's cavernous musical descent with hilarious Singspiel lyrics: "I'm so happy that I'm singin'/Tomorrow you will be swinging."  A stunning, bravado performance that elicited bravos in the second act.
Highly Recommended
The Abduction from the Seraglio
Closes September 22, 2013
Source
1835 14th Street, NW
Washington, DC
2 hours, 15 minutes with 1 intermission
Tickets: $40
Fridays thru Sundays
Details
Tickets
Kudos to the chamber ensemble: two violins, a viola, and cello, and Jonathan Yanik, who triple-plays woodwinds, feeding in flute or clarinet or oboe for mood-changing moments.
The rambunctious Saloon Gals all wear a colorful array of skirts for a wild, screaming can-can chorus line, for twirling and spinning in and out of choreography, reminiscent of square dancing configurations by Angelisa Gillyard.
One small bone to pick: Lillie Langtry's British accent doesn't sound believable. And the Texas drawls could use some upgrading for authenticity as well.
Overall, I loved the way Biern throughout her version of the Singspiel stays true to the source and slips in German phrases like "Auf Wiedersehen," little reminders that the interactive ensemble singing was composed for colloquial German, not traditional Italian, a revolutionary innovation by Mozart. The interactive ensemble singing heard in the Quartet, "Ach! Mein Leben" ("Oh, my beloved"),  is sung in German, not English, which projects a clarion call "Here's to Freedom," delivered with exalted vocalizing at its best. Overall, the In Series Pocket Opera's The Abduction From the Seraglio is a brilliant collaboration that yields a beautiful blend.
Don't wait too long – there are only 6 more performances. Just grab a ticket and go.
——————–

The Abduction from the Seraglio By Wolfgang Amadeus Mozart . German book & lyrics by C. F. Bretzner and J. Gottlieb Stephanie, Jr.
New Adaptation in English by Bari Biern . Directed by Tom Mallan . Music directed/conducted  by Stanley Thurston . Choreographed by Angelisa Gillyard . Choreography: Angelisa Gillyard. Set Design:  Jonathan Hudspeth . Lighting design: Marianne Meadows . Produced by the In Series Pocket Opera Company . Reviewed by Rosalind Lacy.