MetroStage's production of Gee's Bend is everything I could possibly hope for.  The story spans seventy years in ninety minutes and explores characters behind the famed Gee's Bend quilts by focusing on a mother and two daughters in an isolated part of rural Alabama.  The small African American community tucked into the "bend" of the Alabama river is in constant jeopardy of being cut off from the mainland, and thus functions as a self-sufficient microcosm, where the women master skills such as quilting.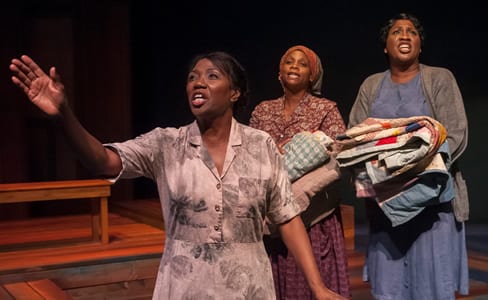 Roz White is a marvel as Sadie who expresses the sentiments and experiences of some of the Gee's Bend quilters that playwright Elyzabeth Gregory Wilder researched. White's approach to her character and mannerisms transition beautifully as she ages across the decades.  Already a master quilter at fifteen from learning at her mothers' knee, Sadie was delighted to catch the eye of up and coming farmer, Macon played with caring finesse by Anthony Manough and would sneak off at every opportunity to enjoy his company.
Societal conditions and family relationships are refracted through Sadie's experiences.  As an innocent young teen, Sadie is full of passion and excited by the prospect of being in love. Her eyes light up at the very thought of Macon, who in one swoop claims her to be his wife and mother of his children who he already imagines running on his recently purchased land and imaginary house. Some of the script's most touching passages come from these interchanges as Sadie shares her no nonsense approach to life while Macon grins with love and desire for her.
Margo Moorer as sister Nella brings depth and gravitas to her character.  Moorer apparently traveled to the Gee's Bend area, sat with the aged quilters and soaked up their wisdom, and it shows.  Her physical manifestations are a wonder to behold as she bickers with her sister over the years, gets settled in her ways, and succumbs as dementia slowly unhinges her grasp of reality.  At first glance, Duyen Washington seems too young to play Mama, but it doesn't take long to witness how she gathers the strength and force of the matriarch with a tough loving approach, and a resonant vocal tonality to match.
Manough's character Macon is fascinating to watch with his brash boldness claiming young teenager Sadie as his wife and proudly looking out at the expanse of land that he purchased for his family.  Macon represents the nascent hopes and dreams of new "freedmen" eager to own land and provide for their families.  The character's descent from loving husband to weary land owner hints at the travails he's been subjected to over the years.  He becomes broke-down bitter with age while White's character Sadie blossoms with hope and purpose, smitten by the charismatic young preacher from Atlanta who infused the congregations with sermons about freedom and social equality. Determined to be part of the fight for justice, she sneaks away to join them since Macon, concerned for her safety, has explicitly forbidden her from participating, even resorting to smacking her to make his point.
Playwright Wilder carefully sets up the groundswell of excitement and energy as Sadie prepares to join fellow congregants on marches for freedom, including plans to cross the bridge to Selma unaware of the notorious brutal beatings awaiting that milestone event. The script does a whammy on Sadie when she struggles back to a locked house where Macon refuses to relent to her pitiful cries for help.
Wilder is not only a researcher, but a social historian as she skillfully captures the characters' struggles bringing them into crystal clarity and into our hearts.  The layered storylines flow seamlessly through decades, thanks to the creative mind of Tom Jones II who plumbs the emotional depth of the material, eases characters into and out of tense transitions, and uses the downstage front area for gorgeous ensembles and striking tableaux.
As one can imagine, actual beautifully designed quilts are used to the max, and everyone on stage benefits one way or another as the quilts offer comfort against the chill, give solace after a heartbreak, even in one case, transforms into a swaddling newborn on cue. The floor and walls are painted in horizontal patches that can represent rows of cotton as well as strips of cloth for the quilts (set design by Betsy Muller.)  In an ending scene when the quilts have finally been recognized for their artistry and cultural significance, patterns are softly projected on the walls for a full panorama effect (lovely lighting design by Jessica Lee Winfield.)
Highly Recommended
Gee's Bend
Closes November 3, 2013
MetroStage
1201 North Royal Street
Alexandria, VA
1 hour, 30 minutes, no intermission
Tickets: $50 – $55
Thursdays thru Sundays
Details
Tickets
All the cast members have strong voices to belt out gospel favorites, and their tones blend and balance like a perfectly-tuned quartet under the music direction of William Knowles.  Master percussionist Greg Holloway starts the show with an African-infused drumbeat and creates a whirlwind of sounds, from rain storms to crickets, and musical chimes in between.  What a treat and blessing to see that William Hubbard is back on the scene collaborating with music direction, a reflection of the healing power of music and the dynamic bonds of the MetroStage family.
In this 50th anniversary year of the March on Washington, the confluence of movies depicting the conditions of slavery and the struggle for Civil Rights and equality is astounding.  Gee's Bend adds insight about this nugget of history that is rarely seen.  I was fortunate enough to see the quilt exhibit when it toured Washington D.C.  some years back and was mesmerized by their reflections of basic and simple truths– artistry endures and will sustain the soul even in the most horrendous conditions. The vignettes describing the pieces relay how the women sought solace and comfort by returning to their piece-work and to each other to get through both joyful and tragic times.   In addition to being a stirring story, the depiction of the Gee's Bend quilters, the MetroStage production is a testimonial to the anchoring power of grace and love.
——————————
Gee's Bend by Elyzabeth Gregory Wilder . Directed and Choreographed by Thomas W. Jones II . Featuring Roz White, Duyen Washington, Margo Moorer, and Anthony Manough with Greg Holloway on percussion . Music direction by William Hubbard and William Knowles . Produced by MetroStage . Reviewed by Debbie Minter Jackson.