George Kelly is one of those excellent playwrights who flourished in the Golden Age of Broadway. Born in 1887 in Schuylkill Falls, Pennsylvania, he was the seventh of ten children born to the 'remarkable "Philadelphia Kellys". One of his brothers, Walter C. Kelly, was a vaudeville headliner, brother John sired Grace Kelly the film star, and like the patriarch in Philip Goes Forth, his father built a thriving business out of humble beginnings.
George was as stage struck as his brother Walter, and in 1911 began acting in touring companies, moving into vaudeville in 1915. The new medium offered excellent  training for him. and he developed his remarkable instinct for the theatre during those years. He began to write sketches, while still performing. When he returned from active duty in World War I, he began his estimable career as a playwright  with the sort of short play that became part of the bill in vaudeville. It was The Flattering Word (1918), the first of numerous works with theatrical subjects.

Kelly directed all his own plays and he was known to be meticulous in casting and in coaching his actors to read his lines just as he heard them in his own head. His first shot at Broadway was a success:  The Torchbearers (1922) ran for 135 performances and gave Mary Boland a personal hit, one which led to the welcome mat being spread for her in Hollywood, where she enjoyed a major career in film comedies. The play was based on a vaudeville sketch, "Mrs. Ritter Presents", as was his next comedy The Show Off (the sketch it was based on was "Poor Aubrey"). It piled up 571 performances and has been revived again and again. In 1925, he changed gears and came up with a much darker play, Craig's Wife, in which he created another archetype in the obsessive, possessive housewife whose story was filmed twice. On Broadway it racked up 360 performances and assured Kelly of a place in the Broadway firmament.
As so often happens to playwrights on the rise, his Muse deserted him in Behold the Bridegroom and Maggie the Magnificent, but the brainy philosopher Joseph Wood Krutch observed in 1929, "A George Kelly play that is a failure is often more memorable than the successes of other playwrights."  He returned to Broadway with Philip Goes Forth  in 1931 to a decidedly mixed reception. Brooks Atkinson in the New York Times, accused him of "discouraging incipient dramatists". Others found it exhilarating and right on the mark. Somehow the plight of a young man determined to write plays despite his business man father's vehement objections did not engage large audiences as the great depression settled in for a stay, and Philip only went forth for 97 performances before biting the dust. Not exactly a bomb, but weak enough to send Kelly out to Hollywood where he remained for five years, though he only had one screenplay filmed. Not happy with Hollywood, he returned to theatre in 1936 but his Reflected Glory and the two plays that followed it did not succeed either.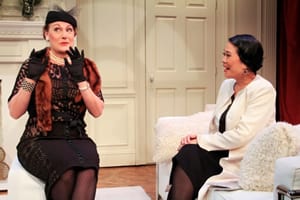 All of which puts Mr. Kelly in the class with William Inge, Terence Rattigan, John Van Druten, Rose Franken and so many other first rate writers who've undeservedly been consigned to the dust bin. The Mint Theatre, under the Producing Artistic Direction of Jonathan Bank, has  a policy of resurrecting the works of these once-favored writers, sometimes choosing their less acclaimed plays, allowing all of us who love theatre to have a look at the stuff on which dreams were once made.
Philip Goes Forth is a perfect example of an imperfect work that is chock full of wit, wisdom, great fun, some insight, and beautifully drawn characters who reflect the spirit and attitudes of their time and place –in this case New York in the midst of the great depression when wacky comedies like You Can't Take It With You, Room Service, Three Men on a Horse and others gave weary audiences a three hour reprieve from the woes of a collapsed economy.
But comedies that poked a little further, that came closer to reality, had a hard time hitting the brass ring. Even the venerable Robert E. Sherwood relied heavily on star names to help Idiots Delight manage 300 performances in 1936 mainly because of the box office draw of Alfred Lunt and Lynn Fontanne,  and S.N. Behrman, whose Biography played 247 times because Ina Claire, a great favorite at the time, was its star.  These plays do not revive well. They were known as "star vehicles." Kelly, as his own director, preferred to work with lesser known actors who were carefully cast, but usually not with big names who could attract crowds large enough to insure success.
The Mint, working in a small theatre off Broadway, continues to bring us interesting plays that involve us, and cause talk long after their curtains fall. For starters, Steven C. Kemp has designed two sets that are perfect to show us the contrast between the nouveau riche world of Philip's father's home — all sparkling white with trimmings that look like Astaire and Rogers will at any moment come dancing through, and the Bohemian boarding house where ex-actress "Mrs. Ferris" presides over a group of eccentrics who are trying to cope.  Philip becomes one of them, and with the emotional backing of a young woman he's known for years, he sticks it out long enough to find out who he really is, and who he is not.
His father, who's had six months to learn something about his son and about himself as well, makes a move toward a reconciliation. How this works out is adroitly handled by Kelly, who dares to allow his characters to reveal their complexities. And in Cliff Bemis and Bernardo Cubria as Father and Son, he's found two actors who fill the characters with nuance and compassion. As Mrs. Ferris, Kathryn Kates who was a late replacement, is absolutely lovely, able to reveal everything from surprise to remembered pain without saying a word. And when she does speak, I found every revelation about her past rang true. The young lady in Philip's life is played by Natalie Kuhn, making her debut at the Mint, but her bio is loaded with work in the regionals. She's refreshing, totally honest, and knows what comedy grounded in truth is all about. How delightful to discover a cast of ten actors, most of whom are first rate, and all whom are on target, none of whom I'd seen before. If only there were a TV show called "America's Got Acting Chops", all of the above would be instantly booked.
There was an after-theatre talk-back the day I saw the play and it's proof of the play's value to have heard the provocative questions and some of the answers that a work of this quality inspires. If you plan to see the play during its run, you might check when other talk-backs are scheduled (there are three more on the docket through October 9), for they add immeasurably to the pleasure to be found in this little black box called the Mint on the 3rd floor of an office building on West 43rd Street.
–  Mint Theater Company's production of Philip Goes Forth is onstage through Oct 27, 2013 at The Mint Theater, 311 West 43rd Street, 3rd Floor, New York, NY 10036. Details and tickets.
———————-
Richard Seff, Broadway performer, agent, playwright, librettist, columnist adds novelist to his string of accomplishments, with the publication of his first novel, TAKE A GIANT STEP. His first book, Supporting Player: My Life Upon the Wicked Stage, celebrates his lifetime on stage and behind the scenes. Both books are available through online booksellers, including Amazon.com.
He has also written the book to SHINE! The Horatio Alger Musical which was a triple prize winner at the New York Musical Theatre Festival (NYMF).
Each year, Actors Equity recognizes the year's most outstanding supporting player with, appropriately enough, the Richard Seff Award.
He is a member of the Outer Critics Circle.