Václav Havel is well known for having been a political dissident, but he was also a well-regarded playwright in his time. His writings were banned by the Communists in the '70s and he became leader of the revolution that drove them out of power. In 1993, he was elected president of the newly independent Czech Republic.
To honor the man, his writings and all he has done for the Czech Republic, the Mutual Inspirations Festival is focusing on Havel in a month-long celebration through theatrical performances, film screenings, concerts, lectures, and exhibitions.
The Mutual Inspirations Festival was created in 2009 by the Embassy of the Czech Republic, focusing on the mutual inspirations between Czech and American cultures and featuring each year an extraordinary Czech personality who has greatly influenced and inspired others through his or her work. Past honorees have been Garrigue Masaryk, Antonín Dvorák and Miloš Forman.
The theater offerings kick off at the Ambassador Theater at 8 p.m. on Saturday, Sept. 21 with the Spitfire Company's preview of Antiwords, a story that draws inspiration from the works of Havel, especially Audience. The play is directed by Petr Bohac and performed by prominent Czech physical theater actresses Mirenka Cechová and Jindriška Krivánková, and appears at the Atlas Performing Arts Center.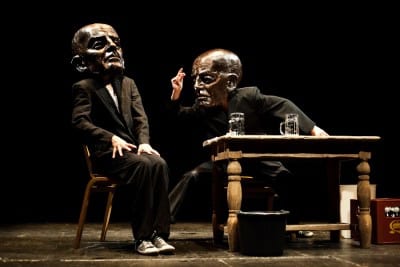 Hanna Bondarewska, founder and artistic director of Ambassador Theater, was a great admirer of Havel, and in December of 2011 was this close to contacting him about working with the theater.
"I had been thinking about Havel since I started a theater and I was thinking about getting in touch with him to invite him on our Honorary Board. I remember when I was traveling to Poland for Christmas, I already planned my visit to Czech Republic to get in touch with him and while on the plane I learned that Vatslav Havel had passed away," Bondarewska says. "I was devastated since I admired him so much as a statesman and writer and humanitarian. I had books with the translations of his plays and I was already thinking about Audience and Protest."
It was Gail Humphries Mardirosian, chair of the department of performing arts at American University, who was the main force behind the Mutual Inspiration performance, connecting Bondarewska to the Czech Embassy and Czech performers.
"Gail told me about the festival and immediately introduced me to wonderful woman, Ms. Barbara Karpetova from the Czech Embassy. Then I met Mirenka and that's how our adventure with Havel began."
Bondarewska, Mardirosian and Cechová put their heads together and came up with an idea not only to focus on one play, but to perform Havel's full trilogy. In addition to the Audience-inspired Antiwords, another trilogy piece, Unveiling would be paired with it and presented as the Havel Project, with The Alliance for New-Music Theatre at Atlas a few days later. Finally, Ambassador will produce a third piece, entitled Protest at Flashpoint in November.
"The theme of Havel's play is conveyed accurately and with perhaps a greater urgency than would be feasible by means of words and conventional acting," Bondarewska says. "Antiwords is influenced by the works of Václav Havel, especially his play Audience and its legendary film adaptation, in which the role of the brewer was played by Landovský with his ability to drink nine pints of beer while in character."
On Sept. 24 and Sept. 25 the Alliance for New Music-Theatre will open The Václav Havel Project, comprised of the area premiere performances of Havel's Unveiling, directed by Cechová, and Spitfire Company's new original work Antiwords, at the Atlas Performing Arts Center.
"The Czech Embassy had approached Mirenka Cechová, to ask if she would be interested in directing a theatre piece for this year's Mutual Inspirations Festival that would feature Václav Havel," says Susan Galbraith. "It was very gratifying to learn that she wanted to use the invitation to bring together two of the playwright's most well-known plays and to work with the Alliance for New Music-Theatre in a partnership."
Cechová had worked previously with Alliance in a couple of different workshop situations so she knew that the company was very committed to developing performers and exploring process.
"I think we both were excited to stretch in new ways—she to work with professional American actors and to discover how far we could go with her way of working, and of course we wanted to 'plunge into the deep end of the pool' under her direction and test ourselves in the charged physical and emotional atmosphere that exploration required," Galbraith says. "We also were thrilled to learn more about this complex, humble and important man—Václav Havel."
Unveiling dramatizes an evening when a dissident playwright visits his old friends, a married couple, in their recently re-constructed apartment that they are about to unveil, only to discover that they've grown worlds apart through the choices they've made and the values the couple now espouses. It's a play that shifts constantly between comedy of the absurd and something searing and even terrifying at times.
"When I first came upon the play years ago, I confess it seemed at first read to be a 'little' absurdist one-act in the style of Ionesco. In rereading the work at this period of my life and stoked with readings about Havel and the very edgy form that he was creating, I am struck by the courage of the man and the power of his writing," Galbraith says. "His writings were considered subversive and he a dangerous dissident to the authorities. He used humor and veiled realities to get his work past censors but also to speak directly to his audience, many of whom were also active in resisting the communist power structure."
Unveiling is a play that transcends its time and speaks to us today about our own society, where materialism and consumerism can also threaten to grind us up in its own system and challenges us greatly to live honestly and independently of spirit.
"The Vanek plays, as they are known, all have in common the central character of Ferdinand Vanek, who became a kind of dramatic alter ego for the playwright. Like Havel, Vanek has been forced to work in a brewery in Antiwords," Galbraith says. "In a kind of chronological sequence that mirrored life, the next play, The Unveiling, shows Van?k at a point some time after he served a sentence as a political prisoner, when he is trying to find his own way in a new order and when others around him have 'moved on,' in fact compromised and caved in in order to secure a more comfortable life."
Protest is also a "follow-up," post-prison period play, but in this work Vanek gets confronted in a much more direct way by a friend from his past when the playwright tries to get his friend to sign a protest letter of political solidarity.
According to Cechová, the connection between
Antiwords
and
The Unveiling
is not only the character of Vanek but also the approach to the essential elements of understanding a theater creation that is about searching for the real existence and authenticity of a performer on the stage, rather than playing the role.
"Although the first show, Antiwords, is performed by Czech actors and the second, The Unveiling, by American actors, hopefully the audience will be able to see the common point of departure," Cechová says. "Also, the development of a conflict between an individual and the system that is in both plays will communicate, I hope, not just the unbearable existential situation but a kind of style that contains both tragic and comic elements. There are also aesthetic elements in common, including the use of masks and how this symbolizes for me another aspect I am going after and that is the inner life of characters who hide more than they show."
Galbraith says the Václav Havel Project represents an extension of the guiding principles— development of new works, where creative members might test new directions of music-theatre and explore integrations of cross- disciplinary and cross-cultural styles—that Alliance feel is important and worth doing.
"It's a dizzying process, truthfully, at times. The struggle we all have to communicate not just across cultures but each from our own specific training and work backgrounds has made for new and I think important discoveries," Galbraith says. "Both the writing and Mi?enka's way of working often asks of the performers to work in highly stylized physical choreography that seems to challenge the quality of 'liveliness.' She also fiercely demands of us moment to moment."
—————————————
Susan Galbraith, a writer for DC Theatre Scene, is a member of Alliance for New Music-Theatre and is returning to the stage after a long absence to perform The Unveiling.