I suggest that Norbert Leo Butz run for President in 2016.  I'd make it "Mayor of New York City" this coming November, for we shall need him then, but he'll be otherwise engaged at the Neil Simon Theatre, where he opened October 6 in a new musical, Big Fish.  My suggestion may sound foolish to some, but I tell you Mr. Butz, at least when he's playing "Edward Bloom" in this dazzling piece of theatrical tomfoolery, could convince anyone of anything, regardless of race, religion or political pursuasion.
Norbert Leo Butz (is that not a great name for an actor of distinction?) is playing a man of such zeal that he rivals the great Professor Harold Hill of The Music Man, and he infuses him with the same sort of razzle dazzle that easily makes friends and influences people.  "Billy Flynn" a character in  Chicago has that same charisma, but he's rotten to the core, whereas Edward and Harold have tender hearts.  As Harold says about his flimflam behavior, "Sorry kid, I always think there's a band", and Edward in a similar vein, sings "Be the Hero of Your Life". They are dreamers, they think big, they want more than the little lives they've been handed.  So Edward tries to imbue in his son Will that passion, the sort that can dream the impossible dream, and hopefully live long enough to see it come true.
"Sentimental folderol", you say? And some might agree. But as played by Mr. Butz and the special Bobby Steggert as his son Will, the young man's journey through the musical in search of the father he doesn't feel he really knows, is a thrilling  and ultimately moving  ride. Under Susan Stroman's masterful staging and choreography, and with the added luster of Kate Baldwin's wife/mother "Sandra Bloom", we have here the most satisfying piece of musical theatre in a long time.
The Book of Mormon is funnier, but this one is funny enough. Kinky Boots is edgier and has the added attraction of Cindi Lauper's unexpectedly stageworthy score, but Big Fish is loaded with star turns, inventive scenic and lighting concepts, consistently brilliant staging, top notch performances and a story that keeps us engaged through its several twists and turns. And it dares to end on just the right note without compromising its hero, its central character, who is allowed by the author to run full circle, to resolve the chord that is his life.
That author is John August, who wrote the screenplay to the film on which the musical is based. Andrew Lippa is his composer/lyricist, whose credits include The Addams Family and The Wild Party. I've always found his lyrics more interesting than his music, for he seems always to disdain a melodic through line. This time out he's come up with fresh words to  inhabit "Be the Hero", "Time Stops", "Closer to Her", "I Don't Need a Roof", "Daffodils", and "What's Next?", but their melodies do not linger on. "Serviceable" is the best I can come up with for them.  However, as staged with energy, originality, and great imagination, the score is well served and the production of it is superb.
I give credit as well to Jon Weston's Sound Design, for it allows us to hear those fine lyrics clearly and without distortion. To be frank, he misses on only one number — "The Witch" which is blasted from here to kingdom come, though performed with great vigor and talent by Ciara Renée, who makes an auspicious debut in the role. But it's a pleasure to see a new musical that respects its audience's ears, so thank you Mr. Weston; just keep an eye on "The Witch."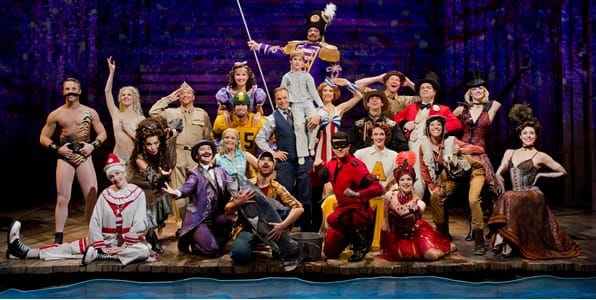 I have nothing but praise for the scenic design of Julian Crouch and the costume design of the venerable William Ivey Long, both of whom contribute mightily to the production's overall elegance and style. And Donald Holder's lighting makes magic of transformable trees and floating towns, helping the plot and the play to constantly engage us visually.  This trio of artists?  The best.
Brad Oscar, always a joy whether playing the lead in The Producers, featured roles in The Addams Family or even in multiple Ensemble roles  (Full disclosure: he once helped immeasurably in a workshop of Shine!, of which I was one of its authors,  in which he bounced from role to role with great skill), gives solid support here as "Amos Calloway" who figures prominently in one of Edward's flashback sequences at a circus. Krystal Joy Brown brings youth, beauty and charm to the role of Will's girl, later his wife "Josephine".
Director/choreographer Susan Stroman has signed on for another musical later this season, which is a big plus for us. She's made a mistake or two in the past when choosing material, but her rise to the top is remarkably consistent what with The Scottsboro Boys,  The Producers, Contact, Show Boat and Crazy for You already under her belt. Even on some that worked less well, like Steel Pier and Young Frankenstein she and her authors have always found highlights with which to delight us. I don't know the lady, but I hear she's a joy to be around even in the midst of the usual crises on a musical's long journey to Broadway. Her work is certainly always a joy to behold.
Big Fish is onstage at the Neil Simon Theatre, 250 W. 52nd St, NYC. Details and tickets.
———————-
Richard Seff, Broadway performer, agent, playwright, librettist, columnist adds novelist to his string of accomplishments, with the publication of his first novel, TAKE A GIANT STEP. His first book, Supporting Player: My Life Upon the Wicked Stage, celebrates his lifetime on stage and behind the scenes. Both books are available through online booksellers, including Amazon.com.
He has also written the book to SHINE! The Horatio Alger Musical which was a triple prize winner at the New York Musical Theatre Festival (NYMF).
Each year, Actors Equity recognizes the year's most outstanding supporting player with, appropriately enough, the Richard Seff Award.
He is a member of the Outer Critics Circle.