In a time where kvetching over the Kardashians passes for civil discourse, it is bracing to watch a play like Red that depicts genuine intellectual arguments and two men passionately arguing about art—as if it really matters.
Of course, art matters. We tend to forget that in our society obsessed with ephemera, the disposable, the pop-up and the "oh, that is so five minutes ago." John Logan's bio-drama Red, currently provoking audiences at Baltimore's Everyman Theatre, reminds us of the art and artists that surrender to the ages rather than capture the zeitgeist of an era.
Mr. Logan's play, directed with cinema-verité intimacy by Donald Hicken, deals with the determined and sublimely cranky artist Mark Rothko (1903-1970). The play is set in the late 1950s, which finds Rothko (Bruce Randolph Nelson) middle-aged but still as bellicose as an infant terrible, and working on commission for a series of paintings to adorn that shrine of capitalism, The Four Seasons Restaurant in the Seagrams Building built by Philip Johnson and Mies van der Rohe. His young assistant Ken (Eric Berryman) is to assist him in this herculean task.
Red finds Rothko somewhat at odds with the times. He wants to construct a temple, something along the magisterial lines of the red murals in Pompeii. Four Seasons diners just want something expensive and pretty to accompany their expense account meals. Rothko wishes to evoke Caravaggio, Rembrandt and Matisse in his use of color and light, the illusion of a painting that glows from within.
His paintings pulsate and change shape the more you look at them, contemplate them in silence. People want pop art—soup cans and comic book panels—things that are immediate and loud and crash, boom, bam.
The trailblazing Abstract Expressionists—of which Rothko was a leader—are long gone or have descended into respectability. Rothko hangs onto the tenets of these artists in his determination to disturb, to take viewers deeper into the void, into what scares and exposes them.
At the same time, the paintings are his children—fragile offspring he loathes to let go of and constantly worries about. He is not just territorial but crazily paternal—likening his paintings hanging in an art gallery to letting a blind child go into a room filled with razor blades.
Red's action is confined to Rothko's studio, a hermetically sealed space where no natural light would ever dare creep in, a meticulously detailed haven of paint cans, canvas and wooden stretchers by set designer Daniel Ettinger. Ken, an aspiring artist, moves between the grunt work of mixing paint and bringing in takeout and being alternately in awe and confrontational toward the Master.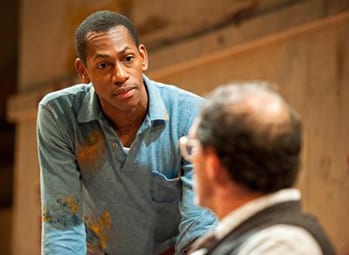 Ken challenges his employer at every turn, from their very first meeting when Rothko asks him "What do you see? What do you see?" (a refrain that recurs throughout the play) and Ken answers "Red" and then puts his foot in his mouth again as he names Jackson Pollock as his favorite artist.
The pair settles into a rhythm, best seen in a virtuosic moment where they compete to prime a canvas, furiously applying their brushstrokes to the strains of Vivaldi's "The Four Seasons." Most often, this rhythm is discordant, with the elder wanting to instruct, to pontificate forth on art and philosophy, to think and consider while the younger wants to go, go, go; to react and get it out there and in their faces.
In one dazzling exchange, Rothko prods Ken to go deeper, to think beyond the three-letter word "red" and they duel to the death with rapid-fire definitions of the color.
More than the production of Red at Arena Stage last year, Everyman's staging emphasizes the prickly father-son relationship between the great artist and the upstart. As portrayed by Mr. Nelson, Rothko is a towering narcissist wrapped in hobo clothing. Possessed of a fearsome intellect and talent, his grandeur is diminished by self-doubt, depression and a nagging sense of persecution. With his precise diction and Rabbinical gaze, Mr. Nelson's Rothko looks and speaks like someone willfully out of step with the times—but also someone who is not going out without a fight.
Highly Recommended
Red
Closes December 8, 2013
Everyman Theatre
315 West Fayette Street
Baltimore, MD 21201
1 hour, 40 minutes with 1 intermission
Tickets: $38 – $60
Tuesdays thru Sundays
Details and Tickets
He is no day at the beach and Mr. Nelson boldly shows Rothko as the social skills-free egotist he was purported to be—although the actor does give Rothko glints of self-awareness in the artist's amusing and constant announcements that it is all about him.
Mr. Berryman's Ken is all hipster bustle and efficient motions. He has places to go and his impatience with what he sees as Rothko's lollygagging is palpable. Mr. Berryman is a lively exclamation point to Mr. Nelson's ellipsis. The multi-ethnic casting also brings new tonalities to the discussions of such colors as black and white.
For you see, the oxblood reds and rich maroons of Rothko's paintings for the Four Seasons soon evolved into later works that were mostly black, but an elegant, velvety black where tragedy can be seen in every brushstroke. Yet, the dark shapes beckon you, whisper to you "escape" and hint of a place bottomless and new.
———————–
Red by John Logan . Directed by Donald Hicken . Featuring Bruce Randolph Nelson and Eric Berryman . Scenic Design;: Daniel Ettinger . Lighting Design: Nancy Schertler . Costume Design: David Burdick . Sound Design:  Neil McFadden . Props: Jillian Matthews .  Dramaturg: Naomi Greenberg-Slovin . Stage Manager: Amanda M. Hall . Produced by Everyman Theatre . Reviewed by Jayne Blanchard.