We've all heard about the actor's nightmare, a dream during which the actor is about to go on stage without having learned the lines.  At the opposite end of the spectrum, what might the actor's dream be?  How about this:  you are a young actor, supporting yourself with menial work.  You go to an open call held by a legendary director.  In fact, he directed the film many consider the greatest of all time.  Your audition comes toward the end of a long day.  The director, who is casting for his version of the Falstaff-Hal story, listens to your (non-Shakespeare) monologue.  After your monologue, he says, "Will you play Prince Hal?"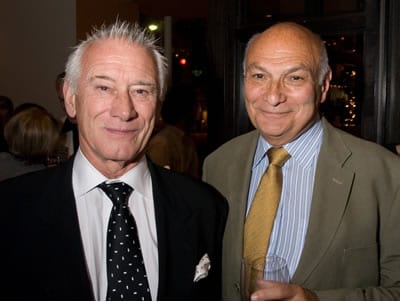 It gets better:  you come back to do the Hal speeches for him, he stops you halfway through and says, "I don't know why I'm wasting this time.  Will you do it?"  This happened to Keith Baxter, and it's how he came to meet and work with Citizen Kane director (and towering figure in film, theatre, and radio) Orson Welles.
I had read the story of this audition in The Film Journal and was anxious to ask Mr Baxter about it during my interview with him at Shakespeare Theatre Company's Lansburgh Theatre during a break from technical rehearsals there for his new production of The Importance of Being Earnest.  Although Baxter has acted at STC (as the Duke in Measure for Measure, Antonio in The Merchant of Venice, and in the title role of the 2004 production of both parts of Henry IV), he is most familiar to DC audiences as the director of (by my count) eight plays at STC.  We talked about his Earnest, his wide-ranging career in the theatre and in film, and some of the people he has worked with and known during that career.
The Importance of Casting Properly
"No one has ever written a play like The Importance of Being Earnest.  This play stands alone because it's really the greatest play, the greatest high comedy.  He invented a whole new kind of theatre, Wilde.  Here's a play with, really, seven actors and it's all conversation and wit.  No one has ever achieved the brilliance of this play."
Mr Baxter allowed as how the first act of Noël Coward's Private Lives could be compared to Earnest.  In Coward's Act One, there is "not a spare syllable."  But whereas Coward's achievement isn't sustained past the first intermission, "Wilde does it from beginning to end."  Mr Baxter pointed out that two Irishman, Wilde and Shaw, became the greatest writers of their generation in the British theatre once they arrived in London and "got the dust of the bogs off their feet."
This is the third Wilde play Mr Baxter has directed at STC.  Previously, his productions of An Ideal Husband and A Woman of No Importance (with "the incomparable Dixie Carter") graced the STC stage.  "Many great actresses" have played the formidable, unforgettable Lady Bracknell in Earnest, and Mr Baxter lists Edith Evans, Maggie Smith, Judi Dench, and Patricia Routledge.  He is "thrilled" that his Lady B is Siân Phillips, who, like Mr Baxter, is from Wales.  She is "a great actress, up there with all the others" he listed who have played the role.  And it was important to him that the role be indeed played by an actress.
"There has arisen a kind of movement in which Lady Bracknell is played by male actors.  I find it contemptible.  I think it's a stunt, it really is a stunt.  We all know Oscar Wilde was queer.  But the play has nothing to do with his life, and there is no evidence he wanted this.  I was determined that we would do it properly with a great actress."
The importance of Lady Bracknell being played by a woman aside, "What people don't understand is that the narrative is carried by Algernon and Ernest.  If you don't have two good actors there, the play falters very badly."  Mr Baxter is "very lucky" that those roles are played by two "extraordinary young men" with whom he has worked before, Anthony Roach and Gregory Wooddell.  (The cast also includes STC veteran and favorite Floyd King as Reverend Chasuble.)
And then the conversation shifted to some of the memorable events in Mr Baxter's illustrious career.
Orson Welles
"It changed my life, of course," Mr Baxter told me about his extraordinary encounter with the man who created the template of the enfant terrible in the trio of mediums of which he was master.  "There's always somebody, when you're young, who says, 'I believe in you,' who tells you that you have talent.  That alters your life."  When Welles chose him to play Hal, Mr Baxter was washing dishes while Welles was at "the pinnacle of his career as a great actor, writer, director."  Welles had the idea to do a rep on stage of Shakespeare's Twelfth Night and Chimes at Midnight, which would be his own creation, taking bits from Richard II, Henry IV Part One, Henry IV Part II, Henry V, as well as The Merry Wives of Windsor, the non-history play that also features Shakespeare's scintillating creation Sir John Falstaff.
A multi-city international tour was planned; "we never got beyond Dublin," Mr Baxter remembered.  Welles "found that he didn't like the company; he found that it [Chimes at Midnight] didn't work" in its stage version.  On the boat back to England, "I was very depressed.  I thought, 'I'll be back to washing dishes.'"
As the boat sailed, Welles "had a row" with someone and disappeared into the bowels of the ship. Mr Baxter was disappointed that the two hadn't even had a proper goodbye.  Then, while still on deck, he sniffed the smell of Welles' cigar.  "I always knew where Orson was by the smell of his cigar."  The Great Man had returned to the deck of the boat.  Welles told him about the time when the Academy Award nominations were announced the year his ground-breaking first film was eligible.  "When Citizen Kane was nominated, every time it was mentioned, it was booed."  Having made the point that brilliant work can be unappreciated at first, Welles turned to the disappointing response to Chimes at Midnight and said, "This hasn't worked, Keith.  It will work as a film.  And I'll never do it unless you play Hal."
The actor's dream continued; "It took another four years before we did it," but they did.  Some consider Chimes at Midnight to be Welles' under-appreciated masterpiece.  And he was as good as his word.  Keith Baxter played Hal.  "Come to Madrid," came the invitation from Welles, "There won't be sixpence in it for any of us, but won't it be fun!"  Mr Baxter told me that the experience was "tremendous" and that Welles had been an influence "in all sorts of ways.  One was the fun."
Margaret Rutherford
Dame Margaret was well-known as Agatha Christie's Miss Marple in films like Murder, She Said.  She won the Oscar for the all-star soapy weeper The VIPs (the first post-Cleopatra film starring the notoriously world-famous Burtons) and had played Miss Prism in the 1952 film of Earnest.  She also played Mistress Quickly in Chimes at Midnight.
As an example of the fun time Welles promised and delivered, and the consequent devotion he received from his actors, Mr Baxter remembered a cold, wet morning filming outside in Madrid.  Welles, seeing Rutherford shivering in a chair on the set, told his young Prince, "Ask her if she wants a cup of coffee.  Ask her if she'd like some brandy with it."  He did, and she did, and the septuagenarian (back when being in one's 70s and still working and still traveling was the exception, not the rule), rather than complain at the uncomfortable conditions, said, "Working with him is like walking where there's only sunshine."
John Gielgud
"He never minded," Mr. Baxter assured me, when I asked about the spot-on mimicry of Sir John he did in the film.  Gielgud played Hal's much-mocked father, Henry IV, and Mr Baxter pointed out that the mimicry is part of the play:  "Hal imitates the King; Orson [as Falstaff] did it, too."  Still, Mr Baxter's Gielgud is eerily accurate, in my opinion.
I knew that Mr. Baxter and Sir John had remained close throughout the rest of Sir John's life.  (More about that later.)  I asked if it had been during the filming of Chimes at Midnight that the two had met.  Mr. Baxter then told me that he had already played Sir John's son in another film, the remake of The Barretts of Wimpole Street.
The Barretts of Wimpole Street was a hit play about the romance between Robert Browning and Elizabeth Barrett Browning.  It had been a film success in the 30s with Charles Laughton, Fredric March, and Norma Shearer, but was less so as a vehicle for Jennifer Jones with Gielgud as Barrett's father.  Mr Baxter said that he's seen it on TV and that "you never see me because it was filmed in CinemaScope" and he, as one of the Barrett siblings, is frequently at the edge of the shot and is therefore cut-off when the wide angle is reduced for the square TV frame.
Gielgud had already written a memoir, called Early Stages, and Mr Baxter brought his copy for Sir John to sign at the end of filming.  Although he was "in awe" of his movie father, Mr Baxter said Gielgud was "very approachable" and signed the book "To Keith Baxter in the hope he will have as much success and fun as I have always had."
"Yes.  I have had the fun."
"Where are the voices, Keith?"
Before leaving the subject of Gielgud, Mr Baxter reminisced about having seen him play Prospero in an extremely large theatre.  Without amplification.  "No microphones.  Nobody had heard of microphones."  Yet watching Gielgud "standing on stage, alone — I mean, the goosebumps rose.  There was just a man and a voice and control."
Mr Baxter then spoke about his luck coming of age in "a theatre run by actors.  You learned your craft.  You can't hear actors now.  In my year at the Royal Academy of Dramatic Art were Alan Bates, Albert Finney, Peter O'Toole.  Alan had a Derby accent.  O'Toole had a sibilant 's.'  Albert Finney had a strong Lancashire accent.  My Cardiff accent was very strong."  He further described it as an "ugly South Welsh accent" and went on to recall this withering assessment from a teacher: "You sound as though your Mother digs for coal with her fingernails."
Rather than being discouraged, or justifiably offended at that, Mr Baxter described how he had "set about to develop a voice.  Voice is so important.  We all wanted to have wonderful voices, and we had to work hard to get them."
It was the playwright John Mortimer (best known here for creating Rumpole of the Bailey) who asked Mr Baxter the question quoted above, "Where are the voices, Keith?"  "He was referring to the wonderful voices that dominated the theatre of our youth:  Gielgud, Richardson, Edith Evans, Peggy Ashcroft, Laurence Olivier, etc. etc."
Kenneth Tynan
"I know that working with Welles opened all sorts of doors," Mr Baxter said, as the subject shifted to his role as King Henry VIII in the original production of A Man for All Seasons, a role he got after that stage incarnation of Chimes at Midnight, but before the film version, and in which he came to New York when the play did.  "The springboard had been working with Orson."  I asked why Robert Bolt's play ended up being more successful on Broadway than it had been in London.  Mr Baxter's response was immediate:  Kenneth Tynan.
Tynan, the wildly influential British critic (and, eventually, partner of Olivier as Literary Manager of the National Theatre), hadn't been very keen on the play during its West End run.  Tynan had "set out to destroy middle-class theatre.  He introduced us to Brecht, Ionesco, avant-garde writers who emptied theaters."  And Tynan loathed the sort of middle-brow drawing room or historical play he felt encouraged complacency, much as our great American film critic Pauline Kael loathed the eventual film version of A Man for All Seasons for similar reasons.  As Kael championed the visceral kind of film exemplified by Bonnie and Clyde, Tynan had championed the "kitchen sink" realism of the "angry young man" school of young British dramatists.
And that explains why the play's success in London was modest, while it was a "huge success in America."  Mr Baxter also pointed out that, in the aftermath of the McCarthy-HUAC era, the story of a man "perceived as incorruptible" held great appeal to an audience on this side of the pond.  Before I could ask about recent revisionism of the play's hero, Sir Thomas More, Mr Baxter cited the popular historical novels by Hillary Mantel (currently being adapted for both stage and TV) and said, "now we know he tortured people in his garden."
President and Mrs. Kennedy
A Man for All Seasons opened in Philadelphia before its New York triumph.  One night, the cast was told to "stay on" after the show.  "The President is here."  Remembering the night the Kennedys saw his performance, Mr Baxter spoke about how JFK "loved the English theatre" and recalled a Gielgud production of The School for Scandal that JFK had admired, as well as JFK's love for the art of rhetoric and admiration of the speeches of Churchill.
Paul Scofield (feat. Alec Guinness)
Another reason for the great success of A Man for All Seasons was "the incredible performance of Paul Scofield."  Mr. Baxter quoted our great actor Jason Robards, who had described Scofield as "the actor's actor."  I asked Mr Baxter about Scofield's reputation as someone thoroughly uninterested in the spotlight and the trappings of stardom.  (I remember hearing that, rather than attend the Oscar ceremony at which he won Best Actor for the film version of A Man for All Seasons, he took a pass and instead said something along the lines of, "I'm sure that my wife and I will find a moment to share a celebratory glass over it.")
Mr Baxter confirmed that Scofield was "a modest man."  He then told me that it is believed, in theatrical circles in Britain, that, as regards a knighthood, Scofield would most certainly have been offered that honor, and that "it is quite clear that he turned it down.  He must have."  Mr Baxter told of someone asking Scofield something along the lines of, "Wouldn't you like to be Sir Paul?," and that he responded, "What's the matter with Mr. Scofield?"
In the "old days," Mr. Baxter continued, there were just a few actors who received Knighthoods. It happens more frequently these days, and he quoted another theatrical Knight: "As Alec Guinness said, these days, they hand out Knighthoods with the strawberries at Safeway."
Anthony Quayle
"Tony!"  Less well remembered these days than other British actors of his generation, probably because he did fewer films and in smaller roles, Quayle ran the Old Vic in the 50s, and those of us who saw him on stage remember him vividly; in my case, more vividly than I remember Richardson, the one time I saw Sir Ralph.  (I anticipate objection from my father, who considers Richardson and Olivier the two pillars of mid-century excellence in British theatre.)
Sleuth was a smash hit, first in London, then in New York, and (spoiler alert) its cast of two was Anthony Quayle and Keith Baxter.  "He was," said Mr Baxter, "one of the most wonderful men.  He called me 'Sausage.'  We never had a cross word, and we had nothing in common except good manners."  Mr. Baxter drew a contrast between the London run, during which Quayle would go home to his wife and three children, and the New York run, during which Quayle was alone, and "the situation reversed."  Instead of being the younger partner, as he was chronologically, he "became [Quayle's] Daddy, in a way."
That show was a tremendous hit, and the two actors became the toast of the town in New York.  As invitations came in, to meet Mayor Lindsay, to meet the astronauts, Quayle would say, "Oh, I don't know," and Mr Baxter would coax, "Oh, come on!"  Tables turned, "he was sweet, like my younger brother."
Eventually, the producers split them up.  "I didn't want him to go," though his new Andrew was the equally wonderful Paul Rogers, recently deceased, about whom Mr Baxter also said there was "never a cross word."  He then mentioned doing a thriller with the wonderful Irish actor Milo O'Shea, and said, with him, too, there was "never a cross word."
Tennessee Williams
"My dresser would say, 'Oh, Mr. Williams is here.'"  Mr. Baxter painted a touching picture of his friend and the great playwright, who came repeatedly to see Sleuth.  Mr Baxter said he doesn't think the play particularly appealed to Williams, but "he would sit in the darkness, listening to the audience.  He loved being in the theatre.  Everyone adored him.  He wasn't fragile at all, but he elicited [a] kind of sympathy."
Christopher Isherwood
I had to ask about one of my favorite novelists, whose epistolary novel A Meeting by the River was adapted for the stage and played on Broadway, starring Mr. Baxter, for exactly one night.
"I hated him.  He was a very nasty man with a huge ego. He was unpleasant to waiters unless they were pretty, to women unless they were extraordinary.  He loathed me by the end."  Interestingly, Mr Baxter focused on the fact that, distinct from many of the expatriates who came to the U.S. before or during the second world war, Isherwood stayed in Southern California, and "it was all wrong."  Many British actors who have come to the U.S. in a play have remained here.  Unlike them, Mr. Baxter didn't stay for good and all.  I inferred that he believed that staying in the U.S., at least in the case of Isherwood, might have contributed to that wonderful writer's personal disagreeableness.  Nevertheless, when Mr. Baxter went back home after the "opening/closing night" of A Meeting by the River, he saw in his bookcase a copy of Isherwood's Berlin Stories, the collection that inspired Cabaret, and he thought:  "It doesn't matter about this play, these stories are fantastic."
José Ferrer
I couldn't remember the name of the Somerset Maugham play I had seen with Mr. Baxter and Rosemary Harris during the 80s at the Kennedy Center.  He reminded me:  Home and Beauty.  Its director, the Oscar-winning actor José Ferrer, also played a cameo role in the second act, and, Mr. Baxter told me, they were the "most terrific friends."  Ferrer was the "worst giggler ever known.  If he started to laugh…"  Mr. Baxter recalled one instance when he had made Ferrer laugh so much during a scene that Ferrer had to leave the stage.
John Gielgud, Part Two
Bob Mondello, theatre critic for Washington CityPaper and film critic for NPR, told me about "a very sweet handwritten letter" he received from Mr. Baxter after Bob's review of The Country Wife at STC.  Bob said he was "one of just a handful of theatre pros who's written me after a review in my 40+ years of reviewing (Ian McKellen's another)."  Mr. Baxter's note spoke about how he had not only appreciated Bob's review, but had also read it aloud to Sir John, at whose country house Mr. Baxter was visiting.  It was clear to me from hearing this story that it was a thrill for Bob to know that something he'd written had reached the ears of the legendary Sir John. (And, as a film critic who has been told by actors such as Tom Hanks that they are fans of his work, he isn't someone for whom appreciative response is unknown.)  Bob elaborated, "My recollection, by the way, is that he read it to him just days before he died. I was both hugely flattered, and horrified…as in, Omigawd, my prose killed John Gielgud."
Cleopatra and Corpse
I asked my theatre-dweeb brother Edward, by the way, what was the play Mr. Baxter had done with Milo O'Shea, and Edward texted the response, "It was called Corpse.  He played dual role of brothers.  Had a brief Broadway run.  One of the last proper Broadway thrillers. I saw him on-stage probably a decade ago in The Woman in Black.  He was excellent.  Very vigorous, in great shape."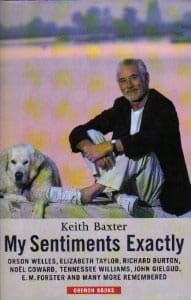 Edward continued, "Did you [expletive deleted] ask him about originally being cast as Octavius Caesar in the movie Cleopatra!  He has lots of great anecdotes on the DVD."  I didn't ask about that, but have heard how delays on the film Cleopatra caused not only Mr. Baxter, because of other commitments, to be replaced by Roddy McDowall, but Peter Finch to be recast with Rex Harrison and Stephen Boyd with Richard Burton.  And the rest is history…
By Keith Baxter

During the discussion of Quayle, I asked Mr. Baxter if he had ever directed himself in a play.  The first time I saw Quayle (in 1974 in a play called The Headhunters, which seems to have played only at The Kennedy Center) he had done double duty.  Mr. Baxter replied that he had not only directed himself in a play, but it was a play he had also written.  Not knowing that he was a triple threat, I have since learned that he has written several plays (among them Cavell, 56 Duncan Terrace, and Barnaby and the Old Boys) as well as a memoir, My Sentiments Exactly, published by Oberon Books and which the curious will find available on its website (oberonbooks.com).  After all, in addition to not getting around to Cleopatra, I also didn't ask about his playing Private Lives opposite Joan Collins, or acting with Elizabeth Taylor in the film Ash Wednesday, etc. etc.  Meanwhile, The Importance of Being Earnest runs at the Lansburgh through March 2.