Alliance for New Music-Theatre's spirited, quirky The Vaclav Havel Project offers delightful commentary on the perennial question of the artist's role in society. When that artist is former Czech president and Communist-era dissident Vaclav Havel – or a representation of him – the question takes on greater geo-political significance.
Playwright, poet, essayist, and politician, Havel's writing often skirted the edges of absurdity, while pointing an accusing finger at totalitarian government and social repression. In a double bill combining one of Havel's own one-acts, Unveiling, with a response to it (Vanek Unleashed) conceived by ANMT Artistic Director Susan Galbraith for the upcoming Prague Fringe Festival, the Alliance brings questions about art and politics to the fore in fun, imaginative, and often irreverent ways.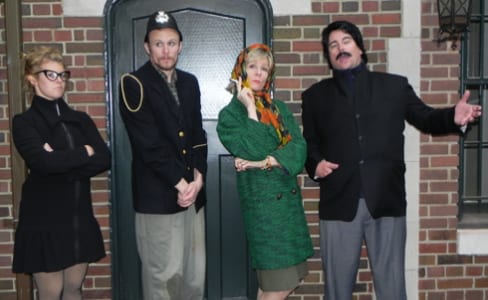 Vanek Unleashed, a world premiere based upon Havel's prison-era Letters to Olga, takes the central character from Unveiling, Ferdinand Vanek, and expands his story through art songs and characterization inspired by Vaudeville and silent film. (In her notes, writer-director Galbraith says she wanted to place Vanek, a familiar Czech character, in the more American context of the musical and of early film clowns.)
Vanek Unleashed becomes a kind of prequel to Havel's Unveiling, in which Vanek, an imprisoned dissident writer, confronts his fears about political irrelevance, writer's block, the dissolution of personal relationships, and the choices that have put him where he is (here, literally behind and beside bars).
In a series of dream-like sequences and brief prison visits from his lover/wife Eva (Pamela Bierly Jusino) and blow-hard actor friend Landovsky (Ron Heneghan), Vanek vacillates between regret and determination, his impassivity – a characteristic of Havel's own creation – highlighted by the singing and movement of Eva, Landovsky, and especially, The Blonde Soprano (Meghan McCall), who would employ her feminine wiles to get a "leg up" from the prominent intellectual. Bedraggled and forlorn, well aware of his balding pate and rotting teeth, Vanek wonders whether the trade-off he made – principles for prison – was worth it. And when freedom comes, "what shall we do when we get it?" he asks. It is a pertinent question, considering the post-Communist travails of many European countries, including the former Czechoslovakia.
Fortunately for the audience, Maurice Saylor's quirky arthouse-cum-silent film score (performed and recorded by the Snark Ensemble) and strong vocal performances from Jusino, McCall, and Heneghan give Vanek's prison reveries a life of their own. As the oppressed and uncertain Vanek, Drew Valins is effectively weary and haggard, aware both of the absurdity of his situation and his utter powerlessness to change it. Singing – turning informant for the Czech Communist authorities – is something he'd never do, but the price of conscience may have been too high.
Not so with Eva, Landovsky, and The Blonde Soprano, who in their own ways encourage Vanek to lighten up and trade a measure of idealism for practicality. Or, in the case of Landovsky, whose grossly protruding stomach reminds one of Wimpy in the old Popeye cartoons, simply another beer.
Through song, gesture, and in Vanek's case, simple bewilderment, the quartet of actors carries the tension between real and ideal, truth and expectation, very well. Director Galbraith adds nice silent film touches – including a strobe-lit Keystone Cops episode and explanatory screen cards – that highlight Vanek's muted voice and absurd situation. The only quibble one might have with the inventive Vanek Unleashed is that, at nearly an hour, it may be a bit long. Absurdism is best taken in short stretches, as Havel, Ionesco, and other masters of the genre recognized. Perhaps that is why, among other reasons, many silent film comedies spun their tales in half an hour or less.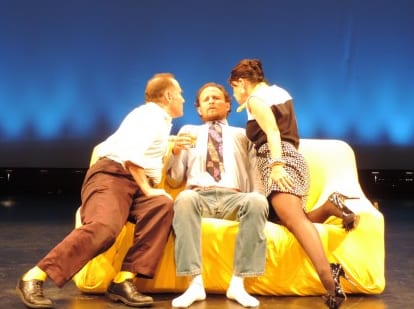 Unveiling hails from the mid-1970s, and is part of a popular – and at the time, banned – trilogy Havel wrote about the fictional Vanek, a stand-in for Havel himself, who runs afoul of the Czech Communist regime and, like his creator, is forced to work in a brewery. The play provides a disturbing answer to the question with which Vanek Unleashed concludes: What, indeed, will we do with freedom when we get it?
The answer is depressingly familiar to observers of contemporary life in the former Communist bloc, and also in today's China. They do what we do: Buy and collect things to fill the ideological or spiritual void that, in their case, totalitarianism once forcibly inhabited.
And so, in Unveiling, we find the hapless Vanek (Drew Valins again), recently released from prison – and wearing the same exhausted clothing – paying his first visit as a free man to the apartment of his best friends Vera (Susan Galbraith) and Michael (Ron Heneghan). You might think the more fortunate couple would inquire about Vanek's prison experiences, or his current frame of mind, but they are too obsessed with telling him what to do and what to get, and showing off their just-renovated apartment, for Vanek to squeeze a word in edgewise.
Unveiling thus absurdly reveals the dark underside of life without conscience or conviction, lived only for self-gratification, and the price that both artist and dissident pay to critically observe it. In many ways, the 50-minute one-act is a fable, reminiscent of Albert Camus' short story "The Artist at Work," in which society pressures the creative spirit to conform and surrender his or her unique convictions.
But there is a distinct hysteria beneath Vera and Michael's protestations of love and concern for Vanek, which native Czech director Mirenka Cechova imaginatively brings to the fore in moments when the couple revert to machine-like automatons. It turns out that they need the uncorrupted Vanek's approval far more than he needs their corruptive tuition about how to live in freedom. Ironically, it is their humanity – which they speak about ad nauseam – that has been compromised, not that of the bewildered former prisoner. Machine noise and static (credit sound designers Martin Spetlik and Robert Janc) fill the air when the couple protest their happiness or show off their urbanity by attempting to introduce Vanek to the latest Western music or television. Hardly anything old or familiar is good anymore – saving, perhaps, a highly symbolic Baroque confessional that Michael has acquired for the apartment; better are the latest gadgets and foods (such as the ridiculous "Groombles") that successful Czechs like Michael and Vera acquire from Switzerland.
Highly Recommended
VANEK UNLEASHED and UNVEILING
Closes May 18, 2014
Alliance for New Music-Theater
at Artisphere
1101 Wilson Blvd
Arlington, VA 22209
2 hours with 1 intermission
Tickets: $30
Wednesday, Thursday, and Sunday
Details and Tickets
Is Havel bashing the West? Probably not, but almost 40 years ago, the late dramatist had a nightmare vision of a newly liberated, post-Communist Europe which embraced the god of materialism as willingly as it had once embraced the hammer and sickle. In the decades since
Unveiling
was written, we have witnessed the dangers of a get-everything-you-can culture in our own country as well as in the former Soviet bloc.
Havel's fable of the devastating effects of rampant materialism and unbridled personal freedom divorced from social conviction is in capable hands under Cechova's direction and as articulated, in hilarious fashion, by the three-person cast of Galbraith, Heneghan, and Valins. Once again, Valins is the quiet, still center of a storm produced by his colleagues, and the outsized characterization and absurdist automaton presentation – perfectly timed – of Galbraith and Heneghan is spot on.
If Unveiling is a more tightly plotted, politically aware fable than Vanek Unleashed, the latter offers a perfect counterpoint in the music-framed reveries of a man who may never see freedom again, and thus, is forced as most of us are not, to contemplate what it really means. The picture so well presented to us here in Unveiled – and through both plays, in the life and work of Havel himself – suggests that freedom without responsibility does cost something.
————————
The Vaclav Havel Project . Featuring Susan Galbraith, Meghan McCall, Drew Valins, Pamela Bierly Jusino and Ron Heneghan . Presented by Alliance for New Music-Theatre at Artisphere . Reviewed by Deryl Davis.