In most ways, In the Next Room or the Vibrator Play gives us what we came to see, argue as we might that we didn't come to see that.
You didn't?
No! We thought it would be, like, a dramatic reading of A Room of One's Own.
That's baloney. And one of the things that makes this play work is our desire to hide behind baloney like that.
The play is, in fact, about using vibrators to make people — not just women — have orgasms in one room while people not having them listen from another room. Or try not to listen. Sometimes they go for a walk. If playwright Sarah Ruhl had given that title to a play in which that doesn't happen, I'd feel tricked. But it's also a play about longing, and about discovery, and about trying to help people cope with inner conflicts they don't understand, such as the simultaneous interest in and embarrassment about sexuality that some of us feel.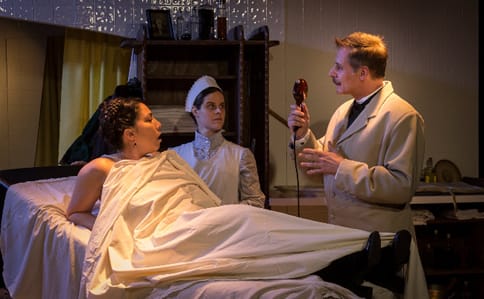 Not just any people using vibrators, but people from the dawn of the electrical age, before orgasms became a civil right, when vibrators were unknown. The distance between those people and us is eloquently communicated by the length of time it takes them to undress onstage — not because they're modest but because they wear so many layers that you wonder if they're trying to protect themselves against abrasions. And that pillow the women tie to the small of their backs before they put their skirts on: what's that about? They must have a different attitude toward the question "Does this dress make my butt look fat?"
The premise is simple: Dr. Givings believes that female hysteria is caused by congestion in the womb. "If we can release some of that congestion and invite the juices downward," he tells Mrs. Daldry, "your health will be restored." He invites her juices downward by inducing what he calls "a paroxysm," which he achieves through electro-massage therapy.
It seems clear to a modern audience that Mrs. Daldry's only illness is an acute sense of inadequacy derived from life with her husband, who tells Dr. Givings that his wife's hands don't work in the bedroom anymore. As Mrs. Daldry, Lia Seltzer evinces the emotional fragility we might associate with repression nowadays, and she seems so physically hypersensitive that it's easy to believe she uses all that clothing as a buffer zone against accidental stimulation.
Dr. Givings seems genuinely concerned with restoring her health as effectively as possible, and to that end he has developed a new tool: "It used to be that it would take me or it would take Annie (his assistant) hours to produce a paroxysm in our patients, and it demanded quite a lot of skill and patience," he explains. "But thanks to this new electrical instrument we shall be done in a matter of minutes."
Under the comfort of his scientific reassurance, Mrs. Daldry lies down, and Dr. Givings reaches underneath the sheet, buzzing instrument in hand.
With treatment like that available, who needs medical marijuana?
There's a risk here, I think: might we not begin to snicker knowingly at those poor dolts uninitiated in the fundamental pleasures we enlightened ones enjoy, and wind up snickering the play away? Three components of this production keep that from happening. The first is Seltzer's captivating, un-ironic depiction of what it might be like to discover orgasm for the first time, with no previous exposure to Cosmo or even to bawdy conversation, devoid of language for processing the experience. It's not a snickering performance.
The second is the sense of longing with which Allison Duvall infuses the character of Mrs. Givings: she longs to be a better mother, to produce more breast milk, to hold her husband's attention like his patients do, to make the sounds she listens to them make in the next room, the door to which her husband locks so she won't give herself the treatment while he's gone. Paroxysms are good for hysterical women like Mrs. Daldry, he explains, but who knows how they might affect a healthy woman!
Recommended
IN THE NEXT ROOM, OR THE VIBRATOR PLAY
Closes June 22, 2014
Maryland Ensemble Theatre (MET)
31 W Patrick St Frederick
2 hours, 30 minutes with 1 intermission
Tickets: $16 – $25
Thursdays thru Sundays
Details
Tickets
The third is the monologue that opens the second act, delivered by Jack Evans, who plays Leo Irving, a painter who was jilted by an Italian woman who was so beautiful that he could see her soul hovering in front of her face, so that's what he painted — not her eyes, but the space two inches in front of her eyes, because her soul was right there! — women so beautiful they're like the unfinished lives of God! Italian women — even unfinished ones — have you seen them? Italian women two-thirds finished are the closest thing on earth there is to God! He goes on like that for ten or twelve minutes, without a pause, without a breath, incapable of wresting control of his thoughts from that woman who broke him, uninterested in trying to do so. Whatever the playwright may have had in mind for Leo Irving, Jack Evans turns him into a force of nature that's much bigger than anybody's inclination to snicker knowingly at people outside the circle of our own enlightenment.
In the end, the play seems to understand that inner conflict about sex persists, even in a modern, knowing audience. It knows that's why we're there — because of that inner conflict — and it knows that we're inclined to snicker — because of that inner conflict — and it knows we'd rather not. It ends on a surprisingly sentimental note — surprising in its gentle compassion, which I liked better than snickering, though it wasn't what I expected to see.
——————————-
In The Next Room, or The Vibrator Play, by Sarah Ruhl. Directed by Julie Herber. Featuring Allison Duvall, Jack Evans, Rona Mensah, Reiner Prochaska, Lia Seltzer, Tim Seltzer, and Vanessa Strickland. Set design by Ira Domser. Costumes by Sherry Shaner. Produced by Maryland Ensemble Theatre. Reviewed by Mark Dewey.