In the final five minutes of her life, a nameless hot corn girl (Tia Shearer) shivers in the cold winds off the Atlantic, argues with her pimp, Eddie Farrell (Michael Kevin Darnall), and worries about coyotes. And then, the night suddenly fills with creatures far more dangerous than any coyote. She feels the cold sharp steel penetrate her stomach, move upward, and then – darkness, and nothing.
It is all darkness and nothingness for Farrell, as well – himself a shivering coyote of a man, foul-mouthed and fierce, yet rootless and vulnerable. He is an orphan, who has been taken under the wing of Sweeney (Randolph Curtis Rand), another criminal, albeit one with better manners. It is 1887, or thereabouts, and Eddie Farrell is King of the Whyos, an Irish gang in Coney Island. But his mojo has been seriously disturbed, and now he wants to open a pet shop. You see, he's been given a vision of the future. In it, a man orders black bean soup.
The man is Edward Farrell (Séamus Miller), and Eddie – is this beginning to sound like a Twilight Zone episode? – is going to be catapulted into 1987 to meet him. But first he will be given a mission by Sweeney. And once borne into the future, he finds himself at a Coney Island sideshow, with Ruby (Elliot Bales), the man with the skin of an alligator; his wife, the mute, hirsute Priscilla (Bette Cassatt) and the 400-pound Lolly (Lady Dane Figueroa Edidi).
In Eddie's day they would be known as Freaks but of course the true freak is Eddie himself, who imports his kill-or-be-killed brio from a time and place where it made him king to a time and a place where it means nothing. He meets Ada Ann (Shearer), the doppelganger of the girl he just had killed, who now works in an aquarium and explains sea lions to curious tourists. And he meets Edward Farrell, a lawyer who specializes in false sincerity, and shares his Sweeney-given mission (we do not know what it is) with him.
Barbara Wiechmann's dense, complicated play is full of narrative questions, not all of which get answered during our two-and-a-half-hour traffic of the Spooky Action play. Why does Eddie's latest murder, among all those he doubtlessly organized, turn him against his criminal life? What mission does Sweeney give him, and why? What makes Eddie step so heedlessly a hundred or so years into the future? Why, in 1987, is religion such a force that it gives purpose to Ruby and Priscilla and makes Ada Ann an orphan? What mission did Eddie give Edward, and, at the end, did Edward carry it out? And for God's sake, why is Sweeney wandering into the late twentieth century to sing songs (in good voice) from his own time?
But theater, like religion, doesn't answer all questions, instead leaving some for faith or speculation. (Why did Lear retire while he still had his vigor, and leave his kingdom to his children?) The theater's first obligation is to work our intellect and emotions, and Last of the Whyos does just that. Primary responsibility for that belongs to Darnall, an astonishingly versatile actor who manages to make Eddie terrifying enough so that your first reaction upon seeing him will be to shrink in your seat, but sympathetic in his dour, snarling way. His Eddie is a dangerous animal caught in a leg trap, fierce in his own environment but helpless in the set of circumstances within which he finds himself.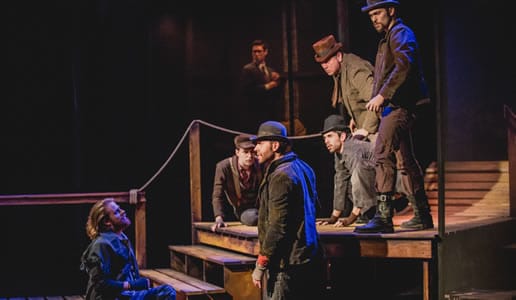 The other actors replicate this duality. Shearer as Ada Ann is immensely satisfying, a tough-minded, risk-taking survivor whose one vulnerability – openness to love – leaves her as exposed as a lamb in a coyote den. Bales is a big man with a formidable stage presence which radiates strength and well-being, but Ruby, too, has his vulnerability: a God he worships and adores but who makes him fearful and sad. Edidi's Lolly is – the cliché is unavoidable – fat and sassy, but also unutterably lonely. And Miller's Edward Farrell is the negative image of the Whyo from the past; his loving sweetness has a creepy stench to it, just as Eddie's foul bravado hides vulnerability and even, occasionally, compassion.

LAST OF THE WHYOS
Recommended
Feb 4 – March 1

Spooky Action Theater
1810 16th St NW
Washington, DC
2 hours, 30 minutes with 1 intermission
Tickets: $25 – $35
Thursdays thru Sundays
Details
Tickets

———————
Only Rand's Sweeney sounds the same note throughout – an eerie sense of self-confidence, entitlement, and amusement. It is Rand's spot-on delivery of this single note which makes it seem as though Wiechmann will tie up all the loose ends before the final curtain. Alas, if she does so, I missed it.
If you've been to Spooky Action before, you know that the space is limited. It is basically a black box, and not a very big one at that. So how could they stage this immense play, with dozens of settings and eighteen characters?
The answer, in two words, is Rebecca Holderness. I have seen three plays directed by Holderness at Spooky Action, and in each one she manages to use the stage so inventively that it literally can save companies tens of thousands of dollars in production costs. In this one, she and stage designer Vicki R. Davis divide the stage into five impermanent compartments. One is meant to show Edward Farrell in isolation (or in passion with Ada Ann); the others may be the kitchen of Ruby and Priscilla's home, or the pet shop, or the place where Eddie and Lolly have a heart-to-heart, or the dock where the corn girl is killed. I would say it is inspired except I expect this brilliance is routine for Holderness.
I know theatreWashington has done a great deal of critical thinking about the Helen Hayes awards, so I'm reluctant to come up with a new suggestion. But if they ever decide to give an award for directorial inventiveness, Holderness is my candidate.
—————
The Last of the Whyos by Barbara Weichmann . Director: Rebecca Holderness, assisted by Kevin Crawford. Featuring Tia Shearer, Michael Kevin Darnall, Ryan Alan Jones, Sha Golanski, Elliot Bales, Matthew Marcus, Stephen Krzyzanowski, Séamus Miller, Lady Dane Figueroa Edidi, Bette Cassatt, and Randolph Curtis Rand. Set design: Vicki R. Davis . Lighting design:  Matthew E. Adelson . Sound design: David Crandall. Costume design: Erik Reagan Teague . Properties: Larry Rodman . Fight choreography: Claudia Rosales and Brad Waller. Stage manager: Sarah Magno . Produced by Spooky Action Theatre . Reviewed by Tim Treanor.