The colorful history embellisher Lettice Douffet is poised to charm the husk right off of the corn of unsuspecting tourists visiting Britain's most lackluster stately home. Douffet should also offer a stark contrast to Charlotte Schoen, the rigid and colorless civil servant attempting to thwart the truth-stretching tours.
That is the promise offered by Peter Shaffer's comic play Lettice and Lovage, written as a star vehicle for Dame Maggie Smith and carried by that formidable actress in the U.K and on Broadway 25 years ago. Decrying the rapid modernization of Britain and the loss of historical properties, the play sets up an unlikely alliance between two disparate characters thrown into a potentially heightened series of situations.
Stuck as a tour guide in Fustian House, with arguably the dullest history of any manor house in the land, Lettice gradually adds her own touches to the official docent speech, stretching the truth beyond all borders. As her description of the first Queen Elizabeth's mundane visit grows into an episode of grandeur and heroics, patrons are either amazed or befuddled, especially at the details of nobility feasting on egg yolk-glazed hedgehogs and John Fustian saving Queen Bess from falling down the "Staircase of Ennoblement."
Douffet raises the interest of Elizabethan experts who call her fanciful version of Fustian history into question. A surprise inspection from the Preservation Trust home office sets in motion the rest of the play's odd couple plot when Charlotte Schoen arrives to interrupt and reprimand Lettice for her deviation from the true history of the house.
I wish I could say this very British comedy inspired me to flights of critical hyperbole. The cast is certainly game to give the show a whirl. Within the butt-numbing three hour running time, the actors do their best to elevate the material and allow the characters to shine. The trouble is there are long intervals between the shiny parts, mostly due to Mr. Shaffer's dry, long-winded prose. And I am not kidding about the three hour tour; an usher even offered the use of seat cushions, which many audience members gladly accepted. My hind parts would have thanked me for taking the cushy offer, but I decided to rough it, proving hindsight is 180 minutes.
Getting back to the performance itself, the actors in Lettice and Lovage carry the day as valiantly as possible, with mixed results. The title role is taken by the lovely actress Jane Squier Bruns, as Lettice Douffet, delivering a performance filled with grace and delicacy. Schoen, played with fussy charm by Leah Mazade, is the grounded, gray-clad civil servant determined to pull Lettice back to earth. The distinction between the ladies is further delineated by their dissimilar backgrounds. Douffet grew up with a theatrical mother – she ran an all-female touring Shakespeare troupe – whose motto was "Enlarge, Enliven, Enlighten!" Schoen, the desk bound, paper pusher, came close to pursuing a career as an architect but failed the examination after an ill-fated love affair.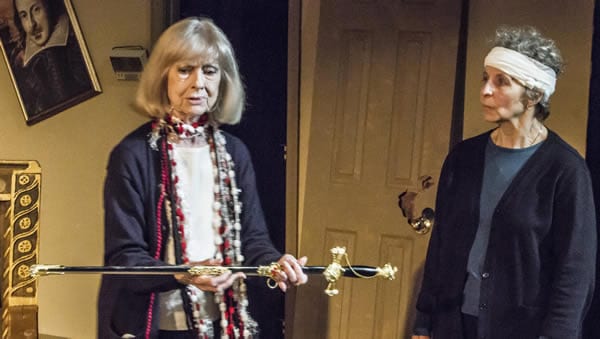 Mazade's Schoen does indeed display a stark contrast to Bruns as Douffet, but not always as one might expect. There were times when Bruns underplayed Douffet's flair for the dramatic, whereas Mazade's indication of Lotte's bluster and disgust teetered on the edge of overplaying. As the run continues, perhaps Bruns may find a bit more of Douffet's mad theatricality, so she can more fully embody Lettice's idea that "fantasy floods in where fact leaves a vacuum."
Bruns and Mazade were well-matched as kindred spirits as their relationship deepened and their characters found common ground in their shared passion for English history and architecture. Their onstage camaraderie worked especially well during the central scene in which Lettice welcomes Lotte into her modest flat and they share the homemade brew – the lovage, of the title – which allows for walls to tumble down and an unsteady friendship to emerge.

LETTICE AND LOVAGE
Recommended
April 17 – May 17
Quotidian Theatre at
The Writer's Center
4508 Walsh Street
Bethesda, MD
3 hours, 1 intermission
Tickets: $30
Fridays thru Sundays
Details
Or call 301-816-1023


———————
The two leading actresses were expertly supported by the small ensemble, led by Elizabeth Darby and John Decker in several small roles. Darby was memorable as Schoen's intimidated secretary Miss Framer. Decker more than held his own with Bruns and Mazade as Mr. Bardolph, Douffet's public defender counsel. Lettice's need for legal representation is the focus of the third act, and it's worth the wait to find out why she needs a lawyer.
Director Louis Pangaro has taken a straight forward approach to Shaffer's verbose rumination on aging and progress and allows the humor and pathos to find its way to the surface. Well-timed projections and a lively soundtrack opens up the production, setting the scene of traditional, historical Great Britain being encroached upon by the steel and glass of skyscrapers and the signs of the 21st century. Pangaro also cleverly segues from the projections to the simple yet effective settings called for by the play, utilizing the intimate Writer's Center space to great advantage.
If you have admired or enjoyed Peter Shaffer's gift of language in his more substantial works such as The Royal Hunt of the Sun, Equus or Amadeus, Lettice and Lovage may not disappoint. Far from the heft of those dramas, this play is also a far cry from Shaffer's knock-about, one-act farce Black Comedy in which the actors stumble around as if they are the victims of a blackout. Lettice and Lovage is closest to a situation comedy, running time notwithstanding, a pleasant diversion with British flair. And if an usher offers you a seat cushion, by all means say yes.
——————
Lettice and Lovage . by Peter Shaffer . Directed by Louis Pangaro . Featuring Jane Squier Bruns, Leah Mazade, John Decker, Elizabeth Darbey, Ruthie Rado, David Johnson .  Lighting Design: Don Slater. Set/Props Designers: John Decker and Jack Sbarbori . Sound Designers: Nick Sampson and Louis Pangaro . Stage Managers: Debbie Grossman and Felicity Brown . Produced by Quotidian Theatre Company . Reviewed by Jeffrey Walker.