As the founder of Spooky Action Theater, Richard Henrich is always searching for unique works to stage at his 16th Street NW venue. For his season closer, he had to search no further than his desk drawer.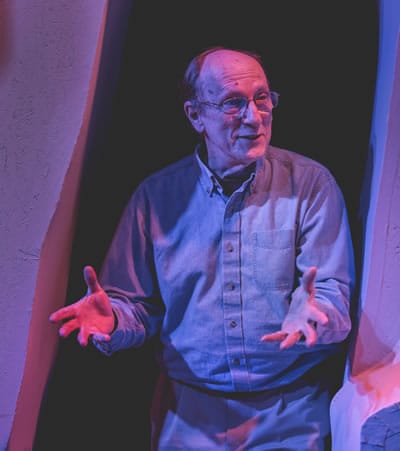 "Way back when I was a graduate student in New York (circa 1971), a theater friend asked me to do a translation of a short novel, "Love Making Visits" by Alfred Jarry, thinking he was going to stage it," Henrich explains. "It turned out to be a bigger project than he imagined so it never made it to the stage. In the process, I learned a lot about Jarry and got hooked."
For those unfamiliar, Jarry (1873–1907) was a noted French novelist and playwright, perhaps best remembered for the monstrous anti-hero Père Ubu. Ubu first appeared in a puppet show in which physics students mocked their professor.  Jarry's play, Ubu Roi (1896), launched the modern era of Dada, Surrealism and Theater of the Absurd. But Henrich discovered the man was even more amazing than his most famous character.
Henrich was able to publish a few chapters of his translation in some scholarly journals at the time, and a couple of decades later he found a small publisher who agreed to publish the entire work, "Love Making Visits".
"Looking at it as a possible play, I said to myself, 'people are not going to understand this because it is so different from Ubu,'. You really need to know more about Jarry's life for it to make sense," he says. "I had the idea that I would take some of the episodes from his life and combine them with some of the episodes from his novel which I believed to be autobiographical, and tell a story that would give the larger picture of Jarry to people."
Henrich put together a script, received some funding from Montgomery County for the project, and did his first workshop of the material in 2007.
"I realized it needed more work," he says. "I put it back in the drawer but last year I decided it was time to finally do it, so I put it in our season, figuring it was the kick in the pants I needed to finish the script."
"As I got more serious about trying to put it in the context of his life, I did some reading of biographies of Jarry — some that only existed in French. I started to get a picture of this extraordinary person and his imaginative and individual way of seeing the world," he says. "I read more of his work, people writing about his work, and people who knew him who wrote about and appreciated who he was."
After a bit of restructuring, Henrich believes he has found a dynamic way of telling people about Jarry's life.
"I thought of directing it myself but very soon discarded the idea," he says. "You need a different perspective when handling a complex play like this. I have spent so long immersed in Jarry and his work that I felt we needed a fresh look at the script.
"Among theaters in Washington, I think Spooky Action shares a lot of perspectives and areas of interest with Rorschach so I reached out to them and found Catherine Tripp to be a great fit. She really understood the material and I was excited to have her work on it with us."
The cast features Ryan Sellers as Alfred Jarry, along with Carla Briscoe as Rachilde and Ian LeValley as Dr Jean Saltas.  Mikey Cafarelli as Oscar Wilde, Connor J. Hogan as Yeats, Eva Wilhelm, Karin Rosnizeck and Claire Aniela complete the ensemble, playing a total of nearly 40 different characters.
When it came down to casting, Henrich knew of Sellers' work for years and felt he would be a wonderful choice for the lead part.

JARRY INSIDE OUT
May 28 – June 21
Spooky Action Theater
1810 16th St NW
Washington, DC
Thursdays thru Sundays
Tickets: $25 – $35
Details
Tickets
———————
"Spooky Action is focused on exploring movement-based performance where the physical story telling is just as important as the verbal storytelling. Ryan is someone who has great physical skills. He's also the right age," he says. "Jarry is an offbeat, strange guy and that personality appeals to Ryan. Independently, Catherine also thought Ryan would be great."
Talking with Eliza Brent for this month's issue of American Theatre magazine, Henrich mentioned a letter Jarry wrote to his publisher at the end of his life. "He wrote that the brain continues to function after death, and that death could be the gateway to an endless adventure. "So the play begins with Jarry's death, then enters his brain where audiences discover 'antediluvian crocodiles penetrating the perimeter.'"
Which brings us to the set design by Giorgos Tsappas. "Giorgos was looking for inspiration and came across the sculptural work of French mid- to late-20th century artist Jean Dubuffet. We are staging the play inside Jarry's mind. As soon as you walk into the theater, you're in Tsappas' otherworldly environment. It's perfect for the story we are trying to tell."
"It's a fun piece that will give people a new window of this very strange and important writer," he says. "He kicked off ideas and explorations that became important literary and theatrical currents in the 20th century."
Henrich named his company for Albert Einstein's theory which he explains as "two particles can become entangled such that, forever after, a change in one is matched by instant change in the other, no matter what the distance between them."
A literal translation of that reaction may be Richard Henrich and Alfred Jarry.