Three soldiers sit, M16s slung over their shoulders clutching combat helmets to their chests. "When did you start thinking about these incidents?" asks an ominous voice over a public address system. The soldiers are not Americans, but Israelis. Their answers are accounts of the Israeli occupation of Gaza, as told by the IDF soldiers doing the occupying.
"It's What We Do:" A Play about the Occupation is a stage dramatization of the nonfiction "Our Harsh Logic." The book is a publication from the non-profit group Breaking The Silence, an organization of "veteran combatants who have served in the Israeli military since the start of the Second Intifada and have taken it upon themselves to expose the Israeli public to the reality of everyday life in the Occupied Territories."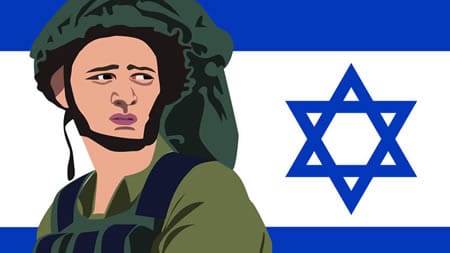 The play is written and directed by Pamela Nice and co-sponsored by The Washington Interfaith Alliance for Middle East Peace and the DC-Metro Area chapter of Jewish Voice For Peace. In her director's note, Nice tells us that the play "is drawn directly from the testimonies in the book: all the soldiers' reflections are verbatim; the enacted stories are the ones they tell…as they recount their stories, they face their roles as instruments of injustice against Palestinians."
Now, back to the soldiers. Played by Olivia Haller (Sarah), Tariq Triano (Avram), and Keanu Ross-Cabrera (Ilan), each soldier reacts to inquisition from "The Voice" (Dior Ashley Brown) about their time with the IDF and their feelings after the fact. As they recount these memories, they relive them with a chorus of civilians as their victims. In this way, the atrocities of the occupation are put on full display – the bureaucratic nightmares involved in border crossing, the wanton destruction of Palestinian land and homes, and the personal violence enacted against Palestinians by Israeli settlers and the IDF alike.
For their part, Haller, Triano and Ross-Cabrera are empathetic conduits toward our understanding of these soldiers. Their collective confusion, sadness and anger with themselves and their acts are certainly the most engaging part ofIt's What We Do. In particular, Haller's harrowing account of the "change of address" operations left the audience in stunned silence.

"It's What We Do:" A Play about the Occupation
written and directed by Pamela Nice
Details and tickets
That being said, Nice's script is unrelenting in tone and her staging deliberately cruel in pace. Except for a brief moment of levity stemming from a game of bureaucratic phone-tag, the depictions are somber and unrestrained. This stark tone can effectively build upon itself in nonfiction writing that can be picked up and put down. It is more difficult for theatrical audiences to digest as constant atrocities can blend into one disillusioning hour of anguish.
Atrocities aside, we only get vague notions of who these people were before they were soldiers, and no idea of what they will do now that they've discovered they no longer wish to be. For all their current regrets, these depictions exist only because these soldiers perpetrated these acts. Some insight into their initial motivations or their future goals might help us better contextualize their actions and provide some much needed contrast.
In a post-show discussion one woman in blue addressed her question toward Nice. She noted that, "[the play] did not seem to be very balanced…" and then asked (emphasis added), "I mean, why is it that the IDF built the wall to begin with? This depiction seems like a partial view." Nice's response: "All storytelling is a partial view. I had no intent to present the issues as a whole. We need to hear other voices, yes, but its all a partial view. We have to put them together. This is just a piece."