David S. Kessler remembers a time when he and his wife went to a church hall to see a play and there were more people on stage than in the audience. And that was Woolly Mammoth Theatre in the early days.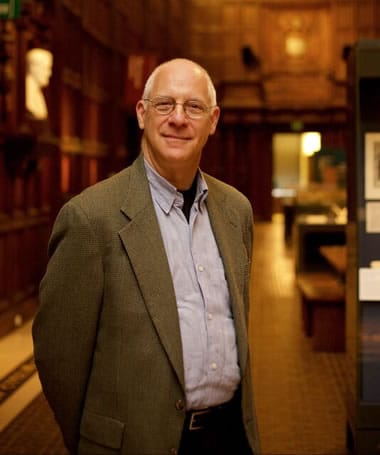 "I moved down here in 1975 and the theater scene wasn't too much, but by 1980, things began happening. It's been wonderful to watch DC theater grow," he says. "I love the big theaters but I really love supporting the small theaters—the ones today that are like Woolly Mammoth 30 years ago. It's very exciting to me."
Since then, Kessler has averaged seeing around 50 plays a year—plus an additional 50-60 a year at Capital Fringe. He also volunteers at theaters throughout the area.
On October 2nd, 2015, in a ceremony held at the Folger Theatre, Kessler was honored by DC Theatre Scene with the 2015 Gary Lee Maker Audience Award, given each year to outstanding individuals from the audience.
"I'm flabbergasted, thrilled and honored," Kessler says. "I always think of art as transportation; it takes you somewhere and theater is a great form of that."
Growing up outside of New York City, Kessler has been going to the theater since he was a little kid. He went to college nearby, as well, and attended a great deal of Broadway, Off Broadway and even Off Off Broadway shows.
"The DC theater community is very different from New York theater; it's accepting of all different types of people and my friends in New York all marvel when I talk about the community and how embracing it is," he says. "Some may see DC as an uptight stuffy city that has a strata of classes, but DC theater isn't like that at all—it's a very egalitarian place and it's amazing to me. And welcoming. It's why I like the Capital Fringe festival so much—you really get to know the artists and work with them."
Kessler worked as a small-mammal biologist at the National Zoo but retired almost two years ago, and decided to use some of his free time to write his first play—Wombat Drool.
More on the Gary Maker Audience Award and its recipients
"A year ago I told a bunch of my theater friends that I was going to do a piece at Fringe and they were so supportive and so many people offered to help and do things," he says. "The show ended up being a surprising and phenomenal success—way beyond what my expectations were for it. A lot of it was because of the support I received from the whole DC theater community."
In retirement, Kessler has stayed busy, increasing the number of shows he's seen and spending more time with his wife Patricia. He's hard at work on another script, but admits he's not the fastest scribe.
"I work very slowly. Wombat Drool went through 18 drafts, so there was lots of editing and writing," he says. "I'm also a very serious cook and baker and like to spend a lot of time in the kitchen. My wife and I also like to travel."
Kessler's already looking forward to next year's Fringe and has started assembling the team for his second show, which he describes as being very different than his first, hinting that it will include a live musician. He's also hoping to bring Wombat Drool to a larger venue sometime next year.
The Gary Lee Maker Audience Award is in memory of Gary Maker, a fellow enthusiastic audience member, who was always lending his time and personal support to see that theatre in the Washington area not only survived, but thrived.