We are pleased to announce a new series of interviews with musical theatre composers by author Mark Horowitz. We debut the series with this talk last weekend with John Kander, is in recognition of Creative Cauldron's production of And the World Goes 'Round.
At 38-some-years, no composer-lyricist team in Broadway history had as long and uninterrupted a collaboration as John Kander and Fred Ebb. Lerner and Loewe worked together over 32-years…but that collaboration included a 16-year gap. Among other famous teams, Rodgers and Hart's partnership lasted 23-years; Rodgers and Hammerstein's for 16, George and Ira Gershwin's for 13…and beyond Broadway, the oft-contentious, Gilbert and Sullivan's collaboration lasted 25.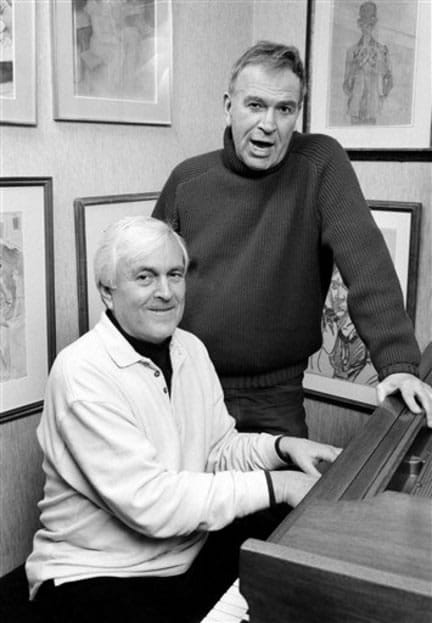 On the surface, Kander and Ebb would seem an unlikely pair. Manhattan-born Ebb, is often described as high-energy – a true Broadway baby with showbiz running through his veins. Kander seems to have retained a quieter reserve from his mid-western roots, and his background included the study of classical composition. Yet somehow the frisson between these disparate men produced a body of work that is celebrated and popular, but not always, perhaps, as appreciated as it should be for its daring and experimentation.
Many of their shows deal with themes and situations that are controversial and difficult, but their scores always find moments of hope and celebration, even if it requires their characters to find it in fantasy and escapism. It's often impossible to define their shows as either musical theater or musical comedy – shows like Cabaret, Chicago, Kiss of the Spiderwoman, and The Scottsboro Boys combine the glitter and glint of sequins and knives.
In 1991, director Scott Ellis, choreographer Susan Stroman, and librettist David Thompson developed And the World Goes 'Round – a revue celebrating the work of Kander and Ebb. It focused on songs from their nine Broadway musicals to date, two film scores, and a handful of other numbers – including one from Kiss of the Spider Woman which would open the following year. (Remarkably, Kander and Ebb would go on to write six more shows together.)
Asked whether he considered his scores to be a collection of songs versus unified works, Kander responded immediately that it's the latter. He explains that, "shows like Zorba and Cabaret and Spider Woman and Chicago are set in very specific places and times. I spend a lot of time listening to music of that place and period – drenching myself in it…and then forgetting about it, with the sense that what you've been bathing in will seep into whatever your doing."
While there have been a few Broadway songwriters who compose little more than melodies (purportedly Bob Merrill was among those), or who aren't musically literate enough to write out what they intend (Irving Berlin used musical secretaries to transcribe what he played imperfectly at the piano, and would then harmonize and arrange, refining based on his responses), Kander composes complete scores, and to his mind, "harmony is part of the music." He added, "I write a lot at the piano. The keyboard is my language since four-years-old." However, he adds, he's "not an intellectual kind of creator – I don't have an intellectual approach. You know when it's terrible, [but you] need the freedom [to experiment]."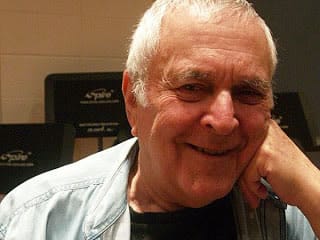 Kander speaks passionately about his approach to composing for the theater (suggesting that it's different from composing instrumental music), the importance of collaboration, and the relationships between music and words. "It's always about building a piece of theater. Collaboration is the secret to all of this. The closer the collaboration, the better the chances of making a good piece of theater. With Fred, [we would] take a long time with the collaboration. Fred would have a line or couplet. I might have a rhythmic idea. Fred could improvise in rhyme and meter in the way I can at the keyboard. Working from words – words dictate a great deal. if you're working from the lyric, it strongly influences what you write (unless you make a determined effort to alter it, such as Stravinsky did in The Rake's Progress). Sometimes a lyricist will come up with a few lines and you'll set them. Or you'll come up with a musical atmosphere. It works all ways – there's no strict way you work."
Speaking of the relationship between words and music, Kander believes that even strictly instrumental music is often influenced by the unique qualities of the native language of the composer. "You can tell Hungarian concert music very often because of the language of the composer…the same with French or English. I like to play a game where you listen to music you don't know and guess the nationality of the composer. [Even with music by composers who speak British] English versus American English, the melodies are just a little different."

AND THE WORLD GOES 'ROUND
October 1 – 25, 2015
Creative Cauldron
at ArtSpace Falls Chuch
410 South Maple Avenue
Falls Church, VA 22046
Thursdays thru Sundays
Tickets: $26
Details
Tickets
———————
When I ask whether or not he writes differently when he knows he's writing for a particular performer, he says "In my experience when you have a particular performer, you don't consciously write for them, but you hear their voices [singing their songs as you're composing them]. When we knew Lenya was doing Cabaret that's how I heard those songs."
The notion of a revue of his work brings up the topic of how his songs are often reimagined differently from their original versions: "I write for the theater and, once it's done as you intended it – stylistically, dramatically – then it's gone and, like a balloon that goes up, it can be interpreted and reinterpreted. Harmony is part of the music, and I rarely like when a song is re-harmonized. I sometimes make exceptions with pianists who are stylists themselves. Sometimes you hear a song in fresh ways, which can be illuminating…or you know that they didn't get it at all. David Loud did an arrangement of 'New York, New York' that made the song better."
Since Ebb's death, Kander seems to be as busy as ever. He's been collaborating with the lyricist Greg Pierce on several projects. Their show, Kid Victory, premiered at the Signature Theatre in Arlington, VA and the evolving piece is slated for a production at the Vineyard in New York. It's a show Kander says he's loved working on. They're also writing a song cycle and a new musical, The Enchanted. Can a follow-up to And the World Goes 'Round be far away?
—————-
More Kander: John Kander talks with Richard Seff, 2008.
"New York, New York," one of their songs featured in And the World Goes 'Round, sung by Fred Ebb, with John Kander at the piano.