David Mamet's China Doll involves two dramas. There's the one on stage starring Al Pacino as an old billionaire in something of a cynical primer on wealth and political ambition. Then there's the pile-on against the show: The reviews have been the worst anything on Broadway has gotten this whole year. That includes Misery and It Shoulda Been You. With only a few exceptions, the reviewers have sounded hostile, one calling the play "garbage."
The hostility began before the show opened. Many critics violated the embargo — the agreed-upon "opening night" date to publish or post their reviews — for the first time since Spider-Man: Turn Off The Dark. One can assume the violation was similarly motivated: As in Spider-Man, the producers of China Doll delayed the opening. (In Spider-Man's case, however, the opening was delayed five times over more than six months. The delay in opening China Doll was only for two weeks, to this past Friday, amid chatter that the script needed work and that Pacino was having trouble memorizing what is more or less a two-hour monologue.)
All this is in bracing contrast to how Mamet's work used to be received. Twenty years ago, critics were placing the author of such celebrated plays as American Buffalo and Glengarry Glen Ross "in the pantheon" of the twentieth century's "great dramatists." Nobody much talks about Mamet's place in the twenty-first. The Old Neighborhood was the last new Broadway play of his that received widespread acclaim; it opened in 1997. The response to his new work on Broadway since – November, Oleanna, Race and The Anarchist – seems to have been progressively more negative.
Some blame Mamet's political realignment from liberal to conservative for what they see as his creative decline. Mamet himself seems to have his own take.
"Playwriting is a young man's and, of late, a young woman's game," he said in 2005, when he was 57. "Most playwrights' best work is probably their earliest." This may or may not be true, but it's not the whole story. Both Tennessee Williams and Arthur Miller – even better established as great dramatists — wrote their most popular plays when in their 30's, and almost all their familiar plays by the age of 50. But they both kept on writing for the rest of their lives, producing works over decades to which many contemporary critics reacted dismissively. Since their deaths, a new generation now defends Miller's and especially Williams' later work, fighting to reverse a consensus they see as unfair and inaccurate.
Will the same thing happen with Mamet? We'll see. But it's with this lesson in mind that I am more willing to give him the benefit of the doubt, and not completely trash China Doll because it's difficult to decipher. And Mamet's new play does make Broadway theatergoers work harder than they are accustomed to doing.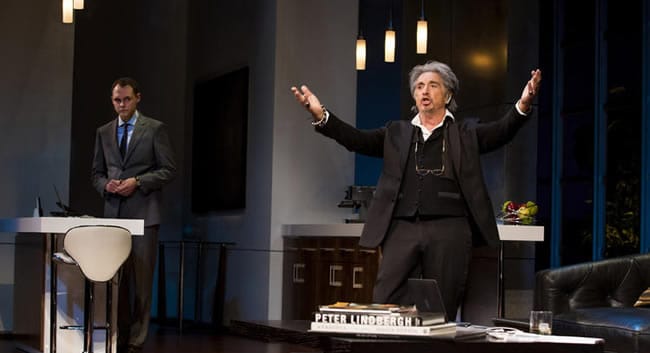 More production photos at NewYorkTheater.me
Pacino plays Mickey Ross, a tycoon who has just bought a $60 million jet for his much younger fiancé, with plans to fly off with her to get married. But the plane's been impounded in Canada, and his fiancé is holed up under an assumed name in a hotel in Toronto. The problem is the $5 million U.S. sales tax that the U.S. government says he owes on the plane, and that he doesn't believe he owes (which is explained at far more length than I'm willing to give it here.) Eventually, he learns he has a bigger problem — the young governor of the state, the arrogant son of a former governor who was Mickey's good friend. (the Cuomos, anybody?) Mickey and the new governor are apparently long-standing enemies; Mickey considers the politician a faux man of the people:  "the only time he ever saw them they were waxing his car."
Worse than just grounding his plane, the governor had Mickey's fiancé taken off the plane and strip-searched.
Why is the governor doing this? There is a suggestion that the governor is running for office (could it be for President?) and he needs an issue. Making Micke,y in effect a public enemy, would help his campaign.
Now, it takes much of the play to puzzle all this out. Mickey never leaves his chic apartment, which looks like a corporate headquarters (designed by the ubiquitous Derek McLane, who just designed The Wiz Live!.) There is only one other character on stage, Mickey's crisply efficient assistant Carson (a steady Christopher Denham), who tries to maintain a servile kind of dignity when Mickey browbeats him. We must gather what's going on from their exchanges, and from a series of one-sided telephone calls Mickey holds via one of those insufferable Bluetooth earpiece phones (I counted 10 calls in Act I alone.)
What's most unclear is why Mamet wants to keep so much unclear.
(Even the set offers a mystery: Was nobody else baffled that the view outside his window changed from what looked like the Manhattan skyline in Act I to Hamptons-like vegetation in Act II?)
But as the play progresses, there is, if not complete clarity, a growing force and focus. Mickey begins to panic, feeling trapped, in danger of being indicted for a felony, and he is scheming to escape, initially through blackmail, then apology, then something craftier.
To a sizeable chunk of the audience at the Schoenfeld, I suspect, the dimly lit details of Mickey's story matter little. What matters is Pacino. "I wrote it for Al," Mamet declared when the show was announced last year; their fifth collaboration. Mamet gives Pacino the gift of snappy dialogue (a neat trick when it's almost all on the phone): "Everybody wants to go to Heaven, but nobody wants to die," Mickey says at one point.
In return, Pacino gives Mickey a specificity of intonation and of gesture that somehow compensates for the vagueness of the script. That specificity, of course, is Pacino's, his familiar repertoire, semaphores of his stardom – the Pacino shout; the Pacino point; the two open hands covering his face; the hands turned limply palms up in front of his chest, an almost feminine movement of resignation that says "Waddya goin' to do"; the Pacino stop sign – both hands held up, brooking no argument. Look at The Godfather and there is almost none of that; the Pacino in that film is all calm, contained fury, few gestures, only an occasional climactic shout. But that was more than 40 years ago, and on screen. If we don't allow our playwrights much slack, we are open to pretty much anything from our stars.
——————–
China Doll is on stage at Broadway's Gerald Schoenfeld Theater (236 W 45TH ST, New York, NY 10036) through January 31, 2016
Tickets and details
—————-
China Doll . Written by David Mamet . Directed by Pam MacKinnon . Cast: Al Pacino (Mickey Ross) and Christopher Denham (Carson)Sets by Derek McLane .  Costumes by Jess Goldstein . Lighting by Russell H. Champa. Fight director: Thomas Schall .Production Stage Manager: Matthew Farrell . Reviewed by Jonathan Mandell.