The transgender community's newfound visibility and public support, after years of living in the shadows, has not come easily. Georgette Kelly's moving Ballast follows the journeys of several transgender people and their loved ones, examining the emotional fallout and public consequences that arise when people flip long-held gender norms on their head to lead more authentic lives.    
Ballast examines the unique problems of the transgender community through the abstract frame of dreams. The play follows two couples: Grace and Zoe, and Xavier and Savannah. Grace and Zoe had been married for years when Grace realized her true gender identity lay on the other side of the spectrum. Since Grace's transition from male to female, both her marriage and calling as a Christian priest have come under serious strain. She dreams about a supportive parish community welcoming her back as a female. As Grace slowly adjusts to her new body, Jen Rabbitt Ring brings her character a wounded stoicism and scintillating blend of masculine and feminine personas.
Meanwhile, Zoe struggles heavily with Grace's transition, losing her own identity in the process. Dallas Milholland delivers a magnetic, complex turn as a woman whose marriage crisis reveals that she's not as liberal as she previously thought. She dreams of flying far from Earth to escape the confusion and hurt over her husband turning into her wife. It's a heartbreaking twist on the common dream of flight.
The chameleonic Reginald Richard pulls double duty as the muse for both Grace and Zoe in their dreams. As Figment, his androgynous, sultry persona tempts Grace from her bounds of established commitment and preference. As Zoe's Flying Instructor, he channels zen-like calm as he slowly imparts the finer points of self-powered flight.
On the other side of town, high schoolers Xavier and Savannah cling to each other as Xavier struggles with his own transition from female to male. Xavier, played with tender sensitivity by Tyasia Velines is haunted by his parents' disapproval and the schoolyard taunts from unfeeling bullies. But the worst torment comes from his ultra-masculine shadow self, played yet again by Reginald Richard. Richard slinks in and out of the shadows, mocking Xavier that he'll never be as tough or macho. All the torment from within and without leads Xavier to a very dangerous place.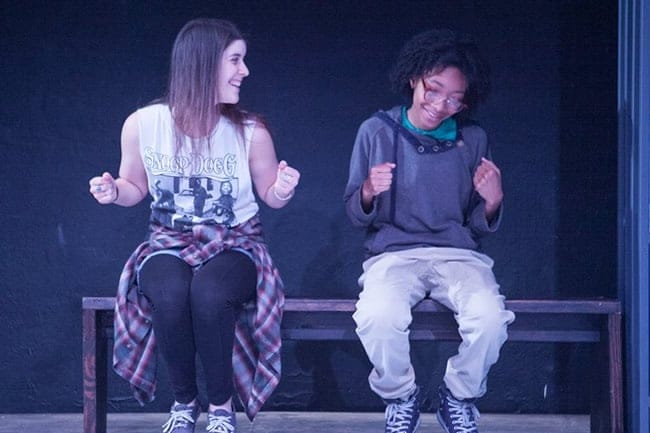 Meanwhile, Savannah tries to be the emotional anchor that Xavier desperately needs. In the role, Chelsea Thaler brings to the production a much-needed dose of unconditional, judgment-free love. When two couples' paths unexpectedly intertwine, Savannah enlightens Zoe on simply accepting a partner for who they are, beyond their physical appearance. At the same time, Xavier and Grace help each other stumble through the confusing journey across the gender barrier.
The design team has built a production able to shift smoothly and convincingly from reality to dreams and back. Klyph Stanford's immersive clouds-and-sky set gives the entire play a sense of endless possibility, even as the characters struggle to escape their own emotional prisons. Sean Forsythe's lighting does the yeoman's work of transporting the cast into dreams and back, alternating neutral tones with a blend of hazy spotlight, blue and purple gels, and menacing shadows. Sound designer Neil McFadden completes the illusion with a battery of atmospheric effects.
——–
Ballast

closes July 2, 2016
Details and tickets
In Ballast, director Margot Manburg has mounted a timely examination of gender identity, self-discovery, and hidden biases. While the play bogs down at times in interpersonal drama, the emotional payoff largely overcomes the periodic energy slumps. This production isn't just for those close to the transgender community – it's for anyone that's ever suffered with self-doubt, or felt like a fraud, or been at a loss to help a loved one in pain. In a world of constantly shifting identities and cultural norms, Ballast offers a touching ode to the power of simple acceptance.
—————-
Ballast by Georgette Kelly . Directed by Margot Manburg . Featuring Jen Rabbitt Ring, Dallas Milholland, Tyasia Velines, Chelsea Thaler, Reginald Richard, Crystal Swann, and Sarah Holt . Set Design by Klyph Stanford . Costume Design by Kara Walla . Lighting Design by Sean Forsythe . Sound Design by Neil McFadden . Dramaturgy by Aria Velz . Artistic Direction by Jenny McConnell Frederick . Reviewed by Ben Demers .