"I was born in 1817. When Mr. Surratt died last year, I bought this little house on H Street, with two rooms. If I could get them filled, I could live." These words, spoken by Mary Surratt (Elise Gainer) in the beginning of the play, come back to haunt her character by the end of the performance.
For those who do not know the story of Mary Surratt, she was a widow and boarding house owner in Washington, D.C. after the American Civil War. She was convicted of taking part in the assassination of President Lincoln and sentenced to death. Surratt was officially the first woman tried by military tribunal and executed by the United States Government. Her son, John H. Surratt Jr. was also tried, but not convicted. Many historians debate the significance of her role in the conspiracy.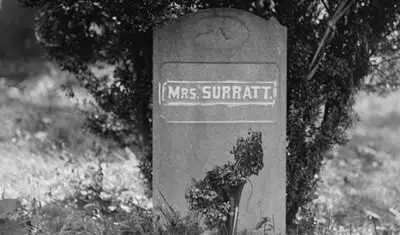 The Trial of Mrs. Surratt has many moving pieces and director Natalie Zito has planned an ambitious performance. With over a dozen actors, a plethora of props and extremely heavy tables, the actors complete smooth scene changes at an astounding speed. The blocking and attention to detail throughout the performance is just delicious.
The Trial of Mrs. Surratt is a fairly traditional play, but the use of 1800s American folk songs and the focus on the inner emotions and motivations of these infamous historical figures allows it to be something special. The creative interpretation of the events behind the scenes of Lincoln's murder turns cold historical fact into riveting melodrama.
Lanie Robertson's script counters that Mary Surratt was not a calculating assassination conspirator, but rather a woman mistakenly caught in poor circumstance. Throughout the play we see how Mary, affable and motherly, cares for the soldiers, actors and other wanderers who visit her boarding house.
Louis J. Weichmann (Tariq Aamir Malik) and John Wilkes Booth (Matthew Tillet) are some of those visitors. We see an arrogant young Booth, drunkenly carousing with Weichmann and his other cohorts, "I promise, I'll be the most remembered actor of all time!" he proclaims in one scene. If only Mrs. Surratt was aware of the conspiracy she was harboring in her boarding house.

The Trial of Mrs. Surratt
Written by Lanie Robertson
Details and tickets
—–
Much of the play focuses on the conversations between Secretary Edwin Stanton (Paul Schwartz) and General Holt (Mark Tolleson). How much burden do Surratt and Weichmann bear in Lincoln's assassination conspiracy? How willingly did they participate in his murder?
The busy crowdedness of post-war life is highlighted in this performance. The actors remain onstage for most of the play, and there is constant action occurring, all across the stage. Perhaps a little too much at times. Sometimes there is purposeful motion and tapping that is meant to be creative but detracts from the dialogue at hand. There seemed to be several fumbled lines, but for a very wordy play and for an opening performance, this isn't necessarily shocking. Sometimes actors delivered lines away from the audience and crucial bits of information were muddled. Overall, though, the actors do a fine job of presenting this story and all its nuances. Carol Copper, in her supporting role as Mary's servant, Rachel Semus, is a standout for her delivery and comedic relief.
The period costumes are amazing and the choreography is excellent throughout the play. The audience will definitely feel immersed in Mary's world. Even as the audience files into their seats before the show, the actors are already on stage, whistling and bustling in the 1865 boarding house. The songs are arranged so well and the cast really nails the music, sans accompaniment.
A particularly riveting rendition of the traditional Union soldier song, "Tenting Tonight," is a standout among other creatively arranged folk ballads such as "John Brown's Body," "Battle Cry of Freedom," "Beautiful Dreamer," and more. Each song is a revelation; the tight arrangements and strong acapella vocals from the cast make this a special performance.
The Wandering Theatre Company has certainly undertaken an ambitious project and this is a great pick for history buffs, those who love good acapella arrangements and those who are interested in learning more about post-Civil War history without being bored.
——————–
The Trial of Mrs. Surratt by Lanie Robertson. Director: Natalie Villamonte Zito. Composer: (Music and Sound Director) Jacob W. Patorti. Choreographer: Natalie Villamonte Zito. Featuring: Elise Gainer, Kate McGarrigle, Carol Copper, Zachary Guttman, Tariq Malik, Paul Schwartz, Matthew Tillett, Matthew Zimmerman, Mike Marcou, Townsend Pass, Andrew Benvenuti, Charlotte Campbell, Michael Martinez, Renee Petrofes. Produced by The Wandering Theatre Company . Reviewed by K. McDermott.