I can't say enough about the creative minds (and hearts) that plucked these two very different pieces from out of the operatic stratosphere and orchestrated such a satisfyingly delightful experience.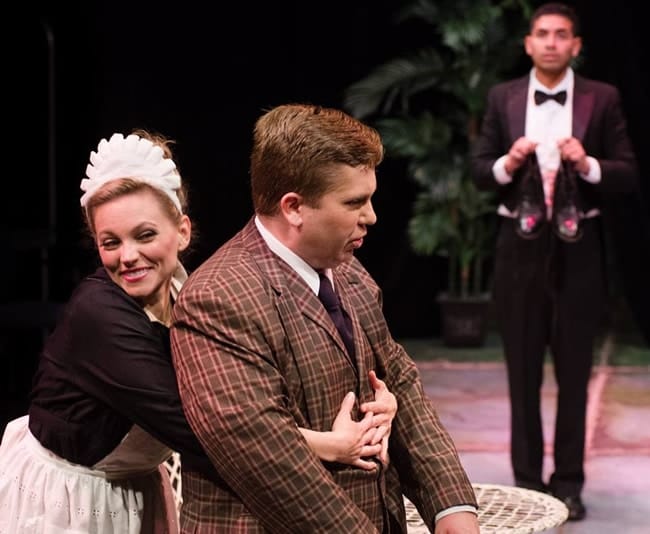 In La Serva Padrona (The Servant Mistress)  the master of the house Lord Hubert played by Andrew Adelsberger is intent on getting some semblance of respect and service but his maid Serpinia played winningly by Annie Gill has other ideas. With a gorgeous voice, Serpinia flaunts herself at Lord Hubert, sashays around in come-hither, provocative poses, chases him around the room, and as a last resort connives for his pity.  As Lord Hubert, the golden voiced Adelsberger  resists as much as he can—but he is no match for the chambermaid determined to marry her boss.
As the manservant, Alex Alburqueque is also smitten by Serpinia but stays within his station standing ramrod straight holding the master's shoes and positioning the chairs as necessary as the two trip around each other in swooning cat and mouse pursuit.  Lord Hubert follows his heart at the end, propriety be damned, and enjoys the ensemble rendition – "I swear you won't be sorry" finale.
For Trial by Jury as the second act, forget everything you assumed or thought you remembered about the old-fashioned Gilbert and Sullivan operas.  This piece is a reminder of the terrific music and lyricist combo that still packs a fun punch, and Nick Olcott adds a refreshing touch.  The music is unmistakable with its familiar rhythm and beat.  Just when you think it's just standard fare, the story takes off and you realize there's more there than meets the eye in this love story where somebody done somebody wrong, Edwardian style.  The defendant Edwin, a dreamy eyed Samuel Keeler crosses a jilted Angelina played by Emma Gwin.  The two are evenly matched with strong vocals and crisp clear delivery. Angelina states her case of love in impassioned pleas but Edwin will have none of it as he is smitten with his latest beloved, played by Lauren Randolph.
——–
Who's the Boss?

La Serva Padrona and Trial by Jury

Two more performances:

Sat 9/24 at 3pm, Sun 9/25 at 7pm
Details and tickets
——–
The lovers are joined by an able chorus of members of the jury, counsels, and court reporter.  Mainstay Sean Pflueger as foreman is fully expressive and is always a treat to watch along with Alburqueque, Chris Herman and others. The dramatic introduction of seasoned baritone Lewis Freeman as the honorable judge, complete with cascading white wig brought a sense of awe and gravity with all genuflecting and bowing in the utmost respect as he presides over the proceedings.
At one point, the men gathered on one side, then the phalanx of ladies responded in a kind of gentlewomen's call and response. The gaggle of guys stayed in character and assumed poses and positions totally motivated from within. The ladies performed one of the songs as a dance circling with arms in scoop and wave position. At one time there was even a concentric circle with the hallowed judge in the mix, truly adorable.  Hats off to the magical mind of Olcott to keep everyone moving and twirling with delight on cue.
The set design by Jonathan D Robertson is a perfect fit for both productions. The first act takes on the looks of an Italian promenade complete with floral wall, vines, and table setting of a modest piazza.  The second act contains large podiums,  benches and tables on both sides of the stage and full use of a wide center staircase to help vary the height and movement options.
Costumes by Robert Croghan hit the mark where Annie Gill in the first set slinks along in a full maid's attire complete with ribbed frontal shaped hat and frilly apron.  Lord Hubert's sophisticated open-plaid suit was so nicely tailored that Andrew Adelsberger got double duty wear out it for both sets.  Even more extensive costuming graced the stage in the second act with the ladies' full skirts, frilly tops and unique bonnets setting the mood for frolicking fun.
The chamber ensemble was led expertly by conductor Joseph Walsh who also accompanied on harpsichord and keyboard.  The brisk and insistent point counterpoint rhythm for Gilbert and Sullivan demands crisp precision, no room or space for lingering straggling notes and Walsh assures a light and lilting steady beat.  The Walsh and Olcott combo bring a playful direction and clear articulation to the rapid fire libretto with commitment and appeal.
In the program, Olcott shares that the more he worked to orchestrate Carla Hubner's dream of putting these two very different pieces together, the more he discovered that the operas shared a theme of resistance to following the rules of the status quo, especially when matters of the heart are concerned. The characters follow their own course and balk at the rigid conventions laid out for them.  Olcott's zany additional lyrics add a spice of choice and modernity that ratchet up the entertainment value even higher.  All of the designers went the extra mile to make this dream a satisfying reality. Who's the Boss mixes fun and clever artistry in a winning combination treat for all.
————
Who's the Boss? A Double Bill of Comic Opera
La Serva Padrona by Giovanni Pergolesi English Adaptation and Direction by Nick Olcott
and
Trial by Jury by W.S. Gilbert and Arthur Sullivan . Directed by Nick Olcott . Music Direction and Conductor: Joseph Walsh . Set design: Jonathan D Robertson . Lighting: Katie McCreary . Costume design: Robert Croghan . Cast: Lew Freeman, Emma Gwin, David Wolff, Samuel Keeler, Alex Albuquerque, Andrew Adelsberger, Annie Gill. Sean Pflueger. CJ David, Christian Rhode, Renae  Erichsen-Teal, Chris Herman. Lauren Randolph . Stage manager Cindy King .  Produced by In Series . Reviewed by Debbie Minter Jackson.