Mosaic Theatre's current production, Charm by Phillip Dawkins, is inspired by the true story of Chicago trans icon Miss Gloria Allen, who teaches etiquette classes to youth at the Center on Halsted, an LGBT community center on Chicago's northside.
The production already garnered a great deal of press when they announced a change in casting close to the start of rehearsals – swapping out cisgender KenYatta Rogers for the trans actress B'Ellana Duquesne in the role of Mama based on Gloria Allen.  The move was made after a great deal of conversation between the artists and feedback from the transgender community, arguing that a trans role should be filled with a transgender actor.
Sarah spoke with two transgender actors who play students in the show: Samy El-Noury and Nyla Rose. 
Samy El-Noury: 
Who do you play in Charm? 
I play Logan who is a gay teenager.  He's a senior in high school.  He's coming to charm class and the Center because he heard about it on Tumblr. He comes out of curiosity, and he very abruptly learns that you can't just do that. You don't just show up out of curiosity and check it out. But he gets sucked in by Mama.  The moment he comes in, she's like, "you're going to come back next week."  Those who [usually] come to the Center, most are homeless, many are transgender. Logan gets sucked into that [new] world and realizes that the world of privilege that he comes from isn't where the world stops. There is much more out there.
How did you become involved with the production? 
I went to [Mosaic's] season auditions.  I had read the script and loved it, but I didn't think as a trans actor that there was a part for me.  I actually did live maybe a block away from the actual Center on Halsted in Chicago; I went to school in Chicago before transferring back to Maryland. When I auditioned, Serge [Seiden, Mosaic's Managing Director and Producer]  asked me, "is there any play you are particularly interested in?" I said, "I don't think there is a role for me in Charm, but I am very familiar with the world. I'm familiar with the Center.  I'm familiar with Gloria Allen.  I'd love to be involved in some way.  I'd love to provide any insight that I can." And I guess he decided I should just be in the show! So, here I am.
What has the rehearsal process been like? 
It's been a bit of a whirlwind.  There has been a lot of buzz about the show, so it's been a little surreal being involved with that: hearing what people are saying about the show while also simultaneously working on the show.
These aren't stories we often hear about in popular culture.  As a trans actor, do you feel that the play accurately portrays a piece of the transgender experience?
I would say it is a trans experience.  Maybe not the trans experience.  It is one story.  I think there are parts of it that are very real.  I remember the first time we went through a read of the play, I cried at moments.  Some of these words are words that have come from my mouth, in total honesty. These are things I did and things I said.  And then, there are perspectives that trans people in the play have that I don't agree with, but I certainly know trans people who do.
The thing that is difficult: whenever I meet people who aren't trans and who maybe never met a trans person before, they run into the pitfall [of thinking] that my experience speaks for everybody, and that's certainly not true.  There are as many differing opinions in our community as in any other. But if you're only exposed to one trans person, sometimes people just assume that's the word of all trans people.  So, that being said, I think it is a trans experience and a very valid one. But I hope that people come away knowing (and I think they will based on the show) that there are so many different facets to the trans identity, and that this is just a view.  Because every trans character in the play has a different point of view and a different background in life.  They all have different stories. I think that's my favorite part about this play.  Realistically, most of our audience is not going to be trans and might not have ever met a trans person, so I hope that is going to be really helpful to them.
Yes!  I admit I had to look up what "voguing" and "ballroom culture" were.
(check it out on Wikipedia: https://en.wikipedia.org/wiki/Ball_culture)
Yeah, that was really where I first found a home in a lot of drag communities and queer communities. And then I came out, I didn't find total acceptance in those communities. So that is what it is.
I was struck by how the community has so many of its own opinions and biases. Even Mama has her own biases to confront.
I think that might shock people – that there are generational biases.  Because language is evolving very rapidly, and the way that we talk to each other is evolving very rapidly. As the conversation changes, everyone is affected.
Even in my own experience, I'll encounter trans people of a different generation or those who are much older than I am, and they, for example, might not be able to understand why someone might use the pronoun "they."  Certainly not everyone, but I've definitely met people like that. And Mama is the same way.  Even Mama has biases.
What's it like to be a transgender actor?  Do you think you face different challenges? 
I think for me personally, the biggest challenge is when I tell people I'm a transgender actor, they tend to label me and not consider me for any cis [gender roles].  People think trans people should play trans characters, and I think they should.  But I also wish that trans people could just play anyone.  That it wouldn't matter.  That is the unfortunate thing that I've come across.
What in this play resonates the most with you? 
When I went to college in Chicago. I really didn't find acceptance in middle or high school, and I thought, "I'm going to go far away for college where I can explore my identity and learn more about myself."  There were, at that time, I guess they called them 'gay-straight alliances' on campus.  I thought that, maybe, this would be a safe space for me to meet other people going through similar experiences.  But I was met with a lot of rejection and outright abuse there.  I started dating somebody in the group.  When I disclosed my trans identity to her, the relationship turned physically and emotionally abusive.  It lasted for two years.  There's a scene in Charm, where there is a trans man named Beta who is in a gang and starts dating another member of the gang.  When Beta discloses that he's trans, the guy 'tells his T' [or his truth], everyone gangs up on him. They beat him up. They abuse him sexually.  That scene is so powerful for me that, sometimes, I can't watch.  And Mama tries to comfort him saying, "you're smart, you're beautiful."  And he lashes out at her, and he says "not everyone's special, not everyone has got friends, not everyone has family."  And the first time I heard those words, I sobbed.  I just sobbed.
It's things like that, that make this play so poignant to me.  I was part of the queer community that I thought would be open and accepting, and don't get me wrong, a lot of them were. But a lot of them were not.  That's why I'm so attached to this play.  I actually lived a block away from the Center on Halsted.  That's where I caught the bus to school.  A lot of the references they make to Chicago in the play are so vivid for me.  Some of the things characters say are things that I have said, or heard someone say, in my life.
And to bring up the elephant in the room, I think it's important to talk about the controversy that plagued the show even in its earliest days.  And it's really difficult because a lot of the things people are saying are things that I, personally, agree with.  I do think that trans actors should play trans characters.  The way I see it, it's an issue not of equality, but equity.  And justice.
Transgender people face higher rates of unemployment than the general population, so when you have a play where the characters are trans, it's just a natural opportunity to employ a trans artist and give them a much needed paycheck.  In my opinion, yes, I'd like us to have the ability to play trans people, I'd like us to play whoever!  But when you have a play without trans people [and] it's a play about trans people, and a trans actor is denied an opportunity to work, it's a bit of a let-down.  So, I agree with a lot of what people are saying, but I'm also part of this show. I help represent this show, but I also want to participate in the discussions surrounding it. For me personally, the best I can do is put my efforts into the show itself, because the story is so close to home for me.
Anything else DC audiences should know?
I hope they are more encouraged to reach out to different communities.  I'm a mostly Baltimore actor; I haven't performed in DC a lot. But every community I've performed in, we're all so insular, not just the people performing, but the people who go to shows. And this play tackles not just the trans experience, but issues of homelessness, sex workers, people of color… There are many different identities at play here.  My hope is that people will come away with that knowledge that identities intersect: that identity and issues of privilege and oppression and that experience, it's very intersectional.
And I hope that they are more inclined to speak out and encourage dialogue with communities that are maybe underrepresented on stage. And find out what their real experiences are like.  Everyone is diverse.  It doesn't matter what community you are from, everyone has a different life experience.  I hope that people are inspired by this play, and they learn that this is one experience, and that the experiences and lives of others aren't that far away.  The trans community in DC is huge.  We're just a moment away.  If people want to learn about and support trans people and trans artists, we're not that far, we're very easy to find.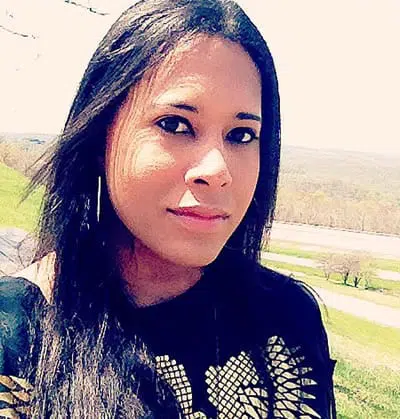 Nyla Rose
Who do you play in Charm?
The character I play in Charm is Ariella. She is a 33-year-old trans woman.  It's not really said how long she's been transition, but it is understood through the text that it has been quite awhile. That's where she's comfortable.  She's not searching for herself. She's already found herself. She is an escort, and what she maybe is searching for is a better way of life – a better quality of life.
How did you become involved with the production?
Simply by being an actor, I guess. Putting myself out there and auditioning for parts. I was contacted about this show and had the opportunity to audition for it and was blessed to get the role!
Are you local to DC? 
I am. Born and raised.
What has the rehearsal process been like?
Very strenuous. It's been amazing. We're here just about every day – with days off, of course.  It's been full-throttle from the get-go, trying to rehearse not only the show, but there are some dancing segments in it as well. I got to learn a little bit of ballroom dancing; I learned how to waltz a bit.  I don't want to give away too much, but aside from the challenges of acting and developing your character and finding your character, and how they all interact with each other, there are some other elements we had to squeeze in there as well.
What drew you to this production?
A lot of things.  Selfishly, I should say, I haven't had much chance to act since my transition, so right off the break, being given an opportunity to not only perform, but perform stories that are near and dear to my heart.  I have friends who are Ariella. I vicariously live this life. I know Ariella. So, it was really important to me to be able to help tell this story, and then obviously, tell the story of a trans person.
Again, selfishly, being able to help steer the way the entertainment industry is curving in the right direction of being a trans person of color portraying a trans person of color – being able to be on that side of things was very appealing to me as well.
And then, just the challenge of doing a dramatic role. I'm more of a comedic performer, so being able to stretch my limits was a personal challenge for myself. So, all these things being wrapped into one: it was a no-brainer to take this role.
These aren't stories we often hear about in popular culture.  As a trans actor, do you feel that the play accurately portrays a piece of the transgender experience?
That is a very important word key word there.  It is a piece of the trans story not every transition is the same.  There's no rule book for it. It's not uniform. Just like every person's experience on this earth day-to-day is varied, the trans experience is extremely varied. It is very important to mention that, yes, this is a piece of that puzzle. I do feel that the playwright did a good job covering, in as little bit of time as he possibly could of, a broad spectrum of how it is different for everybody. I think we do have a great representation [in the play]. A lot of the characters are under the trans umbrella, but some are transgender, some are gender fluid, some are a [particular] gender, so you get a glimpse in to what it could be like for anybody.  And I think, above all else, this is a good conversation starter.  So, whereas it may not go in-depth, you have the gender fluidity of things and what that is, so at least you recognize, "hey that's a thing." Then it comes [down] to the audience or person viewing this: How open-minded am I going to be? Do I want to do research? So, [the play] just being a conversation starter I think is super important. Because before now, these weren't things that were openly talked about.
——–

Want to go?

Charm

closes January 29, 2017
Details and tickets
——–
Costume designer Frank Labovitz shows stylish transition and flair between the gritty urban look in the first scene that tones down "appropriately" reflecting the impact of kindness, and attentive care at the end. The sound and light combo team Roc Lee an
I was stuck by the fact that there are biases even within the community.
Yes, very much so.
What's it like to be a transgender actor?  Do you think you face different challenges?
Absolutely. Absolutely different challenges. For me, I took a step away from acting until I found a comfortable space for myself.  I didn't know where I fit in in the acting world during my transition. And that was a personal choice that I made. No one kicked me out.  No one cast me to the side or anything like that. It was a personal choice I made to step away until I found where I was comfortable and what I was okay doing. And then once I found that, I tried to put myself more and more out there.  So, I don't have much meat to answer that question because I haven't had many experiences coming back into the fold. But it has been challenging so far, because when you [are auditioning to] fill a role there's a lot of factors to it, And realistically, I just don't fit some of those factors. But I think we are on the right track. Things are changing. People are opening their eyes and being more willing to broaden what they are looking for as far a role goes.
What in this play resonates the most with you? 
That is a very tricky question, honestly. There are so many facets that do. Right off the surface, there is the whole trans thing. There's a lot of things in there that I've personally lived through, that I've witnessed, that I've experienced, so, of course, those are going to scream out at me. They are going to resonate very loudly with me.  That is my answer: the overall theme of the show, in one way or another, I have lived and experienced the world of Charm.
Do you feel that the casting change was a step in the right direction?
I do.  The short answer is that I do. It is a very mixed reaction.  I absolutely love working with B'Ellana.  I absolutely love everything she's doing; she's brought so much to this. At the same time, I cannot take away from KenYatta. I felt that he did a very excellent job of portraying Mama.
What I think a lot of people miss is that Mosaic didn't go out of their way to not cast a trans person. They can only cast from what's available, and if nobody showed up, they can't cast that person. That is to say, I do think a lot of people still have a lot of fear of putting themselves out there. I know I did. Once people are more comfortable (again, I think we're making those strides in that direction) putting themselves out there, the talent pool of trans actors and actresses will become bigger, and we'll have more people to choose from.
So, yes, on one hand, it is definitely a step in [the] right direction having a trans person play a trans person telling a trans story.  But I also don't think it's a bad thing if the story is being told well.  And KenYatta definitely brought a lot of respect and admiration to the part. It saddens me to know that my community, the trans community, wasn't as open to receiving him in that part. I totally understand why. I'm not a fool. We've been hurt so much that they were very apprehensive.  But I do wish that there could have been a more cohesive discussion between the two.
Anything else DC audiences should know?
I don't necessarily know if there's anything I want them to know, but I would implore DC audiences to approach this show with an open mind and willingness to understand and willingness to learn. I would definitely ask of DC audiences to give us a chance. We've put in a lot of work to build something that I think is wonderful and beautiful.  And something I am proud to share.  Please give us a chance to share it.  Just come and experience it.
Is there anything else you want to add?
I'm also a professional wrestler!
Did you start wrestling during your break from acting? 
I took a step away from all entertainment until I found that comfortable place. I actually found my place with wrestling a lot sooner than I did with acting. I've been making a name for myself on the independent wrestling scene and traveling doing that.  I've been to Japan, and I just recently got back. Charm is my first foray back into theatre and acting since my trip to Japan.
Why did you think you found your place in wrestling first?
I think wrestling was a better fit because it has over-the-top, larger-than-life personalities.  I think there is room for everybody in the world of professional wrestling. The wrestlers themselves reflect their fan base, and you have fans from every walk of life and wrestlers who are from every walk of life.