Update:  We have our winners. This contest is closed.
We have 2 free pairs of tickets from Shakespeare Theatre Company to see David Ives' The School for Lies in its closing week at the Lansburgh Theatre.
A farce set in 17th century France, Ives based the play on Molière's Le Misanthrope.
A gleeful truth-teller, Frank is a French aristocrat who despises his society of liars and doesn't mind telling them so. Frank's well-aimed barbs wreak havoc in a world of pompous suitors and extravagant ladies, until rumors ricochet and alternative facts become reality.
STC describes it as an uproarious update of one of the greatest masterpieces of French comedy. Outrageous gags and vicious couplets strike an hilarious balance of class and crass in this classic collision of Molière's biting satire and Ives's modern wit.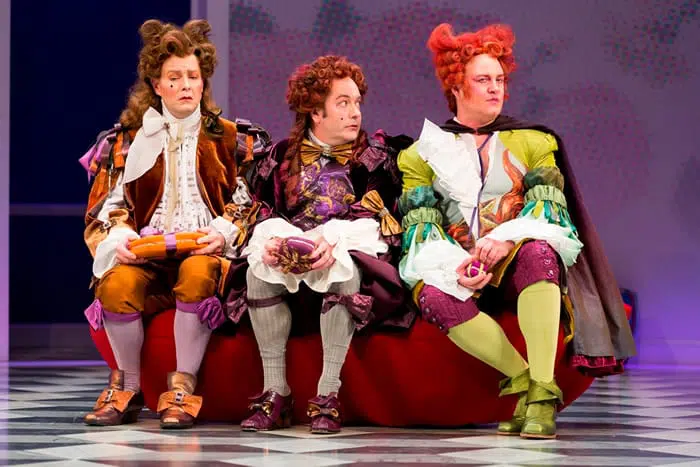 DC Theatre Scene's Marshall Bradshaw predicts it "will leave your sides aching…a couple of mistaken identities, and plenty of slander. The steady flow of Ives's verse is hilarious and dazzling. It is so easy to get lost trying to guess the next rhyme and then get blindsided by yet another sharp and filthy joke."
The giveaway: 2 winners will each receive 1 pair of tickets, good for any performance among these dates:
Wednesday, July 5 at 2 p.m.
Wednesday, July 5 at 7:30 p.m.
Thursday, July 6 at 8 p.m.
Friday, July 7 at 8 p.m.
Saturday, July 8 at 2 p.m.
Saturday, July 8 at 2 p.m.
Sunday, July 9 at 2 p.m.
Sunday, July 9 at 7:30 p.m.
Contest closes Saturday, July 1 at 5:00 pm 
How we choose the winners:
The winners will be chosen in a scientifically random drawing held Saturday, July 1 at 5pm. We will contact the winner immediately by email. If we don't receive a confirming response by noon on July 2, another entry will be chosen.
Here's how to enter:
We've made it really simple:
Email us here.  Be sure to include which performance you wish to attend. Only entries with performance information will be considered.
Hurry to enter. Contest closes Saturday, July 1 at 5pm.
Who doesn't like free tickets?
Help us spread the word on social media.