The chemistry between the characters of long-time husband and wife Willy and Linda Loman in Ford's Theatre's Death of a Salesman may seem stronger than most other productions of Arthur Miller's classic play, as director Stephen Rayne has cast real life couple Craig Wallace and Kimberly Schraf in the roles, respectively.
You are probably familiar with Miller's story. At 63 years old, salesman Willy Loman is insecure, self-deluded and craves attention, and throughout the play, he becomes irrational, no longer able to distinguish between his past and the reality of the present. As his loyal and loving wife, Linda is supportive and docile when Willy talks unrealistically about hopes for the future, even though he sometimes treats her poorly.
During a pivotal 24 hours, Willy reflects on his life as a father, husband and traveling salesman.
Schraf first became familiar with the play back in grade school, explaining she was the kid who would hunker down in the corner of the library and pull down the old anthologies of Broadway plays and pour over them.
"That was probably in fourth grade. Since then I have studied it formally in English classes, taught scenes in acting classes that I've led, and have seen it multiple times on stage," she says.
Wallace's earliest connection with it dates back to high school, when he studied American dramatists in school, but he only saw it performed once—when Charles S. Dutton played Willy in a Yale Repertory Theatre production in 2009.
"It's definitely up there in the dream role category. It's an iconic character, it's an iconic play, and to have the opportunity to tackle it, I think every actor wants that," Wallace says.
For Schraf, Linda Loman wasn't really on her radar as a character she "had to play," until she started reckoning with roles for women of a certain age.
"I always knew she was a great character, but when I slid into that unique, little category, it was more intriguing to me," she says. "I was always interested in her strength and grit, and her powerlessness as a woman of the '40s  was fascinating to me. I am over the moon to get a chance to approach this role."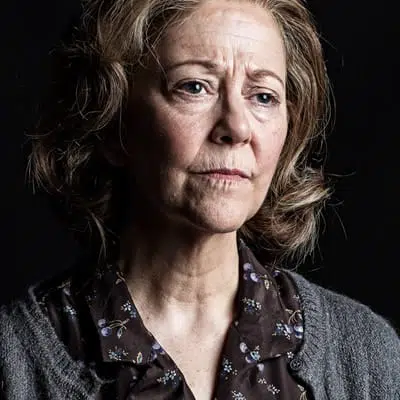 This isn't the first time that Wallace and Schraf have performed together on stage, though both admit it's never been as intense as Death of a Salesman needs to be. And they enjoy working together and feel it helps the process.
"It's long on pleasures and short on challenges. For me, it's the best scenario," Schraf says. "We know each other pretty well, we trust each other completely and there's something wonderful about if something doesn't land right in rehearsal, you don't always want to take the time in rehearsal, but we can talk about it on the ride home or the next morning when we're walking the dogs. That all feeds the process."
Her favorite part of working with "her man" is that she can go as far as she dares.
"There's just no fear about boundaries or being right. There's just license to try anything," she says. "Every moment is an invitation to make the most of it. And quite frankly to use the relationship that's already in place and if that feeds the Lomans' relationship, fantastic."
Wallace enjoys it as well, saying his favorite part is just getting to spend more time together.
"When we're doing separate plays, she's at her rehearsal, I'm at my rehearsal, and we see each other at the end of the night," he says. "Now, we're together all the time."
There is one challenge Wallace has found working with his love that has come up during this show: "My director has been encouraging me to be selfish," he says. "In our relationship, I keep wanting to find the love and give to Linda, but I think Willy is not quite in that place where he is that giving. I just want to be close to her and love her, because of my relationship with Kim."
Still, the two don't actively seek out roles to work together.
"We don't craft these opportunities, and if we were a more ambitious couple, I bet we'd work together more," Schraf says. "We've been very fortunate that a number of theaters and a number of directors have seized an opportunity to cast us together. Maybe because they know us, or maybe just because we were the right actors for the roles."
Both actors have graced the Ford Theatre's stage before, and Schraf calls that another treat of this production.
"It's pretty glorious to work at Ford's. I've done nine productions here and Craig as done eight,"
she says. "Together, we've played a couple—the Webbs—in Our Town, we were in The Laramie Project together, and we worked with Stephen as our director in Sabrina Fair."
In Rayne's version of Death of a Salesman, the themes and relevance of Miller's original is just as relevant, and the only difference is the cast is racially diverse—something that Ford's often likes to do to reflect the world we live in.
Schraf feels that audiences will get a great deal from the play, whether they have seen it before or are experiencing it for the first time.
"There is a heightened awareness in society right now about caretaking, about mental illness, about depression…that stuff is so alive to me," Schraf says. "In a relationship, who is going to be the one who will have to step up and hold the other one together?"