The Ethan McSweeny-helmed Twelfth Night currently at Shakespeare Theatre's Harman Hall is the darkest, most melancholy production of a Shakespearean comedy I have ever seen. You too, I bet. And the thing is you won't get it until a half hour after the show, when you're driving home in silent recollection, or talking about the play with your sweet patootie.
So let me tread lightly here, as a review should describe and comment on a production, not attempt to substitute itself for the experience of seeing it. You all know the improbable story of Twelfth Night. Viola (Antoinette Robinson) is traveling when her ship is torn apart by a massive storm. She is thrown onto the shores of Illyria. There, she disguises herself as a boy and puts herself in the service of Duke Orsino (Bhavesh Patel). The Duke immediately has a mission for her: press his suit upon the Lady Olivia (Hannah Yelland), who is in mourning for her late brother and not entertaining men.
You can guess what happens. Olivia will have none of Orsino, but she develops a distinct craving for Viola, disguised as Cesario. This requires that Viola negotiate Olivia's uproarious household, including her drunk uncle, Sir Toby Belch (Andrew Weems), the effeminate clown Sir Andrew Aguecheck (Jim Lichtscheidl), who Sir Toby has inexplicitly recruited to court Olivia, the saucy maid Maria (Emily Townley), the rigid, snooty majordomo Malvolio (the estimable Derek Smith, who you might remember as Shylock and as Khlestakov in The Inspector General), and Feste (Heath Saunders), the grimmest jester in Shakespearedom.
Viola is apparently so good at impersonating a man that when her twin brother Sebastian (Paul Deo, Jr.) crawls ashore, approximately ten scenes later, no one is able to distinguish between the two — not Sebastian's boom companion Antonio (David Bishins); and more importantly, not Olivia. When she sees Sebastian she pounces on him like a retired supermodel on a steak, to Sebastian's surprise and delight. Eventually (spoiler alert) all is put to rights; true identities are revealed; the Illyrians are permitted to gape at Viola and Sebastian, standing across the stage from each other, as though they are mirror images. (In fact Deo and Robinson have a slight resemblance, which the production enhances by dressing them identically). Olivia and Sebastian are ecstatically happy, and Orsino fulfills Viola's fondest wish by embracing her as his bride.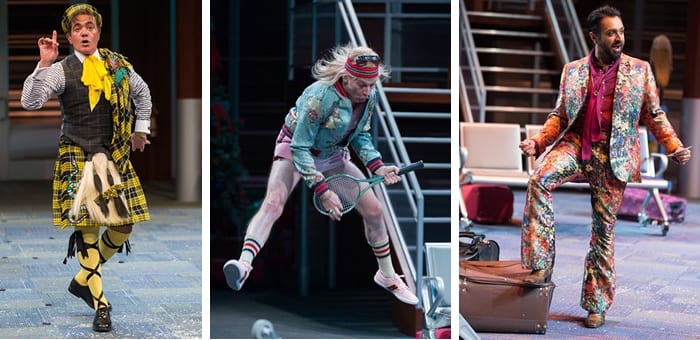 This is a very funny play, but also a very odd one. Let us assume, for the sake of argument, that when Viola disguises herself as a boy she fools everyone, and that what's more when her brother arrives they are indistinguishable from each other. Why would Olivia fall in love with a boy? While we're at it, why would Sir Toby think that his niece would fall for Aguecheek, who is — let's not mince words — stupid, physically incompetent and terrified to speak to her? And what does it say about Shakespeare's cynical view of love that Olivia is equally enamored of Viola, a woman disguised as a boy, and Sebastian, an actual man? And that learning they are two different people makes no difference to her? Or that Orsino is happy to marry a woman who until five minutes ago he thought was a boy?
These puzzlers have prompted many creative directors to fill the play with subtext, by way of explanation. I have seen Sir Toby played as a benign proto-Falstaff and (memorably, by Rick Foucheux) as a mean drunk, toxic to Olivia's household. I have seen Olivia shrewd and manipulative, whose pledge not to deal with men until her brother has been dead seven years is designed so that she need not deal with Orsino for seven years. I have also seen her played as a raving lunatic, whose outsize passion for Cesario is simply another face for her outsize grief over her brother's death.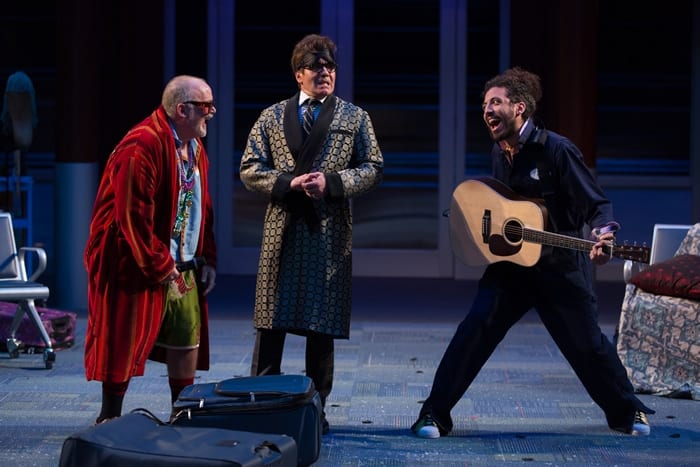 But in this production the cast does the text. They do it well, and make the words mean what they're supposed to mean, but they don't illuminate the text, or help us understand how such a series of mysterious and preposterous events could occur. (A few exceptions: Aguecheek is truly in there simply for laughs, and Lichtscheidl does a bang-up job. Weems and Townsley make it clear that Sir Toby and Maria have an important, and deeply sexual, relationship with each other. Townsley does an exquisite job in frequently chiding Sir Toby, as the text requires, while at the same time making it clear how much Maria loves him). 
——–

Twelfth Night

closes December 20, 2017
Details and tickets
——–
Yelland's Olivia is as outspoken in her rejection of Orsino as she is in her passion for Cesario, but we never know why. When Patel's Orsino kisses Robinson's Viola at the end of the play, it seems more from duty than delight. And why does Viola not go with him at the end? And for the love of all that is holy, why is an 11-year-old (I'm guessing) girl playing Sir Fabian? Koral Kent does a credible — and creditable — job (Tyler Bowman plays the role on alternate nights) — but, well, she's an 11-year-old (more or less) girl.
To get the answer to all these questions, look closely at the opening and final scenes — both wordless, neither in the text. At the outset, we are at an airport. You'll see this immediately; your ticket will be tricked out to resemble a plane ticket, and you will be ushered through a Gate to your seat. Before you the stage will be awash in fluorescent light; a huge artificial Christmas tree will stand in the center. (Shakespeare Theatre has transformed the Harman space into a big black box, with a half dozen rows of seats erected stage right and stage left.) You will see four screens, all announcing departures (or playing some sort of entertainment or another). And then the characters stroll in, but not as we know them. Feste is the janitor; during his break he will take out his guitar and jam with Curio (Matthew Deitchman, also the music director), one of the passengers. Maria enters with her two kids, Sir Fabian and a baby. There is some sort of kerfuffle involving her paperwork. A mysterious lady in black walks in quietly; we see that it is Olivia. Orsino, who appears to be a businessman, eyes her appraisingly. A lush in a flowered shirt — yes, Sir Toby — ambles pleasantly through the lobby with his drink. Airport personnel remove a fluffy dog (Fang; Mr. Smith is his man) from his enormous carrying case; that case will appear later, to imprison Malvolio. And Viola lovingly embraces her brother Sebastian preparatory to going on her trip.
Smoothly, without fuss, the ensemble slides the airport offstage and replaces it with the inside of a plane — a big one, probably a 747. Viola boards and finds her seat — and look, there's Malvolio, in the guise of an officious flight attendant. The jet takes off. Viola settles in, assumes a thoughtful mein.
And then the bad thing happens.
McSweeny, in choosing to do Twelfth Night this way, has elected to become a theatrical Bryce Harper. He has stepped up to the plate with the intention of producing a moon shot, in both senses of the phrase. If you don't understand the gloss he has put on Shakespeare's story, then the production will not work for you, and the good work of the actors will be lost. But if you do understand it, the play's sad heart will be opened up to you, and you will never look at Twelfth Night the same way again.
—————–
Twelfth Night by William Shakespeare, directed by Ethan McSweeny, assisted by Charlie Marie McGrath. Featuring Antoinette Robinson, Heath Saunders, Andrew Weems, Emily Townley, Jim Lichtscheidl, Bhavesh Patel, Matthew Deitchman (who also served as music director), Hannah Yelland, Derek Smith, David Bishins, Paul Deo, Jr., Tyler Bowman, Koral Kent, Jack Henry Doyle, Chelsea Mayo, Maggie Thomson and Jeff Allen Young. Scenicdesign by Lee Savage . Costume design by Jennifer Moeller . Lighting design by Scott Zielinski, assisted by Max Doolittle . Original music and sound design by Lindsay Jones . Projection and video design by Patrick W. Lord . Brad Waller was the fight choreographer . Jack Doulin, Taylor "Sharky Williams and Carter C. Wooddell were the casting directors . Drew Lichtenberg was the dramaturg. Lisa Beley was the voice and text coach. Christopher Michael Borg, assisted by Kristy Matero and Teresa Wood, was the stage manager. Produced by Shakespeare Theatre Company. Reviewed by Tim Treanor.