In 1919, Eugene O'Neill wrote a play called Exorcism. It is about shame. It is set in 1912, and in it the protagonist confesses to his boozy friend that he committed adultery with a prostitute because adultery was the only ground upon which he and his wife could get a divorce. It had one production in O'Neill's lifetime.
Twenty-two years later, O'Neill wrote his best and very nearly his last play — Long Day's Journey into Night. It is about shame. It is set in 1912, and in it a father and his two sons drink bourbon prodigiously while tearing into each other and worrying about each other and about their wife and mother, who is addicted to morphine. It won the Pulitzer Prize for drama in 1957.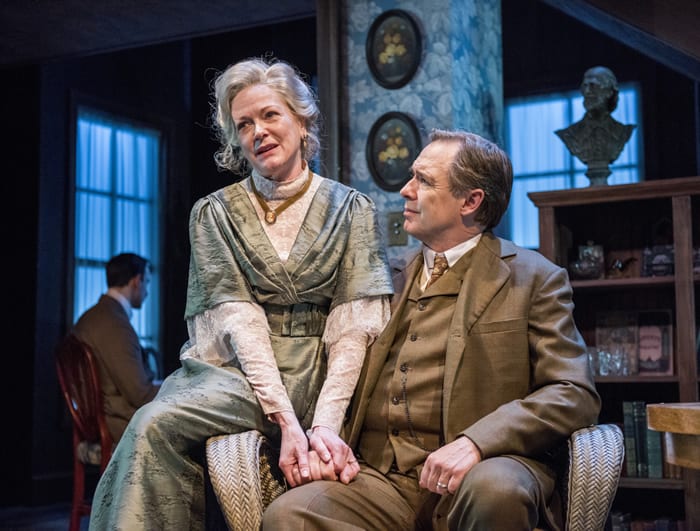 How is it that Exorcism is mediocre, and Long Day's Journey is superb? You can see the difference immediately if the latter play is produced with the same brilliance with which it is written…as it is being produced in Everyman Theatre in Baltimore. It is a tense, layered, complex story, with love and anger infused in every word and gesture, so closely that it is impossible to separate them. And Everyman Theatre plays the hell out of it.
Long Day's Journey, like Exorcism, is a play in which not a great deal happens. But we leave the Everyman Theatre production breathless, and exhausted, anyway. Between Exorcism and Long Day's Journey, O'Neill appears to have discovered that while confession may be good for the soul, denial is good for drama. And in Long Day's Journey, the Tyrone family denies their sins, denies their weaknesses, denies their feelings, and in scouring each other with this denial for three and a quarter hours, arrive at the truth.
At the outset, it is clear that the Tyrone family is denying two obvious truths — that the younger son, Edmund (Danny Gavigan) is suffering from tuberculosis ("A summer cold could make anyone irritable," his mother says) and that Mary Tyrone (Deborah Hazlett) has relapsed into morphine addiction. But as the day turns to night, the Tyrone tongues, loosened by bourbon and morphine, unleash a torrent of bitterness, accusation and torment upon each other, and we learn a dozen other hidden truths.
To deny your feelings, while simultaneously giving vent to them, almost defies the laws of physics. Yet we are often that way with our families, whom we love and who exasperate us. It is a human posture, almost impossible to reproduce in art, but Donald Hicken's superb cast does the job.
Consider, for example, James Tyrone (Kurt Rhoads), the patriarch of this crumbling family. He is adrift in rage and bafflement over his two sons. He is an eighth-grade dropout who has become a highly successful and — even more astonishingly — wealthy actor. He cannot understand his older son Jamie (Tim Getman) who, at thirty-four, has no steady employment except drinking and playing the horses, and no plan to get any. Nor does he understand his dreamy younger son Edmund, who has spent two years bumming around South America and now sits at home reading poetry. "Forget everything and face nothing!" he roars at Jamie at the play's outset, but a minute later he's laughing at a funny story Edmund tells about an encounter he had at the local bar.
Do you think just any actor could pull off such a role? Watch Rhoads, a large, fleshy man, in the final scene as he and Edmund sit at midnight in the darkened parlor, slugging down bourbons as they wait for Jamie to come home while worrying that Mary, in a morphine trance, will come downstairs. "To your health," James says to his consumptive son, and then he gulps down his booze as if it were a medicinal potion. And then Edmund starts in on him — for his cheapness, for his self-indulgence and lack of empathy, for his lies. Rhoads as James is like a heavyweight fighter who is too weary to ward of the blows of a smaller man, wincing in pain but otherwise impassive. He is too much in love with his son to fight back except in ineffectual bursts, and too self-protective to give Edmund the embrace he longs to give.
"You can choose any place you like!" James roars. He is talking about the sanatorium at which Edmund, his illness now undeniable, will be treated. "Any place I can afford. Any place — within reason." And there, in a nutshell, is the contradiction which must abide within the character of James Tyrone, and within the character of the actor who plays him. Is Rhoads equal to the task? Yes, in spades. Rhoads makes this complicated man transparent within minutes. You will know him immediately, and — notwithstanding his manifest faults — you will like him within a half hour.
Or consider Gavigan, as Edmund. An actor robust enough to have played Lenny in Keegan's production of Of Mice and Men a few years back, Gavigan manages to make himself look frail and hectic, and to give Edmund's illness an almost spiritual aspect. Any good actor can cough convincingly on cue, but Gavigan manages to infuse Edmund's whole persona with his illness, so that he seems already a ghost, even while exchanging wisecracks with his brother or slamming down alcohol with his father. Gavigan has done good work for as long as I've watched him, but with this production he has taken it up to the next level.
Or what about Getman? He is rapidly becoming the sort of actor who would cause me to pluck down good money to see a play, just because he was in it. Jamie is a roaring drunk (all the Tyrone men are problem drinkers, but none more so than the older son) but Hicken and Getman have more important things to do with our time than to show the obvious characteristics of drunkenness. Like many experienced topers in their cups, Jamie's speech is clear though his mind is disordered. Jamie is bluff and cheerful, like a man whistling his way through a graveyard. Nothing shows Jamie's character more clearly than the winding story he tells about selecting an overweight prostitute for the evening because he was afraid that if he did not she would lose her position at the bordello. Getman's Jamie spins out this story charmingly, with wit and bravado and in telling detail, but every word is meant to conceal the beating and compassionate heart that made him sin in such a virtuous way. It is emblematic of Getman's entire performance, in which this doomed and loveable wastrel wins our own hearts.
But the story, at bottom, is really about Mary Tyrone, and in that role Deborah Hazlett shines, even in the midst of so much radiant talent. Everyman Artistic Director Vincent M. Lancisi says that he selected the play in part to celebrate Hazlett's 20th anniversary with the company by casting her in a role equal to her talents. It is a wise choice; Hazlett is fiercely luminous. Like Getman's Jamie, the intoxication of Hazlett's Mary is a path to truth-telling. She is like dried tinder, vulnerable to any spark; when James mentions that he is taking Edmund to see Dr. Hardy, she suddenly rages against "that damned quack!", who counseled her to use "will power" against  her addiction; that soon segues into her bitterness against the hotel doctor who first gave her morphine to ease post-partum pain; and then against James for his cheapness in securing health care. (Mary's story is thus a surprisingly modern one; she acquired her addiction in the same way that many of our contemporaries have become addicted to Oxycontin and other painkillers.) 
——–

Long Day's Journey into Night

closes March 4, 2018
Details and tickets
——–
But at the same time, Mary is a gentle woman, brought up in a convent, for whom both the addiction and her relapse are occasions of great humiliation. She is also humiliated by her rage, which is to say, by her true feelings, and by her expression of them. She pleads that her family understand her drug use, and then denies that she is using the drug in the next breath. When her husband says, "I'm glad I came, Mary, when you act like your real self," he means when she acts like her false self, stuffing all her resentments down inside her, where he can't see them. "Can't you forget?" he asks her, when she recalls one of his many failings; it is James Tyrone's bad luck that his wife's drug addiction appears to improve her memory.
Mary Tyrone is simultaneously in the throes of drug addiction and in denial over it; in love with her husband and enraged by him; she adores her children and resents them bitterly for what they have done to her life. She is a pious woman who wants to die by accidental drug overdose. Hazlett houses all these contradictory feelings and impulses in one layered, textured character, overwhelming and understated all at once. This must be what O'Neill had in mind when he created the character.
Among all the lies and denials which the Tyrones utter to each other during this long day, the most striking is that they are not fabulously rich. James Tyrone admits that he earned between thirty-five and forty thousand a season from a play whose rights he owns and in which he performs; this is between a little less than nine hundred thousand and a little more than a million a season in today's money — and this is before there was a Federal income tax. (The text doesn't describe the play, but there is a huge poster for The Count of Monte Cristo on the wall, where most Irish Catholic families would display a crucifix, or a picture of Pope Pius X). Edmund points out that James owns a quarter million in real property; this is about $6.3 million in 2018 money.
And the house — which Mary and her sons deride as shabby and inhospitable — why, it's beautiful, as Daniel Ettinger's set shows; with large and expansive rooms, big windows opening into lovely countryside (Jay Herzog's spot-on time-of-day lighting is absolutely appropriate) and excellent furnishings. They have three servants, including Cathleen (well played by Katharine Ariyan), alive with the realization that though the Tyrones might be her superiors they are not her betters. The sweet life is lying there before them, if they could only release themselves from the resentments, bitterness and frustrations that they have called upon themselves.
As you probably know, O'Neill wrote Long Day's Journey about his own family, disguising them so thinly that he instructed his wife not to allow it to be produced until he had been dead for twenty-five years. (She was twenty-two years early).
The house still stands, in New London, Connecticut; I've seen it. It is not shabby at all; it is large and commodious, and the interior resembles Ettinger's set. O'Neill's mother sold it after his father died, so his memory of it may not have been sufficiently refreshed when he wrote this piece; or his point may have been that he and his family, like the Tyrones, were so wracked up in bitterness that they could not see the beauty around them.
As for O'Neill's family, they stand in one-to-one correspondence with the Tyrones. James O'Neill was a well-respected and highly successful actor, who, once he acquired The Count of Monte Cristo was forever typecast as Edmond Dantés; he seldom won other roles, and when he did he seldom succeeded in them. Nonetheless, the Count made him rich; he earned even more than Tyrone did, and when he died, of cancer, the Chief Justice of the Supreme Court came to his funeral. Eugene had an older brother, Jamie, who drank himself to death at the age of forty-five.
And what of O'Neill's mother? Like Mary Tyrone, Mary Ellen Quinlan O'Neill, who was known as Ella, was a morphine addict. Although we do not know what happens to Mary Tyrone in Long Day's Journey, Ella O'Neill seems to have cured herself of addiction by 1914. Although the record is not entirely clear, it appears that she used will power to effect her cure.
——————-
Long Day's Journey into Night by Eugene O'Neill, directed by Donald Hicken, featuring Deborah Hazlett, Kurt Rhoads, Tim Getman, Danny Gavigan and Katharine Ariyan . Set design by Daniel Ettinger . Lighting design by Jay Herzog . Costume design by David Burdick . Sound design by Patrick Calhoun . Dialects by Steve Satta . Fight choreography by Lewis Shaw . Jillian Mathews is the propos master. Amanda M. Hall is the stage manager . Produced by Everyman Theatre . Reviewed by Tim Treanor.