We knew about autism in 1947, when Ruth and Augustus Goetz translated Henry James' "Washington Square" to the stage as The Heiress, but we understood it only as a sum-zero disorder: the patient was either irreparably locked into an impenetrable, uncommunicative state or he was not. Now, of course, we understand autism to be a spectrum, which in its mildest — though still destructive — form is Social Anxiety Disorder. SAD is not a failing of character but a real disease, which paralyzes the victim as viciously as a stroke does.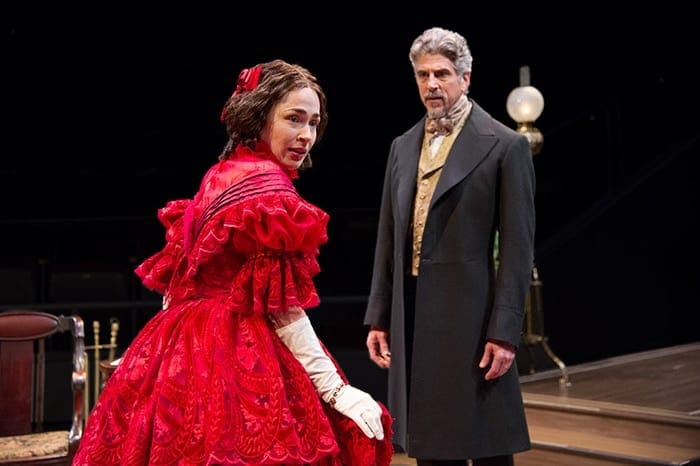 James, whose brother was the great psychologist William James, hinted at this insight when he invented the character of Catherine Sloper, but Arena Stage's current production gives it full flower with an arresting performance by Laura C. Harris, perfectly balanced by James Whalen as a father who loves deeply but is incapable of empathy, and by Nancy Robinette as a meddlesome aunt. The Goetzes managed to preserve the enormous complexity James wrote into these characters, and under Seema Sueko's generally spot-on direction, the Arena production gets it too.
The presenting dilemma is this: Catherine Sloper is a plain woman, but she will be fabulously rich when she comes into her inheritance. When she is at her ease, talking with her aunt, she is observant and witty, but in the presence of unfamiliar company, or of her overbearing father, she is nearly catatonic with fear, blurting out banalities until she dives for the pantry or some other hiding place. Visiting with her cousin (Lorene Chesley) and her cousin's fiancée (Nathan Whitmer), she is introduced to her fiancée's cousin, Morris Townsend (Jonathan David Martin) who seems to instantly fall in love with her tongue-tied soul.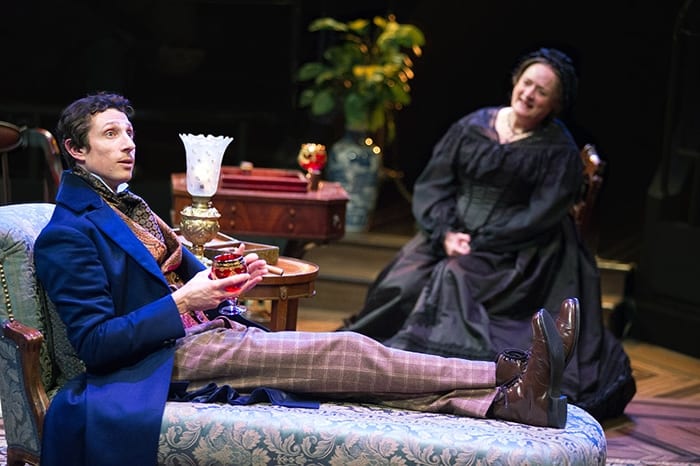 Is it love? Or is it money? Martin, whose next role could be the snake in the Garden of Eden, presents a Morris who radiates the former, but her father suspects it is the latter.  At the bottom of his skepticism is a profound belief that his daughter is such inadequate company that the only reason anyone would love her is for her inheritance. And at the bottom of that belief, as he makes clear in a heated conversation with another sister (Janet Hayatshahi), is his anger over the fact that his beloved wife died in giving birth to Catherine.
——–

The Heiress

closes March 10, 2019
Details and tickets
——–
The four leads play these insights with astonishing clarity. Harris' Catherine, sitting with her cousin and her cousin's company, appears to be on the border of physical illness. Her body closes and occasionally shakes; she stares at nothing, or at some object beyond the confines of the room, as if she wanted to be instantly transmitted there. Whalen as Dr. Austin Sloper — as good in this as I've ever seen him — shows a father who loves by the Book of Obligation, but who constantly struggles with exasperation, and beyond that with despair.  And redoubtable Robinette gives us an Aunt Lavinia whose fluttery mannerism disguise a heart capable of deadly calculation.
[adsanity_rotating align="aligncenter" time="10″ group_id="1455″ /]
Aunt Lavinia's obsequiousness underscores a second theme of the story: the limited options available at the time (the play is set in the early 1850s) for women. A man with Social Anxiety Disorder could farm, or write, or work in a counting-house, or do any number of other tasks which would keep his body connected with his soul, and satisfy his need for dignity and self-esteem. But a woman's position was no different than it was in Shakespeare's time: in order to fully be a woman, she had to attract and marry a man. Otherwise she would become that pitiable thing, a spinster, and be dependent on whatever bounty her relatives are willing to afford her.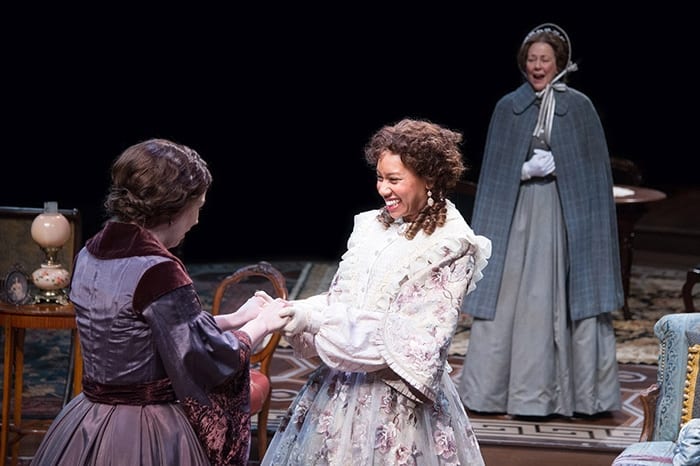 Even the play's central dilemma reflects some invalid gender assumptions: for a man, wealth is part of  his cachet; a man who is a good provider is attractive to women, as well as to their fathers. But when a man is drawn to a woman because she can improve his financial position, he is a cad and a bounder.
The rest of the fine cast puts itself entirely at the service of the play but the actors are never submerged by it. Kimberly Schraf does a wonderful turn as the household's Irish maid, shrewd enough to navigate Dr. Sloper's occasional fury and Catherine's agony. Lise Bruneau is superb as Morris' mysterious sister, from whom the doctor tries to obtain additional insight but who ends up adding only ambiguity. Occasionally, and inexplicably, the cast breaks from its naturalistic presentation into exaggerated gestures and mannered acting; this may be due to the difficulties of presenting what is essentially an intimate, single-room drama in the round.
As powerful as the writing and cast is, the interaction between Catherine and Morris carries the story, and Harris and Martin are perfect. As the old saw goes, if you can fake sincerity you can fake anything, and Martin's Morris is as sincere, and as clever, as Iago. Even though you know how the story will end, Morris will not give it away, and neither will Martin.
As for Harris' Catherine, her affliction is as plain as her face (kudos to hair and makeup supervisor LaShawn Melton, incidentally, for making Harris look plain; we see what she really looks like in the final scene). Yet she is the one who must change during the course of the play, and she must do so naturally, so that Catherine at resolution seems to be the natural culmination of all the Catherines we have seen during the course of the play. Harris handles her character's growth during the play's one hundred sixty-five minutes magnificently.
For those of us who have seen Harris from her early days as a supporting actor in small theater productions, it is obvious that she has arrived as a big-time actor. Here she seems to be the natural culmination of all the Harrises we have seen during the course of the years.
---
The Heiress, adapted by Ruth and Augustus Goetz from the novel "Washington Square" by Henry James, directed by Seema Sueko . Featuring Lise Bruneau, Lorene Chesley, Laura C. Harris, Janet Hayatshahi, Jonathan David Martin, Nancy Robinette, Kimberly Schraf, James Whalen and Nathan Whitman . Set design by Mikiko Suzuki Macadams . Costume design by Ivania Stack . Lighting design by Sherrice Mojgani . Sound design and original music by Emma M. Wilk . Wig design by Anne Nesmith . Jan Gist is the voice and text coach . Victor Vazquez was the casting director . Susan R. White and Joseph Smelser, assisted by Marne Anderson, are the stage managers . Produced by Arena Stage . Reviewed by Tim Treanor.