Seems poetic that The Boy Who Wouldn't Grow Up is well over 100 now and still as impish as ever in Finding Neverland. Peter Pan, the eternal boy, sprung from the mind of Scottish novelist and playwright J.M. Barrie during the Victorian era. And he has endured, from becoming a Disney stalwart to being featured in a number of adaptions, reimaginings, and interpretations on the page, stage, and silver screen. Do I really need to cover all that? Because, what is more interesting is Barrie himself and the family Llewelyn Davies, upon which Finding Neverland is based.
In 1903, Barrie (Jeff Sullivan)—struggling to write his next hit—happens upon George (Paul Schoeller), Peter (Seth Erdley), Michael (Brody Bett), and Jack (Josiah Smothers) playing pirates in Kensington Gardens. Their mother—the recently widowed and terminally-ill Sylvia (Ruby Gibbs)—joins in the fun, befriending Barrie. Much to the chagrin of his wife Mary (Ashley Edler), his producer Mr. Frohman (Conor McGiffin), and Sylvia's mother Mrs. Du Maurier (Emmanuelle Zeesman), Barrie becomes enamored with the brood. He visits their home. They visit his. They meet in the Gardens and, over time, the boys' play awakens in Barrie's inner child. Peter, who seems most affected by his father's death and the realization that life's not always a fairytale, most piques Barrie's interest. Of course, these new relationships cause nearly everyone to disown Barrie in some fashion. London's tongues are wagging away. But Barrie, as we all know, triumphs, writing himself and the boys into eternity.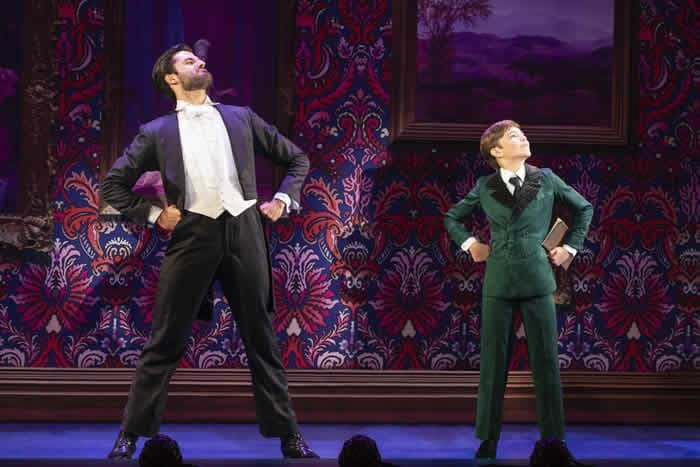 As a production, Finding Neverland is perfectly lovely. Perfectly romantic—from the set, costumes, choreography, and all the stylistic touches to the tone of the show, which has, as one would suspect, a touch of magic about it. But, it's a tad saccharine for my taste, except for Mr. Frohman—who doubles as the fearsome Captain Hook, Barrie's latent dark side, during a dream sequence, the delightful "Hook" and "Stronger" (Part 2). Frohman balances all the cuteness with his salty, business-minded American-ess and, for that, I am grateful. McGiffin is a perfect foil to Sullivan's Barrie. Who. Is. Just. Too. Darn. Pure. Maybe I'm being picky, but Barrie's truth is far more complex than Neverland puts on stage.
[adsanity_rotating align="aligncenter" time="10″ group_id="1455″ /]
The musical, and the film of the same name on which it is based, which itself is based on the play The Man Who Was Peter Pan, takes a lot of artistic and editorial liberties. I understand the need to condense the lives of its subjects into something musically palatable. But, the "love" scene between Barrie and Sylvia seem to be for the purpose of song only, the soaring "What You Mean to Me," which ends in a kiss. Theirs is a relationship acknowledged by no one and never addressed directly again. Seems odd. And forced. I like the chemistry better as an unfulfilled sort of tease that keeps me guessing.
Besides, Neverland is best viewed far, far away from all that adult stuff. "The Dinner Party" is divine, how the light reflected from the back of Peter's spoon leads to the manifestation of that iconic fairy and the boys end up having a ball with a toupee. And, "Play," where the newly minted cast of Peter Pan rediscovers their own kid-ish delights, just as Barrie has been doing. "Believe," as well, is a study in childhood, as Sylvia and Barrie implore Peter to see the endless possibilities in everyday things, culminating in a park bench becoming a boat at sea—a wavy, bed sheet filled sea.
Generally, I liked the wit of the writing (though I find the musical short on wisdom), the music/song, and the clever way in which we see Barrie unearth and let loose his long-held fantasies, which come bursting into the three-dimensional world through some surprising moments of inspiration.
The kids are stellar—often funny, delivering lines with a mix of purity and sarcasm in a perfectly British way. The boys have their own backyard shindig, wherein they form a band, complete with a washboard and drums via wooden spoons, to sing "We're All Made of Stars." Schoeller's George is the standout, strumming a small guitar and leading the troupe as the eldest would.
——–

Finding Neverland

closes March 3, 2019 
Details and tickets
——–
Gibbs' voice is powerful and beautiful, but I had a hard time understanding Sullivan when he sang. Joshua William Green is the standout in a great (often comical) ensemble, performing the snobbish Mr. Henshaw, who takes on the role of Nana in the play (which, if you remember, is a dog). Also, one, random side note: while Finding Neverland is full of wonderment that appeals to child and adult alike, I would caution against taking a baby to the theatre. Their crying can be distracting.
Aside from infants, Finding Neverland is for everyone. It celebrates the child in all of us—even the most hardened adults struggling against the inane, yet absolutely true, idea that a few happy thoughts lead to flight.
---
Finding Neverland . Original Direction by Diane Paulus. Direction Recreated by Mia Walker. Book by James Graham. Music and Lyrics by Gary Barlow & Eliot Kennedy. Featuring Jeff Sullivan and Ruby Gibbs with Conor McGiffin, Emmanuelle Zeesman, Brody Bett, Seth Erdley, Caleb Reese Paul, Paul Schoeller, Josiah Smothers, Ethan Stokes and Marie Choate, Josh Dunn, Ashley Edler, Joshua William Green, Daniel S. Hayward, Benjamin Henley, Elizabeth Lester, Allison Lian, Michael Luongo, Andre Malcolm, Spenser Micetich, Melody Rose, Kelsey Seaman, Adrien Swenson, and Paul Thiemann. Production: Simon Hale, Orchestrations; Fred Lassen, Music Supervision; Mia Michaels, Choreography; Scott Pask, Scenic Designer; Suttirat Anne Larlarb, Costume Designer; Kenneth Posner, Lighting Designer; Shannon Slaton, Sound Designer; Jon Driscoll, Projection Designer; Bernie Ardia, Hair & Makeup Designer; Paul Kieve, Illusions; Daniel Wurtzel, Air Sculptor; AnneMarie Milazzo, Vocal Designer; Patrick Hoagland, Music Director; John Mezzio, Music Coordinator; William Berloni, Animal Director; Camden Loeser, Associate Choreographer; Hudson Scenic Studio, Flying Effects; Stewart/Whitley, Casting; Trinity Wheeler, Executive Producer; and Heather Moss, Company Manager. Orchestra: Patrick Hoagland, Conductor/Keyboard; Daniel Gittler, Associate Conductor/Keyboard; Andrew Gillum, Drums; Daniel Marquez, Violin; Ryan Claus, Reeds; Michael Kraig Beeck, Bass; Zachary Larson, Guitar; Brian Victor, Synthesizer/Acoustic Guitar/Mandolin. Production Stage Managed by David D'Agostino. Reviewed  by Kelly McCorkendale.