Dane Figueroa Edidi: "To be Black, and a woman and trans means each time someone experiences you or your work there is a shift that has to happen in others for them to even begin to lean in."
Dane Figueroa Edidi and I had the chance to work together back in 2013 at Spooky Action Theatre on Haruki Murakami's Kafka on the Shore. 
On the first day of rehearsal, she swept into the room with all the energy of a summer storm, and took her seat in the circle. During the traditional round of introductions, we got to the Lady, and with a coy smile she said: "I'm Dane…and I'm a WITCH." Of course those who knew her laughed; but to us meeting her for those the first time? I think we all fell in love. She continued on to say she was also a poetess, a high priestess, and a goddess.
Knowing that she was bringing her solo performance piece, Klytmnestra, to Theater Alliance, I was eager to reconnect.
---
What were your inspirations for creating this piece? 
At the heart of the inspiration of this work is Black Women. Black Trans Women. Black Cis Women. Black Queer Women. Black Women Artist. Klytmnestra examines the effects of colonization, white supremacy and patriarchy on us. Klytmnestra centers us and celebrates us.
I was able to witness the brilliance of Paige in Full: A B-Girl's Visual Mixtape, written and performed by Paige Hernandez-Funn; she centered her experiences and it was a beautiful fusion of several artistic styles and expression.
She demonstrated to me that I could use the totality of my being, my training, my experiences and analysis to craft this tale, using a Greek Story, but steeped in/shaded by/ and lifted in the fullness of, reality of, and hopes and dreams born from my Blackness and other Black women who inspired me. 
What are some inspirations for the movement and music? 
The movement is based in West African dance, Orisha Dance, Kabuki Theater, Korean styles of movement, Salsa, Modern Dance (Particularly in homage to Ancestor Katherine Dunham), Classical Indian dance, Hip Hop, the Healing Tarantella dances from Southern Italy, and La Lupe's unbridled connection to her body and the spirit realm.
Our director, Danielle Drakes, wanted to use Rasa breath to create a foundation for the character work and one of our stage managers Ricky Ramon is trained in Rasaboxes. So we began with that framework to ground the characters in breath, emotion, and statue.
Because each of the secondary characters represents a genre of Black music and or art, the music is inspired by these same places. The play takes us from Africa to now. There are spirituals, gospel songs, a song from southern Italy, jazz, the Blues, Rap, Disco, Hip Hop, salsa, a Yoruba prayer, an homage to Black Trans women….
How many characters do you embody in the play? 
Ten: The Priestess, Klytmnestra, Helen, Iphigenia, Leda, Kassandra, Electra, Chrysothemis, Orestes, and The Furies.
What have some of the challenges been in bringing this piece to life? 
The piece is physically and emotionally very demanding.
For the first two weeks I cried at every rehearsal because to tell these tales of these Black women I had to be able to tap into a breath that allowed me be fully available. I think about the countless Black Trans women who are murdered and the silence from the media and many members of the non trans communities that these amazing women have fought for. I think of the countless Black women, cis and trans, who find themselves depleted for doing everything for everybody, and being everything to everybody and having no one show up for them because of the myth that a Black woman doesn't feel pain. I think about myself, my mothers, my sisters, my friends and I found myself weeping for us, crying out for justice for us, calling everyone who was watching into accountability. This role demands complete and utter honesty.
[adsanity_rotating align="aligncenter" time="10″ group_id="1455″ /]
I had the privilege of seeing a workshop of your show several years ago at Spooky Action Theater. How has it changed since then?
It had two workshop performances after that, one in NYC and one here at Theater Alliance and then we had two workshop weeks with our director and dramaturg (Otis Ramsey) and a drummer (Mr. Hooks) to help me craft the script you will witness for this run.
So much beauty came from those workshops.  One of which is the addition of a live drummer not just as support to the characters but as a character, and two characters now find their voices present in the piece, Leda, the mother of Klytmnestra and Helen, and Kassandra, the Princess of Troy. Because the story is generational, I felt we were missing the voice of Klytmnestra's mother and because the story is about Black women the need to discuss Black immigrants/refugees is pivotal to this telling.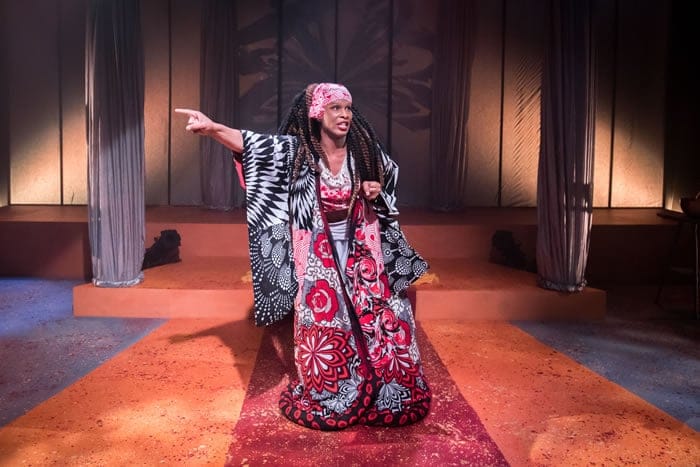 Tell me about your design team and how you're building the world of the play?
Oh gosh, I feel like they would be best to discuss their work. What I can say is that every piece of their work is steeped in the world of the play. We have an excellent team of designers Deb Sivigny (set and design), Niomi Collard (lighting design), and Kenny Neal (sound design).
What hurdles do you have to navigate as a Trans Woman of Color to keep working in DC theatre?
Oh gosh I couldn't sum this up in just five minutes. I mean, what I learned at a very early age is that – and this may seem cliché – but I had to be the best version of myself always. And I have to speak out about things that not everyone always will.
I know it is my duty to fight against transphobia and racism/ institutionalized white supremacy so that others like me or the generation after me won't have to fight as hard (if at all). I mean, as a Black Trans Woman there are whole systems outside of the theater that I have to combat and sometimes I find these systems in the theater itself.
And, no shade, but I have witnessed mediocre, complicit and complacent white cis playwrights, who happen to be men, be rewarded for mediocre plays that erase everyone but white people and thinks themselves clever or edgy when it is simply another tool of white supremacy. I have watched people lift up some of these works as brilliant. And these writers have in the past gotten resources and access, and rewarded for mediocrity.
---
Klytmnestra: An Epic Slam Poem at Theater Alliance closes June 16, 2019. Details and tickets
---
To be Black, and a woman and trans means each time someone experiences you or your work there is a shift that has to happen in others for them to even begin to lean in. The level of hyper awareness and the vulnerability that requires is astronomical.
The Black Trans Woman writer does not get to be mediocre or complacent… but then again who would ever truly want to be?
Resources and access can help to make what are considered success stories, but these are often denied to Trans writers of Color. Theaters investing in Trans writers, not as tokens or shields to avoid accountability, but as true collaborators and believers in the need for theater to live up to its true potential will better every theater artist and every person who comes to the theater.
I mean, truth be told, it is astounding that this is the first mainstage show by a Black Trans Playwright when D.C. itself has such a vibrant Trans Community, and is filled with incredible Trans artists.
Theaters have to reassess our role as not only agents for change, but warriors against institutionalized white supremacy. White supremacy is not only harming the country but leading to the death of not just marginalized individuals around the country but actively working to destroy theater itself.
We can not only love Black Trans people when we can get cookies for working with them, or to quiet our guilt, or as tokens.
I have been blessed to have a community of people who love me here, but we all can do better by the Trans community, and particularly the Black/Indigenous Trans Community, every last one of us.
What have you got lined up after Klytmnestra? 
Well some of it I can't say, but I go to Pittsburgh to teach a workshop and do a reading of For Black Trans Girls. Then I will be on a panel at SLAYFEST with the other stars of KingEster and the writer and director discussing our work, then I head on over to Seattle for their Transpride to perform with one of my collaborators J Mase III. In July I do a cabaret at Studio and head to NYC but I think I can't announce for what just yet, but that will be with Woolly. Then choreographing Elephant and Piggie at Adventure [Theatre] and then a new play I am thrilled to be a part of but I can't announce that yet either.
I also am still trying to finish my book of essays entitled "Who Will Revere the Black Trans Woman" and my book of poetry entitled "The Infrastructure of A Nation."
As we wrap up, one final question: why should we come see Klytmnestra?
Because it is making history.
Because you support a Black Trans Artist.
Because the time is now to have these conversations, heal these wounds and be accountable.
Because everyone who has worked on this play has poured so much love, and intentionality into it.
Because you'll leave better for having experienced it .