Ask any hoofer to name their favorite dance movies, and you're bound to hear Singin' in the Rain among their list. The classic 1952 Hollywood musical about the waning days of silent films starring Gene Kelly, Donald O'Connor and Debbie Reynolds is one of the all-time great musical films with some of the best dancing ever on the silver screen.
It's certainly a favorite of tap dancer extraordinaire Robert Mintz, who has loved the movie since as long as he can remember.
"I grew up watching this movie from a very early age, so I knew it inside and out," he says. "I had never seen it on the stage, but I had heard that it was just as magical."
That's why when Mintz was offered the role of Cosmo Brown (the O'Connor role) in NextStop Theatre's innovative version of the beloved musical, he grabbed the opportunity. "This has always been a dream role of mine because I get to dance, I get to sing and I also get to be silly. I'm there to add the punchline every couple of lines, and it's a joy to be a total ham."
"I have always been a huge fan of Donald O'Connor and all his films. He's a wonderful comedian and a skilled dancer, which he doesn't always get the credit for because he's dancing alongside Gene Kelly," Mintz says. "I have nothing but the most respect and admiration for him and I think he gives one of the best performances in the film."
The actor knew he wasn't going to try to copy O'Connor's performance in the show, but he does feel some of the line deliveries were written into the scripts so perfectly because of the vaudevillian style, so a lot of his character comes out in Mintz' performance.
"I never tried to copy him, but in those moments I do sync up with him, it's just because of that style he did so well is so intrinsic to the role," he says.
Not only is Mintz a co-star in the show, he also serves as its choreographer.
"About two weeks before rehearsals started, the choreographer who has been signed on to the show had to drop out due to a conflict and Evan asked me to step into that role as well," he says. "I watched the movie right before I started, and made notes of the standout moments, poses and gestures that are so linked to the songs."
For example, Gene Kelly leaning on the lamppost, and other moments that fans of the movie will remember.
[adsanity_rotating align="aligncenter" time="10″ group_id="1455″ /]
"Other than that, I just invented my own choreography," Mintz says. "I wanted to pay respect to the original but also have a new take. Evan gave me free reign when it came to the dances, but he had come up with a wonderful concept to do the show with eight-people putting on a production of Singin' in the Rain, but since it's not the movie, I was free to cater to the particular talents of the cast."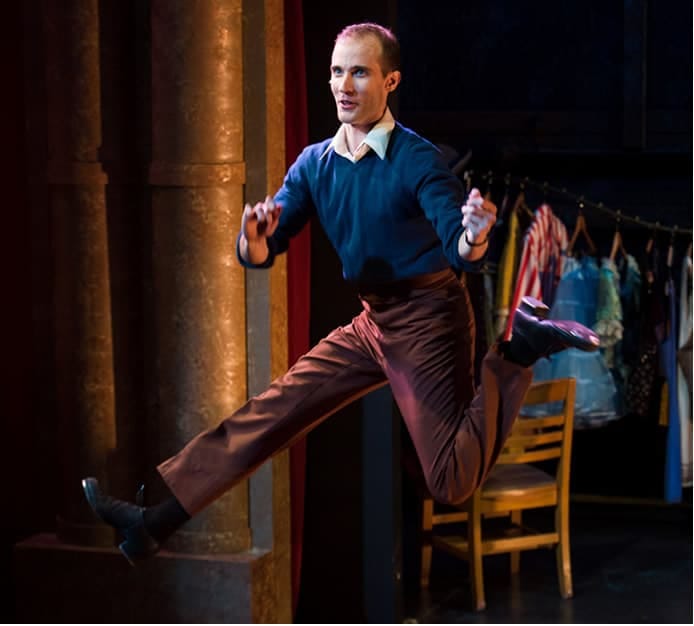 Mintz started dancing at the age of 5 at a local studio near his hometown in New Jersey and competed in the dance competition scene all the way through high school. His specialty is tapping, though he doesn't get to do it as often as he would like.
"In the D.C. area, there aren't as many chances to tap dance in shows," he says. "Last year I was in Crazy for You at Signature, and the year before that I did Mary Poppins at Olney, so there are some opportunities. But this has been a great chance to do multiple tap dances in one show and it was an added delight to get to choreograph them for myself and my fellow castmates."
Because not everyone in the show is a huge dance threat, with various degrees of dance backgrounds, Mintz worked a great deal to ensure that everyone was comfortable with their dancing and he could get the most out of them.
He began working with Wood Van Meter (Don) and Morgan Kelleher (Kathy) on the big, classic tap numbers such as 'Good Morning' from the beginning of rehearsals, knowing what audiences would be expecting.
"They were great pupils. I admit they were scared at first by what I was throwing at them, but just through sheer hard work by the two of them and repetition, repetition, repetition, they quickly rose to the occasion," Mintz says. "I was blown away by their talent and commitment."
He also found it a joy to work with the rest of the cast and helped teach some of them how tap could "talk" to the audience with a big sendoff.
---
Singin' in the Rain at NextStop Theatre closes June 23, 2019. Details and tickets
---
"Tap is such a mystery to audiences because not only is it such a visual art form but there's also a musicality to it; you're making another layer of music, so there's always a fascination to audiences," Mintz says. "People tend to go wild when everyone is tap dancing. And for our finale, we do a giant group tap number that really caps the evening off with the most joyful release of laugher and music and fun."