"The whole impetus of air guitar is world peace," earnestly intones a grown man who goes by the name Golden Thunder right before he goes out on stage in a dingy bar to play a pretend instrument. This one moment, perhaps more than any other, perfectly encapsulates Chelsea Marcantel's hit air guitar play, Airness, currently being given its DC premiere in a joint production between The Keegan Theatre and 1st Stage. It's a show about people taking a deeply silly thing extremely seriously and delighting the audience in the process.
---

Airness closes November 30, 2019 at Keegan Theatre. Details and tickets
---
While watching Airness, I was struck with something akin to déjà vu and realized that this play could almost be in conversation with the last show I reviewed, Rorschach's She Kills Monsters. While wildly different, both works center a group of misfits who find connection and escape from their everyday lives in a world suffused with fantasy. Both also give credence to author Sarah Vowell's assertion in her book The Partly Cloudy Patriot that "being a nerd, which is to say going too far and caring too much about a subject, is the best way to make friends I know."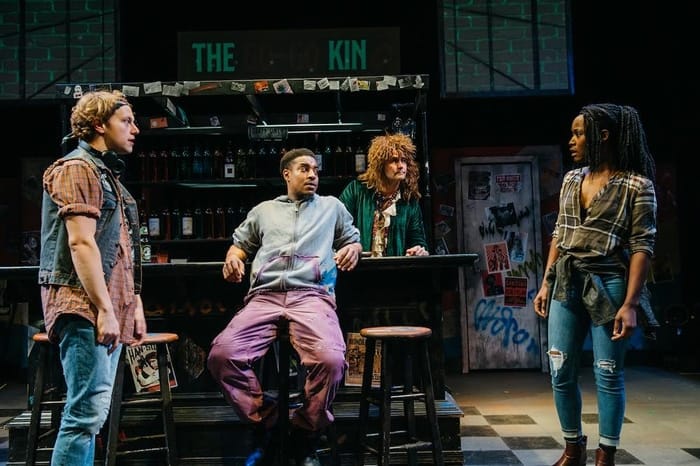 I also was, frankly, shocked to realize that this is the first time Airness has been produced in the DC area. The show entered the zeitgeist in a big way at the 2017 Humana Festival of New American Plays at the Actors Theatre of Louisville and went on to win the American Theatre Critics Association's M. Elizabeth Osborn New Play Award in 2018. With Airness, Marcantel—an LA-based playwright and member of gender-parity-in-theatre activism collective The Kilroys—seems to have very much struck a chord with our current cultural consciousness (pun most definitely intended).
Our entrée into the world of competitive air guitar is Nina (Billie Krishawn), an actual guitar player who enters the scene with an upturned nose and confidence that she'll dominate from the jump. Unsurprisingly, this is not the case. After a disastrous initial performance, she's taken in by a group of friends comprised of the aforementioned, idealistic Golden Thunder (Gary L. Perkins III); Facebender (Chris Stezin), who boasts a ratty wig and a vocabulary straight out of a Renaissance faire; Shreddy Eddy (Harrison Smith), an angry young man who becomes Nina's formal tutor; and Cannibal Queen (Dani Stoller), one of the few women on circuit, whose hairography and technique are unimpeachable.
Nina quickly starts down the path to becoming The Nina, but her aversion to Cannibal Queen and obsession with the perpetually absent D Vicious (Drew Copas)—the reigning national champion who's riding high on his internet notoriety from a recent Sprite commercial—belie an ulterior motive.
[adsanity_rotating align="aligncenter" time="10″ group_id="1455″ /]
Director Christina A, Coakley and choreographer Jessica Redish coax nuanced, energetic, and charming performances out of the cast—not for nothing, but some of these characters could have easily veered into the stereotypical in less capable hands. I've admired Krishawn's work since I first came across her in last year's Andromeda Breaks, and she continues to be just as beguiling here, drawing the eye and ear in every scene she's in. As Facebender, Stezin is essentially playing two roles in one, and does so with aplomb; the scene in which he breaks down why he got involved in air guitar is one of the most memorable and meaningful of the whole play (and I wish Marcantel would give us an entire spin-off centered on his daily life).
As D Vicious, Kopas gives the audience an easy villain to hate, but the combination of the script and his and Krishawn's performances muddy those waters in complex, compelling ways—The Nina and D Vicious are the villains in each other's stories, neither purely good nor evil. I never really bought the budding romance between The Nina and Shreddy Eddy, but Smith brings an amiable Dungeon-Master-instructing-a-newb energy to the role. And as the announcer, actual air guitar competitor Forrest A. "The Fahking Rockr" Hainline IV lends an added touch of authenticity to the proceedings.
Airness is a show that relies on superb design as much as expert performances for its success. Unsurprisingly, the work of sound designer Kenny Neal is front and center in a show like this and he nails the riff-heavy thrum of the piece, often working in tandem with Nitsan Scharf's clever projection design. Matthew J. Keenan's versatile set easily transforms from green room to scuzzy bar to performance space at the drop of a hat (with some help from Coakley's cheeky interstitial vignettes during set changes). As a side note, I feel like every time I see a show at Keegan, the stage resembles some sort of dive bar (this is not a complaint). John D. Alexander's lighting design and Sydney Moore's costumes combine to finish off the effect of creating a space that's both of this world and steeped in imagination.
Airness isn't quite a perfect show—the 15-minute intermission is probably unnecessary and the ending is a bit unsurprising and abrupt—but the utter exuberance of the cast and the wittiness of the script easily make up for the any shortcomings. As a member of the theatre community, so much of what Marcantel has to say about the merits of "playing pretend" and feeling special when you're up on a stage rang so very true (as did lines like, "Journey is for step-moms and frat boys"). If you've ever had a passion the rest of the world looked down upon, Airness will have you cheering, booing, and jumping out of seat right along with its wildly talented cast.
---
Airness by Chelsea Marcantel. Directed by Christina A. Coakley. Choreographed by Jessica Redish. Featuring: Billie Krishawn, Dani Stoller, Drew Kopas, Harrison Smith, Chris Stezin, Gary L. Perkins III, and Forrest A. "The Fahking Rockr" Hainline IV. Lighting Designer: John D. Alexander. Projections Designer: Nitsan Scharf. Sound Designer: Kenny Neal. Costume Designer: Sydney Moore. Set Designer: Matthew J. Keenan. Properties/Set Dressing Designer: Cindy Landrum Jacobs. Stage Manager: Amanda Horne. Dramaturg: Deb Crerie. Air Guitar Consultant: Doug "The Thunder" Stroock. "There" Guitar Consultant: Jaime Ibacache. Assistant Director: Evin Howell. Assistant Stage Manager: Gabrielle Busch. Co-produced by The Keegan Theatre and 1st Stage. Reviewed by John Bavoso.
Note:  This production will make two local appearances:
Keegan Theatre thru November 30, 2019
1st Stage in Tysons, VA:  December 4 – 29, 2019